Selim Palmgren: Daniel Hjort - Opera in Six Tableaux (2007)
Selim Palmgren: Daniel Hjort - Opera in Six Tableaux (2007)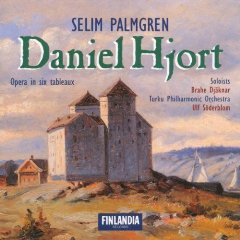 1.Tableau I - Scene I - Daniel Hjort: Nu står där ute	2:08
2.Tableau I - Scene 2 - Daniel Hjort: I värde herrar	1:28
3.Tableau I - Scene 3 - Stålarm: Varen hälsade	3:50
4.Tableau I - Scene 4 - Daniel Hjort: Jag kan ej säga	3:38
5.Tableau I - Scene 5 - Sigrid: Heliga Guds Moder!	3:26
6.Tableau I - Scene 6 - Sigrid: Vad? Detta papper?	4:26
7.Tableau I - Scene 7 - Daniel Hjort: Fly, fly du kärlek	3:01
8.Tableau I - Interlude		1:57
9.Tableau II - Katri: Jag kan dig säga vem du är	13:08
10.Tableau III - Scene 1 - 1St Soldier: Nå, du säger ingenting?	3:46
11.Tableau III - Scene 2 - 1St Soldier: Stopp, stopp eller skjuter jag!	3:26
12.Tableau III - Scene 3 - 2Nd Soldier: Huh, det är såhemskt	3:11
13.Tableau III - Scene 4 - Daniel Hjort: Nu är fördraget gjort!		2:27
14.Tableau III - Interlude	4:06
15.Tableau IV - Scene 1 - Johan Fleming: Re'n sol går upp	3:19
16.Tableau IV - Scene 2 - Stålarm: Ett bud har kommit I denna natt	5:50
17.Tableau IV - Scene 3 - Johan Fleming: Det är dock tungt	7:34
18.Tableau IV - Scene 4 - Stålarm: Räck bägarn hit!		6:27
19.Tableau V - Scene 1 - Daniel Hjort: Vid pelaren de nitat mig		5:16
20.Tableau V - Scene 1A - Warder: När jag var ung i världen		4:24
21.Tableau V - Scene 2 - Stålarm: Här har du facklan	0:57
22.Tableau V - Scene 3 - Johan Fleming: I vanmakt fallen!	1:47
23.Tableau V - Scene 4 - Sigrid: Det är en lögn		6:00
24.Tableau V - Scene 5 - Daniel Hjort: Grip honom!	1:26
25.Tableau VI - Hertig Karl: Man får då äntligen er se, Herr Bisp.	3:52
26.Tableau VI - Ebba Fleming: Se skarorna	1:55
27.Tableau VI - Katri: Så kom dock en gång	1:55
28.Tableau VI - Hertig Karl: Slut är vårt värv	2:36
29.Tableau VI - Katri: Min son!		5:12

Tove Aman 	Soprano 
Curt Appelgren 	Bass Baritone
Bjorn Blomqvist 	Bass 
Brahe Djaknar 	Vocals
Karl Magnus Fredriksson 	Baritone
Staffan Galli 	Tenor
Nicolai Gedda 	Tenor 
Walton Grönroos 	Bass Baritone
Tero Hurskainen 	Baritone 
Anna-Lisa Jakobsson 	Mezzo-Soprano 
Lars-Erik Larsson 	Tenor 
Hans Lydman 	Baritone 
Paivi Nisula 	Alto 
Erik Saeden 	Baritone
Antti Suhonen 	Baritone
Sauli Tiilikainen 	Baritone

Turku Philharmonic Orchestra
Ulf Soderblom 	Conductor

One has to give Finlandia some credit for the adventurous decision to record Selim Palmgren's (1878-1951) opera Daniel Hjort. Palmgren is perhaps familiar to some for his piano works and, in particular, his five piano concertos, but even these seem not to be particularly readily available at the moment. Daniel Hjort was, in fact, a relatively early work (1907), though it was thoroughly revised in 1938; though the harmonic language is essentially romantic, it would in fact have sounded quite forward-looking in 1907, I imagine. Stylistically, I suppose the closest comparison would be the operas by Leevi Madetoja, though I don't think it's just my imagination that makes me hear certain points of connection to Busoni (who was, after all, Palmgren's teacher) or impressionism.
The opera is based on historical events, though very loosely so after having been filtered through the play by Josef Julius Wecksell – originally it was set in Swedish, but Palmgren produced a Finnish version in the 1920s. As with so many historical operas, there is plenty of bloodshed and drama, plenty of characters and a rather complex plot – not very dramatically convincing, but most operas really aren't, so I am not sure this counts against Palmgren's efforts. More interesting is the music. Most of it is developed from small, characteristic motivic cells associated with the main characters, in a manner that doesn't really suggest Wagnerian leitmotifs. It also makes the drama more tense and introverted than actually sweeping or building up much momentum – I guess this is the main complaint against the work, but Palmgren's use of his not-always-but-at-least-sometimes memorable thematic material is skillful, colorful and often imaginative.
The performances are overall good, though few of the singers are familiar – with two notable exceptions, Nicolai Gedda and Erik Saedén in minor (but excellently done) roles. Daniel Hjort himself, Hans Lydman, I had briefly encountered on a cpo disc of songs by Yrjo Kilpinen, and he does an overall good job here. Sigrid is sung by Tove Åman, who acquits herself well enough as well, and the smaller roles are overall decent without (in general) being exceptional. The playing of the Turku Philharmonic Orchestra under Ulf Söderblom is very good, however, as is the recorded sound. The booklet comes with a full libretto in Finnish, Swedish and English, but I would have liked a better summary of the rather complex story to accompany it. Still, this is an overall very rewarding release – those unfamiliar with Finnish post-romantic opera should probably look into, say, Merikanto's Juha or Melartin's Aino first, but Palmgren's effort will be a worthwhile next stop. Can we hope for some of Väinö Raitio's operas next? ---G.D., amazon.com
Selim Palmgren, (born Feb. 16, 1878, Pori, Fin., Russian Empire—died Dec. 13, 1951, Helsinki, Fin.), Finnish pianist and composer who helped establish the nationalist movement in Finnish music.
Palmgren studied at the Helsinki Conservatory in 1895 and with Ferrucio Busoni in Germany (1899–1901). In 1909 he became conductor at Turku, Fin., where he produced his opera Daniel Hjort (in Swedish, 1910; revised in 1929 for performance in Finnish). Palmgren toured widely as a pianist and as accompanist to his wife, the singer Maikki Pakarinen. He taught at the Eastman School of Music, Rochester, N.Y. (1923–26), became a music critic in Helsinki, and taught composition at the Sibelius Academy in Helsinki (1939–51). Palmgren is best known for his small piano pieces, among them the "Finnish Lyric Pieces," inspired by folk songs. In his larger piano works, notably his five piano concerti, he was influenced by Franz Liszt. ---britannica.com
download (mp3 @320 kbs):