Gaetano Donizetti - Elisabetta al Castello di Kenilworth (2005)
Gaetano Donizetti - Elisabetta al Castello di Kenilworth (2005)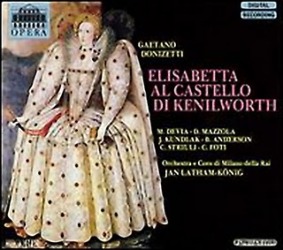 CD1
1. Preludio e Introduzione
2. Amici! A che soleciti
3. Veggo, ahime
4. Dalla citta vicina
5. Mi odi Lambourne
6. Vieni
7. Non mentir
8. Dunque ogni speme e tolla
9. Immaginiar chi mai poeta
10. Eccola
11. Si, miei figli
12. In estasi soave
13. Warney, mi arresti invan
14. Ah! Leicester, Tu qui
15. Dal genitor che fea
16. Conoster mi basti					play
17. Cauti, guardinghi s taciti
18. Taci! Amor
19. Amici m'udite

CD2
1. Dal tuo rapace artiglia
2. Son sola
3. Perche ti affanni  e piangi
4. Della caccia il lieto segno
5. Freme ondeggia irresolute
6. Che da te la sua sorte dipenda
7. Questa donna sia ben custodita
8. E Amelia
9. Ah sospira
10. Paventa o perfido						play
11. Ti riveggo Fanny
12. Par che mi dica ancora
13. Ti calma il ciel spra
14. La sovrana
15. Tu potesti  un solo istante
16. Tutti esprima il mio – suo sembiante

Elisabetta - Mariella Devia
Amelia Robsart - Denia Mazzola Gavazzeni
Alberto, conte di Leicester - Jozef Kundlák
Warney - Barry Anderson
Lambourne - Carlo Striuli
Fanny - Clara Foti

Orchestra e Coro della RAI de Milán
Jan Latham König - conductor, 1989

Il castello di Kenilworth (or Elisabetta al castello di Kenilworth) is a melodramma serio or tragic opera in three acts by Gaetano Donizetti. Andrea Leone Tottola wrote the Italian libretto after Victor Hugo's play Amy Robsart (1828) and Eugene Scribe's play Leicester, in its turn after Scott's novel Kenilworth (1821). Daniel Auber composed another opera on the same subject, Leicester, ou Le château de Kenilworth (1823).
This opera represents Donizetti's first excursion into an aspect of English history and especially with the character of Elizabeth I, whose life he was to explore further in his operas Roberto Devereux and Maria Stuarda.
It received its first performance on the 6 July 1829 at the Teatro San Carlo, Naples.
Synopsis
Kenilworth Castle depicted in 1866
    Time: The reign of Queen Elizabeth I
    Place: Kenilworth Castle

It is announced that Queen Elizabeth is to visit Kenilworth, the Earl of Leicester's castle. Leicester is a favourite of the Queen, but now has a new bride, Amelia Robsart, with whom he is in love. Fearing the Queen's displeasure, he asks his servant Lambourne to arrange for Amelia to be hidden until Elizabeth departs. Amelia is taken to a small cell in the castle by Leicester's equerry, Warney. He then tries to seduce her and tells that she has been placed there because her husband no longer loves her. When Amelia rejects his advances, Warney vows revenge.
Amelia manages to escape from the cell and in a secret garden of the castle encounters the Queen. She tearfully tells the Queen about her troubles with Leicester, whom she believes has betrayed her. The Queen goes to Leicester and Warney angrily demanding an explanation. Leicester reveals his marriage with Amelia to the Queen who becomes even more angry and dismisses him.
Warney, still desiring revenge, tries to poison Amelia, but is foiled by her faithful servant, Fanny. In the end, Elisabeth orders the arrest of Warney, pardons Leicester and Amelia, and approves their marriage to the jubilation of all.
download:  uploaded anonfiles yandex 4shared solidfiles mediafire mega filecloudio
Last Updated (Thursday, 31 October 2013 20:15)