Gaetano Donizetti - La Lettera Anonima (1998)
Gaetano Donizetti - La Lettera Anonima (1998)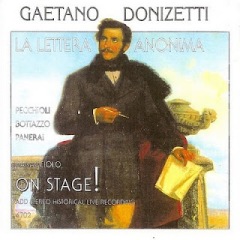 01. Eccellenza, Permettete
02. Questo Giorno, O Amata Sposa
03. Signori, Il Ciel Vi Guida
04. Messieurs, Les Danses
05. No, Non E Ver! Quella Crudele
06. Io Piu Non Reggo!
07. Hai capito ... Ho capito
08. Donna Iniqua E Sconosciente
09. E Cosi Non Rispondi
10. La Virtu Di Questa Figlia
11. Vendicarmi Io Gia Potrei
12. Da Quel Sorriso

Benedetta Pecchioli - Rosina
Rolando Panerai - Don Macario
Carla Virgili - Lauretta
Pietro Bottazzo - Captain Filinto -
Rosa Laghezza - Melitta
Carlo Zardo - Flageolet
Franco Ventriglia - Giliberto

Coro Amici della Polifonia, Napoli
Orchestra Alessandro Scarlatti, Napoli
Franco Caracciolo, 1972

La lettera anonima (The Anonymous Letter) is a farce in one act composed by Gaetano Donizetti in 1822 to a libretto by Giulio Genoino, a former monk and the official censor of the Kingdom of the Two Sicilies. Genoino based his libretto on his own farce which, in turn, had been based on Mélite, ou Les fausses lettres by Pierre Corneille in 1630.
With a letter of recommendation from his teacher Johann Simon Mayr, Donizetti was in Naples and came to an agreement with the impresario Domenico Barbaja, for whom he had already produced La zingara (The Gypsy Girl) on 12 May 1822, to write the opera. Six weeks later he presented the new farce to the public, the premiere taking place on 29 June 1822.
Overall, the opera appears to have been well received and given twenty performances, although according to Donizetti, "it was half-ruined by a novice singer (Cecconi)". However, as has been noted, "the score contains an attractive speciality number for the dancing master, Flageolet, and an extended quartet, "Stelle che intesti", the one number of the work to be praised by critics after the premiere"as "avoiding those caballetas and that symmetrical repetition of motifs which obliges all the performers to repeat the same musical phrases no matter what the diffeent emotions may agitate them".
Synopsis. Place: France. Time: 17th century
Countess Rosina and Captain Filinto are going to get married. An anonymous letter claiming that the Captain is already married to another arrives on the wedding day. This letter is finally found to be false, and the preparations for the wedding party continue.
download:  uploaded anonfiles yandex 4shared solidfiles mediafire mega filecloudio
Last Updated (Wednesday, 30 October 2013 15:41)