Gaetano Donizetti - Anna Bolena (1973)
Gaetano Donizetti - Anna Bolena (1973)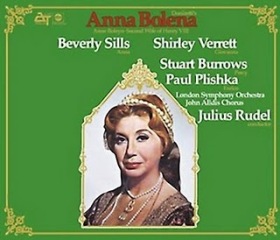 CD1
1. Anna Bolena, opera: Act 1. Sinfonia (Overture) 	
2. Anna Bolena, opera: Act 1. Introduzione 	
3. Anna Bolena, opera: Act 1. Ella di me, sollecita 	             play
4. Anna Bolena, opera: Act 1. Si taciturna e mesta 	
5. Anna Bolena, opera: Act 1. Deh! Non voler costringere 	
6. Anna Bolena, opera: Act 1. Come, innocente giovane 	
7. Anna Bolena, opera: Act 1. Legger potessi in me! Non v'ha sguardo 
8. Anna Bolena, opera: Act 1. O! qual parlar fu il suo! 
9. Anna Bolena, opera: Act 1. Si: l'avrete 
10. Anna Bolena, opera: Act 1. La mia fama e á pie dell'ara 
11. Anna Bolena, opera: Act 1. Ella pure amor m'offria              play
12. Anna Bolena, opera: Act 1. Ah! qual sia cercar non oso 
13. Anna Bolena, opera: Act 1. Chi veggo?... in Inghilterra 
14. Anna Bolena, opera: Act 1. Da quel dì che, lei perduta 
15. Anna Bolena, opera: Act 1. Ah! cosí nei di ridenti 
16. Anna Bolena, opera: Act 1. Desta sì tosto 
17. Anna Bolena, opera: Act 1. Io sentii sulla mio mano 
18. Anna Bolena, opera: Act 1. Or che reso ai patri i lidi 
19. Anna Bolena, opera: Act 1. Questo di per noi spuntato

CD2
1. Anna Bolena, opera: Act 1. E'sgombro il loco... 
2. Anna Bolena, opera: Act 1. Ah! parea che per incanto 
3. Anna Bolena, opera: Act 1. Basta... basta... tropp' oltre vai... 
4. Anna Bolena, opera: Act 1. Anna! - Ricardo! 
5. Anna Bolena, opera: Act 1. S'ei t'aborre, io t'anno ancora 
6. Anna Bolena, opera: Act 1. Ah!... per pietà del mio spavento 
7. Anna Bolena, opera: Act 1. Alcun potria ascoltarti 
8. Anna Bolena, opera: Act 1. Tace ognuno 	                                 play
9. Anna Bolena, opera: Act 1. In quegli sgardi impresso 
10. Anna Bolena, opera: Act 2. O! Dove mai ne andarono 	
11. Anna Bolena, opera: Act 2. O mie fedeli 
12. Anna Bolena, opera: Act 2. Dio, che mi vedi in core 
13. Anna Bolena, opera: Act 2. Sul suo capo aggravi un Dio 
14. Anna Bolena, opera: Act 2. Dal mio cor punita io sono                    play           
15. Anna Bolena, opera: Act 2. Va, infelice, e teco reca                   

CD3
1. Anna Bolena, opera: Act 2. Ebben? dinanzi ai giudici 
2. Anna Bolena, opera: Act 2. Scostatevi... il Re giunge... 
3. Anna Bolena, opera: Act 2. Ambo morrete 
4. Anna Bolena, opera: Act 2. Al Consiglio sien tratti 
5. Anna Bolena, opera: Act 2. Sposa a Percy 
6. Anna Bolena, opera: Act 2. Per questa fiamma indomita 
7. Anna Bolena, opera: Act 2. Stolta! nonsai... 
8. Anna Bolena, opera: Act 2. Ah! pensate che rivolti 	                  play           
9. Anna Bolena, opera: Act 2. Tu pur dannato a morte 
10. Anna Bolena, opera: Act 2. Vive tu, te ne scongiuro 	
11. Anna Bolena, opera: Act 2. Nel veder la tua constanza 	
12. Anna Bolena, opera: Act 2. Chi può vederla 
13. Anna Bolena, opera: Act 2. Piangete voi? 
14. Anna Bolena, opera: Act 2. Qual mesto suon?... 
15. Anna Bolena, opera: Act 2. Cielo, a' miei lunghi spasimi 
16. Anna Bolena, opera: Act 2. Coppia iniqua                             play

Beverly Sills - Anna Bolena
Shirley Verrett - Giovanna Seymour
Patricia Kern - Smeton
Robert Lloyd - Lord Rocheford
Paul Plishka - Enrico VIII
Robert Tear - Sir Hervey

London Symphony Orchestra
Julius Rudel

Although the Donizetti revival of the 60's and 70's used great talents of such singers as Maria Callas, Joan Sutherland and Montserrat Caballe, Beverly Sills was the grandest of them all. She was as good an actress on the operatic stage as Maria Callas, and sang more beautifully and in superior dramatic vein than Joan Sutherland. It does not take a genius to realize how great a soprano she truly is. In her role as Anne Boleyn, she makes use of dramatic and coloratura flair, providing the listener with a dynamic, vivid performance that rouses our sympathy in her final moments- a twenty minute aria-finale in which she goes mad and is lead to the execution block. The overture makes use of dramatic moments, particularily the music used at the end of the opera. Act I is full of bel canto melody with drama and sentimentalism, especially in Anna's aria "Come Inocente Giovine" in which she reminisces about her first love, and her voice is full of nostalgia and pathos. This same sentiment appears again in her "Cielo, a mie spasimi lunghi", which is a variation on the melody "Home Sweet Home" that becomes a short trio. Shirley Verret gives her best performance, other than her Norma, in the role of Jane Seymour. Her powerful voice, capable of beauty and strength, is evident in her duet with Anna at the end of Act 2 and in her aria "La Mia Fama". The finale is impossible to miss. In this recording, the sound of church bells and festivity is heard as Henry 8th prepares to make Jane Seymour his wife.
Anna, imprisoned in the tower, loses her mind and sings a mad scene that is ancestral to Donizetti's greatest opera, Lucia Di Lammermoor. Anna believes she is about to be married to Henry 8th all over again, and that she is not going to be executed. But when she discovers that Henry is going to marry Jane Seymour and that her own execution draws near (a couple of victims in the conspiracy that Henry accuses her of are killed, mainly Anna's servant and musician, Smeton, who is in love with her), Anna becomes insane. She returns to her sanity only to realize her end is near, singing the taxing coloratura/dramatic aria "Copia Iniquia". Donizetti made his mark with this opera and was welcomed in the Italian stage, namely Naples and San Carlo. The music is as rousing and touching as the ensembles and finales to every act. Impressive recording. Beverly Sills said herself, when she recorded this in 1975, that Anna Bolena was her most easiest role. A lesson, she says, to sopranos tackling the role.. it is very easy to sing the flowing, sentimental arias and recitatives of Anna's character and there is enough time in the length of this opera (three acts, three cd's) to get warmed up for the more difficult finale-aria. ---A Kid's Rewiev
Anna Bolena is a tragedia lirica, or opera, in two acts by Gaetano Donizetti. Felice Romani wrote the Italian libretto after Ippolito Pindemonte's Enrico VIII ossia Anna Bolena and Alessandro Pepoli's Anna Bolena, both telling of the life of Anne Boleyn. It premiered on December 26, 1830 at the Teatro Carcano, Milan.
The duet "Sul suo capo aggravi un Dio" between Anna (soprano) and Jane Seymour (mezzo soprano) is considered one of the finest in the entire operatic repertoire.
It is one of a number of operas by Donizetti which deal with the Tudor period in English history, including Roberto Devereux (named for a putative lover of Queen Elizabeth I of England), Maria Stuarda (named for Mary, Queen of Scots) and Il castello di Kenilworth. The lead female characters of the operas Anna Bolena, Maria Stuarda, and Roberto Devereux are often referred to as the "Three Donizetti Queens."
download:  uploaded anonfiles 4shared yadi solidfiles mega filecloudio
Last Updated (Thursday, 31 October 2013 18:24)