Francesco Bartolomeo Conti - Cantate con istromenti (2002)
Francesco Bartolomeo Conti - Cantate con istromenti (2002)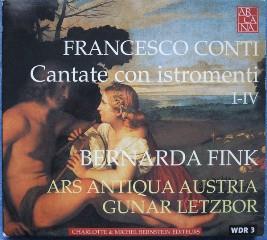 1 	Lontananza Dell´Amato 	17:14
2 	Ride Il Prato 	20:02
3 	Con Piu Lucidi Candori 	14:56
4 	Vaghi Augelletti 	15:35

Bernarda Fink - mezzo-soprano
Ars Antiqua Austria
Gunar Letzbor - conductor

Francesco Bartolomeo Conti is virtually forgotten today, but was an important composer in Viennese musical life of the 18th century. Born in Florence, he worked as a theorbo player for the Habsburg court, and later become Court Composer. After securing what was an excellent position, he spent the rest of his career in Vienna. He wrote some twenty-six operas, a dozen oratorios, as many comic intermezzos, and about eighty cantatas. This recording contains a selection of his cantatas for solo voice with a small instrumental accompaniment.
Bernarda Fink is an excellent singer who has performed a wide range of baroque music, from Bach to Handel, from Monteverdi to Mozart. Combining Fink's voice with the Ars Antique Austria ensemble, playing on a group of delectable original instruments, one could expect a truly memorable recording.
Alas, while the music is interesting, and the performers competent, there is nothing that makes this recording stand out. Fink, who has a fine, sensual voice, sounds forced and uncomfortable. She overuses vibrato. Her diction sounds a bit unnatural (while I do not speak Italian, it just sounds like she is stumbling at times), and she is almost screaming at some points, where it seems that the music might call for a more subtle approach. Her voice is too present, overwhelming the instruments, and the recording itself is strange; the music sounds muted, and Fink is off-centre in the sound-space.
Fink does not vary her approach to this music, but sings every part exactly the same. There is little emotion coming through; it sounds as if she is practising. Though her winning voice does save this disc from what could be much worse.
It is a shame, to have such a fine singer and excellent musicians, record something that ends up sounding so uninspired. While some listeners may appreciate this disc for its presentation of an unknown composer. ---Kirk McElhearn, musicweb-international.com
download (mp3 @320 kbs):