Friedrich von Flotow - Alessandro Stradella (2005)
Friedrich von Flotow - Alessandro Stradella (2005)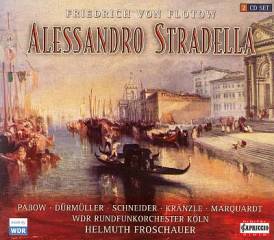 Disc: 1
  1. Ouvertüre
  2. Act 1. No. 1. Introduktion und Szene. In des Mondes Silberhelle
  3. Act 1. No. 2. Serenade. Horch, Liebchen, horch
  4. Act 1. No. 3. Szene. Doch seht! In der Geliebten Zimmer
  5. Act 1. Nocturno. Durch die Täler, über Hügel, führt die Liebe uns
  6. Act 1. No. 4. Finale. Doch horch! - Freudessausen, Jubelbrausen
  7. Act 1. Ballett
  8. Act 1. Schlussszene. Zu Jubelchor und frohem Reigen
  9. Act 2. Introduktion
  10. Act 2. No. 5. Rezitativ und Arie. So wär es denn erreicht... -Seid meiner Wonne stille Zeugen
  11. Act 2. No. 6. Chor. Hört die Glocken freundlich locken
  12. Act 2. No. 7. Duett. An dem linken Strand des Tiber
  13. Act 2. No. 8. Finale. Glockenklänge? - Bunte Menge!... Froh durchs Leben hinzustreben
  14. Act 2. Trinklied. Raus mit dem Nass aus dem Fass
  15. Act 2. Ballett
  16. Act 2. Schlussszene mit Liedchen von Salvator Rosa. Doch soll die Lust vollkommen sein - Tief

Disc: 2
  1. Act 3. No. 9. Introduktion und Wechselgesang. Italia, mein Vaterland
  2. Act 3. No. 10. Pilgerchor. Rosig strahlt die Morgensonne
  3. Act 3. Rezitativ. Das Haus scheint leer
  4. Act 3. No. 11. Terzett. Sag doch an, Freund Barbarino
  5. Act 3. No. 12. Finale. Aber still! Ich höre nah'n... Ruhig, leise, stille, sacht - Wie freundl
  6. Act 3. Gebet. Jungfrau Maria, himmlisch Verklärte
  7. Act 3. Rezitativ und Schlussszene. Wie! Was seh' ich? Mein Vormund!... Fromme Menge, im Gedrän

Alessandro Stradella, Sänger – Jörg Dürmüller (tenor)
Bassi, ein reicher Venezianer – Markus Marquardt (bass)
Leonore, sein Mündel – Sabine Passow (soprano)
Malvolino, Bandit – Johannes Martin Kränzle (bass)
Barbarino, Bandit – Bernhard Schneider (bass)

WDR Rundfunkchor Köln
WDR Rundfunkorchester Köln
Helmuth Froschauer – Dirigent

Rec.: Köln, Funkhaus des WDR, Klaus-von-Bismarck-Saal; 13-23.VII.2004.

During the trend of composers writing operas about composers (witness, for example, Alfred Schnittke's 1994 Gesualdo, Franz Hummel's 1996 Gesualdo, and Bo Holten's 2004 Gesualdo) it was not, in fact, an entirely new phenomenon. Pfitzner's 1915 Palestrina is the earliest composer-opera to have come anywhere close to entering the repertoire, but there were at least five operas written in the nineteenth century on the life of Alessandro Stradella, based on a biography, now discredited, that sensationalized his illicit romantic liaisons. Flotow's version, written in 1844, was his most popular work apart from Martha, and continues to be performed in Germany, but is little known elsewhere. The story involves the power of Stradella's music to avert his murder at the hands of his lover's guardian.
Flotow, along with Otto Nicolai and Albert Lortzing (who had written a singspiel about Mozart in 1833), filled the gap in German opera between Weber and Wagner. Having fulfilled that function, their music, lacking strong personality and being heavily indebted to Italian opera, is rarely performed. Flotow's Alessandro Stradella is a very competent work, dramatically engaging and full of attractive if conventional music; it frequently sounds like the kind of music Arthur Sullivan so skillfully lampooned in his operettas. It has moments of real lyric effectiveness; Stradella's aria "Jungfrau Maria, himmlisch Verklãrte" is memorably melodious. It's easy to see, given the dearth of competition, why the opera would have been beloved in its own time, and equally easy to see why it has failed to secure a place in the repertoire of great operas.
The recording makes as strong a case as possible for the opera. The WDR Rundfunkorchester and Chorus, Köln, under Helmuth Froschauer, performs with conviction and energy, making even the clichéd gestures and conventions sound as fresh as they must have before they became clichés. Jörg Dürmüller's tenor is strong and supple, and he delivers a virtuoso performance as Stradella, bringing him alive as a believable and appealing character. Basses Markus Marquardt, Johannes Martin Kränzle, and Bernhard Schneider have powerful, focused voices and are skilled comedians, keeping the action lively. Soprano Sabine Passow, whose timbre becomes strained and shrill in the upper register, makes the only weak contribution. --- Stephen Eddins, Rovi
download (mp3 @320 kbs):
yandex 4shared mega mediafire zalivalka cloudmailru uplea