J.S. Bach - Goldberg Variations (Glenn Gould) [1955]
J.S. Bach - Goldberg Variations (Glenn Gould) [1955]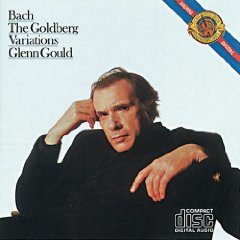 1. I Aria 
2. II Variation 1 
3. III Variation 2 
4. IV Variation 3 - Canone all'Unisono 
5. V Variation 4 
6. VI Variation 5 
7. VII Variation 6 - Canone alla Seconda 
8. VIII Variation 7 - Al tempo di Giga 
9. IX Variation 8 
10. X Variation 9 - Canone alla Terza 
11. XI Variation 10 - Fugetta 
12. XII Variation 11 
13. XIII Variation 12 - Canone alla Quarta 
14. XIV Variation 13 
15. XV Variation 14 
16. XVI Variation 15 - Canone alla Quinta 
17. XVII Variation 16 - Ouverture 
18. XVIII Variation 17 
19. XIX Variation 18 - Canone alla Sesta 
20. XX Variation 19 
21. XXI Variation 20 
22. XXII Variation 21 - Canone alla Settima 
23. XXIII Variation 22 - Alla breve 
24. XXIV Variation 23 
25. XXV Variation 24 - Canone all'Ottava 
26. XXVI Variation 25 - Adagio 
27. XXVII Variation 26 
28. XXVIII Variation 27 - Canone alla Nona 
29. XXIX Variation 28 
30. XXX Variation 29 
31. XXXI Variation 30 
32. XXXII Aria da capo

Glenn Gould – piano

Glenn Gould's debut album of Bach's Goldberg Variations was recorded in June 1955. The Columbia LP quickly became one of the most revered piano recordings ever made and Gould became the most famous classical artist of the day. His exciting, unorthodox new way of playing Bach left listeners awestruck and critics around the world hailing him as a genius. But until recently this iconic album was limited by the dated recording technology of its time.
On September 25, 2006, history was made again. Zenph Studios recorded its debut re-performance® to standing ovations in the CBC's famed Glenn Gould Studio in Toronto. The date would have been Glenn Gould's 74th birthday, and what a gift Zenph created to give his fans.
The Zenph re-performance is a revelation in its clarity, depth, and vibrancy. Gould seems to play at an almost inhuman speed and yet with complete accuracy. The 30 variations dazzle the listener with their inventiveness and variety. As music historian and Gould biographer Kevin Bazzana writes in the CD's liner notes, "Here, albeit with his trademark vocalizing no longer accompanying the performance, Gould's musical personality is unquestionably present..."
The modern sound of the Zenph re-recording delivers the subtle shadings and nuance that Glenn Gould intended. Zenph engineers used a meticulously voiced Yamaha Disklavier Pro to approximate the sound of the Steinway Gould used in 1955.
The recording is available as a multichannel hybrid SACD, which includes a stereo and surround high-resolution layer, as well as a standard Red Book CD layer. As a bonus treat for headphone listeners, Zenph also recorded a binaural version of the playing. In this technique, two microphones are positioned in the ears of a dummy head so that headphone playback sounds quite immersive. You can hear what Gould would have heard as he sat at the piano bench, an amazing experience!
download: uploaded anonfiles yandex 4shared solidfiles mediafire mega filecloudio
Last Updated (Monday, 25 November 2013 17:45)