Beethoven - Eroica Variations - Variations & Bagatelles (Glenn Gould) [1995]
Beethoven - Eroica Variations - Variations & Bagatelles (Glenn Gould) [1995]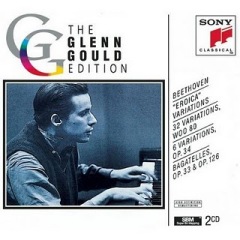 32 Variations On An Original Theme In C Minor, WoO 80
1-1  	   	Tema. Allegretto - Variation II  	1:03  	
1-2 	  	Variation III - Variation V 	1:05 	
1-3 	  	Variation VI - Variation VIII 	0:42 	
1-4 	  	Variation IX Con Espressione - Variation XI 	0:56 	
1-5 	  	Variation XII. Maggiore - Variation XIV 	1:28 	
1-6 	  	Variation XV + Variation XVI 	0:39 	
1-7 	  	Variation XVII. Minore + Variation XVIII 	0:47 	
1-8 	  	Variation XIX - Variation XXI 	0:42 	
1-9 	  	Variation XXII - Variation XXV. Leggiermente 	1:03 	
1-10 	  	Variation XXVI - Variation XXVIII 	1:01 	
1-11 	  	Variation XXIX + Variation XXX 	0:57 	
1-12 	  	Variation XXXI - Variation XXXII 	2:57 	
  	6 Variations In F Major, Op. 34
1-13 	  	Tema. Adagio 	1:07 	
1-14 	  	Variation I 	1:36 	
1-15 	  	Variation II. Allegro, Ma Non Troppo 	0:55 	
1-16 	  	Variation III. Allegretto 	1:11 	
1-17 	  	Variation IV. Tempo Di Menuetto 	1:11 	
1-18 	  	Variation V. Marcia. Allegretto 	1:52 	
1-19 	  	Variation VI. Allegretto - Molto Adagio 	4:01 	
  	15 Variations With Fugue In E-Flat Major, Op. 35 "Eroica"
1-20 	  	Introduzione Col Basso Del Tema. Allegretto Vivace - Tema 	4:41 	
1-21 	  	Variation I 	0:39 	
1-22 	  	Variation II 	0:35 	
1-23 	  	Variation III 	0:39 	
1-24 	  	Variation IV 	0:28 	
1-25 	  	Variation V 	1:04 	
1-26 	  	Variation VI 	0:32 	
1-27 	  	Variation VII. Canone All'Ottava 	0:51 	
1-28 	  	Variation VIII 	1:11 	
1-29 	  	Variation IX 	0:40 	
1-30 	  	Variation X 	0:42 	
1-31 	  	Variation XI 	1:04 	
1-32 	  	Variation XII 	0:45 	
1-33 	  	Variation XIII 	0:51 	
1-34 	  	Variation XIV. Minore 	2:02 	
1-35 	  	Variation XV. Maggiore. Largo 	4:01 	
1-36 	  	Finale Alla Fuga. Allegro Con Brio - Adagio - Andante Con Moto 	5:42 	
  	7 Bagatelles, Op. 33
2-1 	  	No. 1 In E-Flat Major. Andante Grazioso Quasi Allegretto 	3:54 	
2-2 	  	No. 2 In C Major. Scherzo. Allegro 	2:55 	
2-3 	  	No. 3 In F Major. Allegretto 	1:27 	
2-4 	  	No. 4 In A Major. Andante 	3:20 	
2-5 	  	No. 5 In C Major. Allegro Ma Non Troppo 	2:34 	
2-6 	  	No. 6 In D Major. Allegretto Quasi Andante 	3:40 	
2-7 	  	No. 7 In A-Flat Major. Presto 	1:53 	
  	6 Bagatelles, Op. 126
2-8 	  	No. 1 In G Major. Andante Con Moto Cantabile E Compiacevole 	4:00 	
2-9 	  	No. 2 In G Minor. Allegro 	1:57 	
2-10 	  	No. 3 In E-Flat Major. Andante Cantabile E Grazioso 	3:51 	
2-11 	  	No. 4 In B Minor. Presto 	5:04 	
2-12 	  	No. 5 In G Major. Quasi Allegretto 	2:16 	
2-13 	  	No. 6 In E-Flat Major. Presto - Andante Amabile E Con Moto 	4:44

Glenn Gould - piano
Glenn Gould has been one of the most emblematic artists who characterized with major mercurial breath and singular commitment what the role of a pianist must be. His profound sense of the span, and visible concerns around the search of the whole expression and meaning of every work he played was even not enough for him. And as well as others colleagues such Artur Schnabel, Paul Badura Skoda, György Sandor or Alfred Brendel was a deep thinker and published two illustrative books. In the meantime there is a lot of abundant information in different interviews and TV videos. The impressive command of his leonine intelligence may be verified in the four hands program with Yehudi Menuhin, for instance, among some others equally representative.
This album is one the most important recordings of his wide discography. These 32 Variations on an Original Theme are simply superb. Steeled fingering and powerful interpretative creativeness, make of this performance an absolute must for all who love this admirable creation.
6 Variations Op. 34 possesses that fortunate combination of elegance, expression and temperament without additional ornaments. Balance and musicality shake hands in this fabulous performance.
15 Variations with Fugue Op. 35 "Eroica" is by far, one of my favorite choices. You should realize the Final Movement is composed for a true kaleidoscope of visions which clasp humor, sadness, bitterness and this notable sense of foreknowable epic breath. These are masterful performances supported by that sublime conviction and vibrant sound. The variations must be played under the perspective of the epic spirit about the absolute understanding about what the term hero represents. The true Beethovenian dissonances are rude but that does not mean to cudgel or hammer the piano as many pianists mistakenly tend to make it.
The set of Bagatelles are extraordinary. They are scented of this aristocratic atmosphere, and never should be played under a romantic or nostalgic approach, because you simply would seem to ignore the role of Beethoven in music. ---Hiram Gomez Pardo, amazon.com
download: uploaded anonfiles yandex 4shared solidfiles mediafire mega filecloudio
Last Updated (Sunday, 24 November 2013 23:32)