Christoph Willibald von Gluck - Iphigenie in Aulis (1972)
Christoph Willibald von Gluck - Iphigenie in Aulis (1972)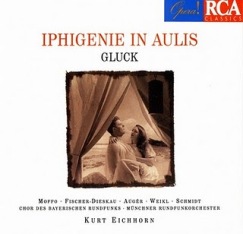 CD1
1. Ouvertüre 	          play
2. O Artemis, Erzürnte! 	
3. Länger darfst du nicht widerstreben! 	
4. Du siehst, wie laut das Heer schon wütet... Kann vom Vater die Göttin fordern 	
5. Klytemnestra mit der Tochter... Ihr Könige so hoch und doch Sterbliche nur 	
6. Grausame Götter!... Welch ein Reiz, welche Majestät 	
7. Wie gern hört mein Ohr dieses schmeichelnde Lob 	
8. Laßt uns allein... Waffne dich mit zürnendem Mute 	
9. Hab ich recht gehört?... Weh mir! Mein Herz, noch nicht belehret 	
10. Ist's ein Traum, der mich täuscht!... Zweifle nie an meiner Treue 	
11. Laß deine Brust Freude durchwallen 	
12. Umsonst wähnet ihr meine Sorgen zu täuschen!... Bald von Fürchten und bald von Hoffen 
13. Meine Tochter, bald macht Hymen dich glücklich 	
14. Singt laut und erhebt eure Königin!

CD2
1. Der Ehe holder Gott! 
2. Achill! Sieh hier vor dir mich knien!... Ach, zum Tode verdammt 
3. Fürstin, beruhige dich!... Ja, mein Vater ist er 
4. Folg mir, du Treuer!... Geh! sage ihr 
5. Ha, er kommt!... Wie du so kühn und frech mir drohest 
6. Ihr Wachen her!... O du, die ich so innig liebe 
7. Nein, nein, nimmer dulden wir das... Haltet hier sie im Zelt zurück 
8. Das Los, das mir beschieden 
9. Weh mir! in welchem Wahn seh ich dein Herz befangen!... Der Priester, wagt er dir zu nah'n 
10. Er geht, er flieht! 	
11. Meine Tochter! Wo ist meine Tochter?... O Zeus! Deiner Blitze Flammen schleudre hernieder play
12. Du Gottheit, groß und hehr, sei gnädig unserm Werk

Iphigénie - Anna Moffo
Clytemnestre - Trudeliese Schmidt
Agamemnon - Dietrich Fischer-Dieskau
Achille - Ludovic Spiess
Calchas - Thomas Stewart
Archas - Bernd Weikl
Diane - Arleen Auger

Chor des Bayerischen Rundfunks
Münchner Rundfunkorchester
Kurt Eichhorn, 1972

Iphigénie en Aulide (Iphigeneia in Aulis) is an opera by Christoph Willibald Gluck, the first work he wrote for the Paris stage. The libretto was written by Leblanc du Roullet and was based on Jean Racine's tragedy Iphigénie. It was premiered at the Paris Opéra on 19 April 1774.
In 1847 Richard Wagner presented a revised version of Gluck's Iphigénie en Aulide at the Dresden Court. Wagner edited, re-scored and revised the opera significantly including adding a different ending and some other passages of his own composition. Wagner's version of the opera was revived at the 1984 Waterloo Festival with Alessandra Marc as Iphigenia.
The opera was first performed in the United States on February 22, 1935 at the Academy of Music, Philadelphia. The fully staged production was presented by the Philadelphia Orchestra and conductor Alexander Smallens. Directed by Herbert Graf, it used sets by Norman Bel Geddes and starred Georges Baklanoff as Agamemnon, Cyrena van Gordon as Clytemnestre, Rosa Tentoni as Iphigénie, Joseph Bentonelli as Achille, and Leonard Treash as Patrocle.
download: uploaded anonfiles yandex 4shared solidfiles mediafire mega filecloudio
Last Updated (Thursday, 28 November 2013 21:46)