Gorecki - Symphony No.2 'Copernican'. Beatus Vir (2001)
Górecki - Symphony No.2 'Copernican'. Beatus Vir (2001)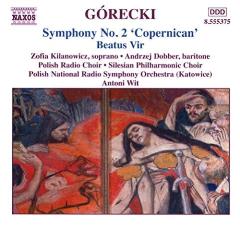 1 	Beatus Vir, Op. 38 	31:08

Symphony No. 2 'Copernican', Op. 31 	(36:02)
2 	First Movement 	16:35
3 	Second Movement 	19:27

Zofia Kilanowicz - soprano (tracks: 2, 3) 
Andrzej Dobber - baritone
Silesian Philharmonic Choir, Polish Radio Choir 
Polish National Radio Symphony Orchestra (Katowice)
Antoni Wit - conductor

You might remember Polish composer Henryk Górecki's best-known work for voice and orchestra, 1976's Third Symphony ("Symphony of Sorrowful Songs"). After all, David Zinman's recording for Nonesuch with soprano Dawn Upshaw raced to the top of the classical and pop charts when it was first released in 1992. It might be tempting to understand Górecki by that singular success; in the case of the Second Symphony and Beatus vir, you wouldn't be too far off base. The Symphony No. 2 "Copernican" was written four years before the Third Symphony; Beatus vir was written in 1979. Both works call for voice and orchestra (as well as mixed choir). By the late 1960s, the composer already had settled into a signature aesthetic that many came to know in the Third Symphony: a lone voice floating over a murmuring pulse, thunderous blows of percussion, massive blocks of orchestral chords, and religiously oriented texts. (The Beatus vir text comes from the Psalms; the Second Symphony, following the work's subtitle, uses the astronomer's own words in praise of God, taken from De revolutionibus orbium coelestium.)
For better or worse (depending on your response to the Symphony No. 3), Górecki's compositional language in these two pieces will be quite familiar. If you find Górecki a compelling artistic voice–and I do–then these performances will be a worthy addition to your library, if not quite as emotionally harrowing an experience as Symphony No. 3. The ethnic connections on this Naxos release run deep: Copernicus was Polish, Beatus vir was commissioned by the Polish Pope, John Paul II (when he was still Cardinal of Cracow), and these artists, uniformly first-rate, are Polish as well. Baritone Andrzej Dobber turns between despondency and strength as the psalms call for, and soprano Zofia Kilanowicz has an appealingly warm tone. Antoni Wit has an admirable track record with Naxos, and this recording is another win for him. The sound is excellent: very focused and rich. ---classicstoday.com
W 1977 roku Górecki otrzymał od metropolity krakowskiego, kardynała Karola Wojtyły, zamówienie na skomponowanie utworu dla uczczenia przypadającej w 1979 roku 900. rocznicy męczeńskiej śmierci św. Stanisława. Przygotowując się do pracy, gromadził – swoim zwyczajem – teksty i zastanawiał się nad wyborem właściwej koncepcji utworu. Tymczasem 16 października 1978 roku Karol Wojtyła został wybrany papieżem. Wydarzenie to wprawiło Góreckiego, jak zresztą większość Polaków, w euforię, jednocześnie jednak spowodowało dylemat – jak, w obliczu tego faktu, powinien wyglądać zamówiony jeszcze przez kardynała utwór?
Co więcej, premierę nowej kompozycji zaplanowano na 9 czerwca 1979 roku, czyli na dzień wizyty papieża Jana Pawła II w Krakowie, podczas jego I pielgrzymki do ojczyzny. Po namyśle kompozytor zdecydował się raz jeszcze sięgnąć do Księgi Psalmów i w końcu – dopiero w kwietniu 1979 roku – przystąpił do intensywnej pracy. W ten sposób powstał Beatus vir na baryton, chór mieszany i orkiestrę. Gotowe dzieło kompozytor dedykował Ojcu Świętemu Janowi Pawłowi II. Górecki sam poprowadził prawykonanie utworu w krakowskim kościele oo. Franciszkanów w obecności papieża, który po zakończeniu koncertu osobiście kompozytorowi podziękował. Głęboko wzruszony Górecki zachował ten dzień w pamięci, zaznaczając później wielokrotnie, że było to najważniejsze wydarzenie w jego życiu.
Charakter Beatus vir wiąże się wyraźnie z atmosferą obu wcześniejszych symfonii kompozytora – II Symfonii "Kopernikowskiej" (w jej drugiej części) i III Symfonii "Symfonii pieśni żałosnych". Dzieło przenika nastrój modlitewnej kontemplacji o podniosłym, uroczystym charakterze, podkreślonym użyciem monumentalnej obsady – rozbudowanego chóru i wielkiej orkiestry symfonicznej, towarzyszących soliście. W toku utworu dominują wielokrotnie powtarzane akordy, ponad którymi rozwija się spokojna, choć niepozbawiona akcentów o wzmożonej ekspresji, melodia głosu solowego, dialogującego z chórem lub przezeń wzmacnianego. Całość ponad trzydziestominutowej kompozycji toczy się wolno, pozwalając słuchaczowi na zanurzenie się w atmosferze skupionej modlitwy, pełnej żarliwości, pokory i całkowitego zawierzenia Bogu.
Warto dodać, że przyjęcie zamówienia od kardynała Wojtyły, a tym bardziej decyzja o ukończeniu kompozycji w czasie, kiedy został on już obrany papieżem, przysporzyły Góreckiemu wielu kłopotów natury politycznej i ostatecznie przypieczętowały jego rezygnację ze stanowiska rektora katowickiej Państwowej Wyższej Szkoły Muzycznej. ---ninateka.pl
download (mp3 @320 kbs):
yandex mediafire ulozto gett bayfiles