Charles Gounod – Mireille (Plasson) [1977]
Charles Gounod – Mireille (Plasson) [1977]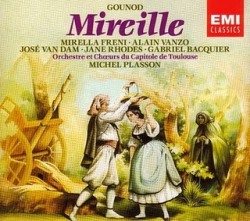 CD1
1. Mireille : Ouverture
2. Mireille - Acte I : I. Introduction - La Cueillette 
3. Mireille - Acte I : II. Récit "C'est Donc Vrai" 
4. Mireille - Acte I : III. Duo "Est-Elle Jeune Et Belle?" 
5. Mireille - Acte II : IV. Farandole Et Choeur "La Farandole Joyeuse Et Folle"     play
6. Mireille - Acte II : IV. Chanson De Magali "La Brise Est Douce Et Parfumée" 
7. Mireille - Acte II : IV. Scène Et Choeur "Place ! Place Aux Coureurs !" 
8. Mireille - Acte II : IV. Récit "Eh Bien! Mireille" 
9. Mireille - Acte II : V. Chanson "Voici La Saison" 
10. Mireille - Acte II : V. Récit "Que J'épouse"
11. Mireille - Acte II : VI. Air "Mon Choeur Ne Peut Changer" 
12. Mireille - Acte II : VI. Récit "Ourrias ! Pourquoi Fuir Si Vite"
13. Mireille - Acte II : VII. Couplets "Si Les Filles D'Arles" 
14. Mireille - Acte II : VII. Récit "Adieu."                                      play
15. Mireille - Acte II : IIX. Finale
16. Mireille - Acte III : IX. Prélude "Voici Le Val De L'enfer" 

CD2
1. Mireille - Acte III : X. Scène Et Duo "Ils S'éloignent !" 
2. Mireille - Acte III : XI. Scène Le Rhône "Ah ! Qu'ai-Je Fait !"
3. Mireille - Acte IV - 1er Tableau : XII. Choeur Des Moissonneurs "Amis, Amis, Voici La Moisson Faite" 
4. Mireille - Acte IV - 1er Tableau : XIII. Musette
5. Mireille - Acte IV - 1er Tableau : XIV. Chanson "Le Jour Se Lève"
6. Mireille - Acte IV - 1er Tableau : XV. Cavatine "Heureux Petit Berger" 
7. Mireille - Acte IV - 1er Tableau : XV. Récit "Mireille ! Qui M'appelle" 
8. Mireille - Acte IV - 1er Tableau : XVI. Duo "Ah ! Parle Encore" 
9. Mireille - Acte IV - 2ème Tableau : XVI. Introduction
10. Mireille - Acte IV - 2ème Tableau : XVII. Air "Voici La Vaste Plaine" 
11. Mireille - Acte V : Xiix. Marche Et Choeur "Vous Qui Du Haut Des Cieux"               play
12. Mireille - Acte V : XIX. Cavatine "Mon Coeur Est Plein D'un Noir Souci"               play
13. Mireille - Acte V : XX. Scène Finale 

Mireille - Mirella Freni
Vincent - Alain Vanzo
Ourrias - José van Dam
Maître Ramon - Gabriel Bacquier
Taven - Jane Rhodes
Vincenette - Christine Barbaux
Maître Ambroise - Marc Vento
Clémence - Michèle Command
Andreloun - Luc Terrieux
Une Voix den-haut - Michèle Command

Orchestre et Choir du Théâtre du Capitole de Toulouse
Michel Plasson – conductor

Mireille is an opera in five acts by Charles Gounod to a French libretto by Michel Carré after Frédéric Mistral's poem Mireio. The opera premiered at the Théâtre Lyrique, Paris on March 19, 1864; the first night was attended by Ivan Turgenev, who in a letter to Pauline Viardot, ridicules part of Act 3.
Criticisms of the original performances led to a revised version in three acts which was presented in Paris, on December 15, 1864, and yet another version with a happy ending for the Opéra-Comique in 1889. December performances of Mireille also included a revised ending to the overture (which has been used ever since although the original slower coda is printed in the 1970 vocal score) and the 'valse-ariette' "O légère hirondelle" for Mireille in Act I.
Mireille was seen in London, Dublin and Philadelphia in 1864 and Antwerp in 1865. Adelina Patti sang the title role in an Italian production in St Petersburg in 1874 with her husband Nicolini as Vincent.
In 1939 an attempt was made to revert to Gounod's original thoughts, and productions since then have generally followed the five act structure in a version edited by Henri Büsser. Whether the Busser edition (based on a new production in Paris, 6 June 1939, revived in Arles, 28 June 1941)[8] is a true reflection of the original score is doubtful: there may have been spoken dialogue at the première rather than recitatives; the end of Act II was originally a repeat of the concertato, not a recollection of the Chanson de Magali.