Jakub Jozef Orlinski - Anima Sacra (2018)
Jakub Jozef Orlinski - Anima Sacra (2018)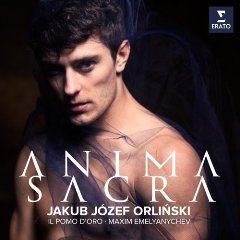 Nicola Fago (1677-1745)
1. Alla gente a Dio diletta - From Il Faraone Sommerso
Confitebor Tibi Domine
2. Confitebor Tibi Domine
3. Memoriam Fecit Mirabilium Suorum
4. Fidelia Omnia Mandata Ejus
5. Sanctus Et Terribile
6. Initium Sapentiae Timor Domini
7. Intellectus Bonus Omnibus - Gloria
8. Sicut Erat In Principio - Amen

Johann David Heinichen (1683-1729)
Alma Redemptoris Mater
9. Aria: "Alma Redemptoris Mater"
10. Accompagnato: "Tu Quae Genuisti"
11. Aria: "Gabrielis Ab Ore"

12. Domènec Terradellas (1711-1751): Donec Ponam – Aria For Contralto From Dixit Dominus

Nicola Fago (1677-1745): 
Tam Non Splendet Sol Creatus
13. Aria: "Tam Non Splendet Sol Creatus"
14. Recitativo: "O Nox Clara?"
15. Aria: "Dum Infans Iam Dormit"
16. "Alleluia"

17. Domenico Sarro (1679-1744): Laudamus Te - Aria For Contralto From Messa A 5 Voci In Fa Maggiore
18. Francesco Feo (1691-1761): Juste Judex Ultionis - From Dies Irae In G

Jan Dismas Zelenka (1679-1745)
Smanie Di Dolci Affetti...S'una Sol Lagrima From Gesù Al Calvario - Zwv 62
19. Accompagnato - "Smanie Di Dolci Affetti..."
20. Aria - "S'una Sol Lagrima"

21. Johann Adolf Hasse (1699-1783): Mea Tormenta, Properate! - From Sanctus Petrus Et Sancta Maria Magdalena
22. Gaetano Maria Schiassi (1698-1754): L'agnelletta Timidetta - From Maria Vergine Al Calvario
23. Francesco Durante (1684-1755): Domine Fili Unigenite - Aria For Contralto From Messa A 5 Voci

Jakub Józef Orliński - countertenor
Il Pomo d'Oro
Maxim Emelyanychev - conductor

The debut album from countertenor Jakub Józef Orliński – born in Warsaw, trained at New York's Juilliard School, and 2016 winner of the Metropolitan Opera's prestigious National Council Auditions – Anima sacra features what are believed to be world premiere recordings of eight Baroque arias, notably by composers of the Neapolitan school. Orliński is partnered by Il pomo d'oro conducted by Maxim Emelyanychev. ---Editorial Reviews, amazon.com
The Baroque period was a time of extraordinary innovation. Polish countertenor Jakub Józef Orliński is adding a whole new dimension to this old music to make it sound so new. The singer showcased his talents on January 31 at Carnegie Hall.
Orliński sang with exceptional grace and charm. He has been praised by Opera News for "the sheer beauty and smooth grace of his sound," and from this performance, we can see why the publication gave such a glowing review.
His stage presence was so welcoming and inviting, which is not always the case with young singers. In some way, it's unusual that such a crowd came out to hear a countertenor since this is not a "popular" art form, yet it should be and is really very beautiful.
This countertenor has amassed a following in a short period of time, with major competition wins at the Metropolitan Opera National Council Auditions in 2016 and the Marcella Sembrich International Vocal Competition in 2015. Then in 2017, he was catapulted to international prominence when his poignant live performance of Vivaldi's "Vedrò con mio diletto" on France Musique quickly amassed more than 2 million views online. ---classicalpost.com
Najważniejszy debiut roku – pierwszy album Jakuba Józefa Orlińskiego dla Erato.
Wspaniały popis wokalny, a także 8 światowych premier fonograficznych w repertuarze obejmującym przede wszystkim arie kompozytorów szkoły neapolitańskiej. Jakubowi Józefowi Orlińskiemu towarzyszy zespół Il pomo d'oro, specjalizujący się w wykonawstwie muzyki z tego okresu, pod batutą Maxima Emelyanycheva.
Jakub Józef Orliński – kontratenor znany z urzekającej barwy głosu, a także lekkości i finezji technicznej i niesłychanej wirtuozerii. Zasłynął po serii nagród na prestiżowych międzynarodowych konkursach wokalnych. Jest zwycięzcą National Council Auditions w Metropolitan Opera w 2016 r. Pierwsze kontrakty operowe przyniosły znakomite recenzje, a gdy radio France Musique opublikowało na swoim profilu na Facebooku nagranie "Vedro Con Mio Diletto" w wykonaniu Orlińskiego, wideo stało się niezwykle popularne i obejrzało je w krótkim czasie ponad 2 miliony osób.
Artysta prezentuje wysmakowane podejście do interpretacji. Wykształcony w nowojorskiej Juilliard School, a także w Uniwersytecie Muzycznym w Warszawie, Jakub Józef Orliński z łatwością porusza się po meandrach stylistycznych muzyki poważnej, pochodzącej z różnych okresów w historii. Jednocześnie artystę fascynuje współczesność. Jego umiejętności fizyczne w postaci breakdance wielu reżyserów operowych wykorzystuje w spektaklach z jego udziałem.
Płyta "Anima Sacra" to manifest wolności i pasji, które zdaniem Orlińskiego stanowią kwintesencję stylu barokowego. "Trzeba przestrzegać wielu zasad, ale należy też podejmować liczne wybory. Poczynając od ornamentacji, która pozwala obrać różnorodne ścieżki interpretacji" – mówi artysta – "W ornamentacji możesz pokazać kreatywność, ale też dotrzeć głębiej do serca utworu i pokazać swoją artystyczną osobowość. Twoje życiowe doświadczenia stają się filtrem, inspirującym muzyczne wybory" kontynuuje. ---empik.com
download (mp3 @320 kbs):
yandex mediafire ulozto gett bayfiles
Last Updated (Monday, 07 October 2019 16:13)