Giovanni Andrea Bontempi - Il Paride (2011)
Giovanni Andrea Bontempi - Il Paride (2011)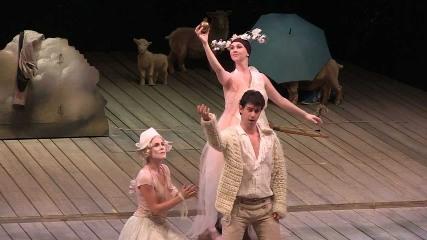 Part I
Tracks 1 - 21

Part II
Tracks 1 - 15

Discordia, Argenia - Mariana Flores, Soprano
Giove, Priamo, Ermillo - Fulvio Bettini, Baritone
Giunone, Ecuba, Lupino - Dominique Visse, Alto
Pallade, Elena - Raquel Andueza, Soprano
Venere, Amore - Hannah Morrison, Soprano
Mercurio, Melindo, Ancrocco, Ergauro - Emiliano Gonzales Toro, Tenor
Apollo, Irseno, Oronte - Fernando Guimaraes, Tenor
Paride - David Hansen, Alto
Enone - Luciana Mancini, Mezzosoprano

Ensemble L'Arpeggiata
Christina Pluhar - director

Music Festival Potsdam, Schlosstheater
Potsdam Sanssouci, 21, 22 June 2011

Broadcast: Deutchlandradio Kultur Berlin 6 August 2011

Giovanni Andrea Bontempi (ca. 1624 – 1 July 1705) was an Italian castrato singer, later composer, historian, music theorist, and assistant kapellmeister to Heinrich Schütz at Dresden from 1657. He was born Giovanni Andrea Angelini, in Perugia but later took the surname of his patron Cesare Bontempi. His Il Paride was the first Italian-language opera to be given in Dresden. It was first performed in November 1662 at the Dresden Castle to celebrate the marriage of Erdmude Sophia, the daughter of the Elector of Saxony, and Christian Ernst, Count of Brandenburg. He composed two other operas, both of which also premiered in Dresden: Dafne performed in 1671 to open the Opernhaus am Taschenberg, and Jupiter und Jo first performed in 1673.
Bontempi spent the last years of his life in Brufa (near Perugia) and is buried in the chapel of SS. Cosma e Damiano there. ---revolvy.com
Music Festival Potsdam Sanssouci - "Il Paride"
With a modern-day premiere of Giovanni Andrea Bontempi's opera "Il Paride" appeared this year's Music Festival Potsdam Sanssouci, May 11 to 26 June took place deep in the exciting early days of opera history - the 17th Century.
The first Italian opera in Dresden (even on German soil), was refined with a splendid, Saxony and Brandenburg wedding ceremony in 1662. The work combines tragedy and comedy with the high-mythical world of the Iliad.
The libretto tells of a wedding between Paris and Helen. It tells of the struggle between the three goddesses Pallas, Juno and Venus and the Olympians. Jupiter makes the shepherd Paris the one to judge, but Venus makes promises that cause him to leave his beloved Enone.
download (mp3 @VBR kbs):
yandex mediafire ulozto gett bayfiles