Mahler - Das Klagende Lied (1991)
Mahler - Das Klagende Lied (1991)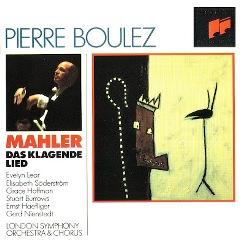 1. Das klagende Lied: 1. Waldmarchen  	30:15.09
2. Das klagende Lied: 2. Der Spielmann  19:44.73
3. Das klagende Lied: 3. Hochzeitsstuck  20:48.44

Ernst Haefliger (Tenor)
Evelyn Lear (Soprano)
Grace Hoffman (Alto),
Elisabeth Söderström (Soprano)
Gerd Nienstedt (Bass)
Stuart Burrows (Tenor)

London Symphony Orchestra & Chorus
Pierre Boulez – conductor

Mahler was amazingly precocious to have written this hour-long 'fairy tale for the concert hall,' which is already rife with his future musical style. At the time (1880) nobody appreciated the teenage genius--he began the work when he was 18--because the premiere of Das klagende Lied didn't take place for more than twenty years. Boulez approaches the work as a 'novelistic sketch' of everything to come. That's the secret of this performance--Boulez gives it as much energy and conviciton as he would to a great Mahler symphony.
I'm grateful to 'Mahlernut' for pointing out this overlooked 1970 recording. The lineup of soloists is twice the usual, becasue after recording Part 2 and 3, Boulez returned to the studio with new singers to record Part 1 later on. If you want to hear the work as authorized by Mahler, only Part 2 and 3 belong to the final score. The discarded Part 1 is more diffuse and less dramatic, but any lover of Mahler will still want to hear it.
I am not an expert on Klagende Lied, but I notice that for all the great Mahler conductors who have avoided it as a juvenile work (Bernstein, Karajan, Abbado, Walter, Horenstein) there are a handful of enthusiasts (Chailly, Tilson Thomas, Haitink, Sinopoli, Nagano) who have promoted it on CD. The Gramophone's standard recommendation is the Chailly on Decca, but given how well the present CD is recorded, how splendid all the singing and playing is, and how committed Boulez sounds, I'm happy to stick with his wonderful preformance. ---Santa Fe Listener, amazon.com
"Das klagende Lied" to pierwszy poważny utwór Mahlera, skomponowany w latach 1878-1880, zaraz po ukończeniu studiów w Konserwatorium Wiedeńskim, i oznaczony jako opus 1. Dzieło wydaje się dość problematyczne pod względem kwalifikacji gatunkowej, gdyż sugerowane tytułem cechy pieśniowości można tu odnaleźć tylko w pewnym zakresie. Bardziej odpowiednim gatunkiem byłaby kantata, za czym przemawia obsada wykonawcza złożona z kilku partii wokalnych, chóru i dużej orkiestry. Albo nawet oratorium, gdyż dzieło ma charakter epicki, o ukształtowanej i kierunkowo rozwijającej się akcji.
Poetycki tekst "Das klagende Lied" pochodzi od samego kompozytora, który oparł się na spisanej przez badacza folkloru niemieckiego, Ludwiga Bechsteina, opowieści ludowej o tym samym tytule, a także wykorzystał baśń braci Grimmów "Der singende Knochen" ("Śpiewająca kość"). Treść utworu opowiada tragiczną historię dwóch braci, rywalizujących o rękę królewny, a akcja dzieła została ujęta w trzy części. --- dwutygodnik.com
download: uploaded filecloudio anonfiles yandex 4shared mediafire solidfiles mega nornar
Last Updated (Friday, 07 February 2014 10:29)