Offenbach - La Belle Hélène (2009)
Offenbach - La Belle Hélène (2009)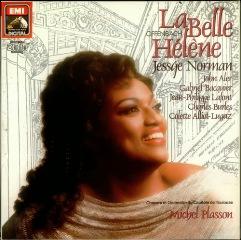 Disc: 1
1. Act One. Intro/No.1a-Chor: ' Vers Tes Autels...' - Chor Du Capitole De Toulouse/Guy Llomme
2. Act One. Texte: 'Trop De Fleurs'/No.1b-Chor Des Jeunes Filles: 'C'est Le Devoir Des Jeunes...' - Chor Du Capitole De Toulouse/Guy Llomme/Jean-Philippe Lafont
3. Act One. No.2a-Air: Amours Divins.../Texte: Un Mot Grand Augure' - Jessye Norman
4. Act One. Texte: 'L'Affaire Du Mont Ida'/No.2b-Texte: 'Entrez, Entrez Vite Grande Reine' - Jessye Norman/Jean-Philippe Lafont
5. Act One. No.3a-Couplets: 'Au Cabaret Du Labyrinthe' - Colette Alliot-Lugaz/Jean-Philippe Lafont/Chor Du Capitole De Toulouse/Guy Llomme
6. Act One. Texte: 'Mesdames Voici Le Calchas...'/No.3b: 'Tzing La La'/Texte: 'Tzing La La' - Colette Alliot-Lugaz/Jean-Philip Lafont/Chor Du Capitole De Toulouse/Guy Llomme
7. Act One. Texte: 'Un Mot...'/No.4-Melodrame: 'Quoi?... La-bas Dans L'azur'/No.5-Melodrame: 'Homme... - Chor Du Capitole De Toulouse/Guy Llomme
8. Act One. Texte: 'Ainsi Vous Avez Vu La Deesse'/No.6-Le Jugement De Paris: 'Au Mont Ida' - Jean-Philippe Lafont/John Aler
9. Act One. Texte: 'Mon Compliment...' - Jean-Philippe Lafont/John Aler/Jessye Norman
10. Act One. No.7a Marche: 'Voici Les Rois De La Grece...' - Chor Du Capitole De Toulouse/Guy Llomme
11. Act One. No.7b Couplets Des Rois: 'Ces Rois Remplis De Vaillance'/No.7c-Reprise Du Chor: 'Voici... - Roger Trentin/Gerard Desroches/Colette Alliot-Lugaz/Jean-Philippe Lafont/Jacques Loreau...
12. Act One. Texte: 'Rois Et Peuples De La Grece...'/No.7d: 'Nous Commencons...' - Roger Trentin/Gerard Desroches/Colette Alliot-Lugaz/Jean-Philippe Lafont/Jacques Loreau...
13. Act One. Texte: 'Vainqueur, Il Est Vainqueur'/No.7e: 'Fanfare!...'/No.8-Finale: 'Gloire' - Jessye Norman/Colette Alliot-Lugaz/Chor Du Capitole De Toulouse/Guy Llomme
14. Act Two. No.9 Entracte - Orch Du Capitole De Toulouse/Michel Plasson
15. Act Two. No.10 Chor: 'O Reine, En Ce Jour...'/Texte: 'Y Pensez-Vous Madame...' - Guy Llomme/Nicole Carreras/Jessye Norman/Chor Du Capitole De Toulouse/Guy Llomme
16. Act Two. Texte: 'Je Garderai Cette Toilette' - Jessye Norman/Nicole Carreras
17. Act Two. Texte: 'O Venus...'/No.11-Invocation A Venus: 'On Me Nomme Helene La Blonde' - Jessye Norman
18. Act Two. Texte: 'Bonsoir Prince...' - Jessye Norman/John Aler
19. Act Two. No.12 Marche De L'Oie: 'Le Voici Le Roi Des Rois...' - Orch Du Capitole De Toulouse/Michel Plasson

Disc: 2
1. Act Two. No.13 Scene Du Jeu: 'Vous Le Voyez' - Jessye Norman/John Aler/Charles Burles/Gabriel Bacquier/Jean-Philippe Lafont/Colette Alliot-Lugaz...
2. Act Two. Texte: 'Que Ces Choses Sont Desagreables'/No.14 Couplets Et Chor: 'En Couronnes... - Jessye Norman/Nicole Carreras/Jean-Philippe Lafont/John Aler/Chor Du Capitole De Toulouse...
3. Act Two. No.15 Duo: 'C'Est Le Ciel Qui M'Envoie...' - Jessye Norman/John Aler
4. Act Two. Texte: 'Ciel Mon Mari'/No.16 Finale: 'A Moi! Rois De La Grece...' - Jessye Norman/Charles Burles/John Aler/Gabriel Bacquier/Jean-Philippe Lafont/Colette Alliot-Lugaz...
5. Act Three. Entracte/No.18 Chor Et Chanson D'Oreste: 'Danson, Buvons'/No.18b Ronde: 'Venus Au... - Colette Alliot-Lugaz/Chor Du Capitole De Toulouse/Guy Llomme
6. Act Three. No.18c Melodrame: 'Oh Mais Alors Ce N'etait Pas Un Reve' - Charles Burles/Jessye Norman/Gabriel Bacquier
7. Act Three. No.19 Couplets: 'La Vrai, Je Ne Suis Pas Coupable'/Texte: 'Et C'est Pour Avoir Cette... - Jessye Norman
8. Act Three. Texte: 'C'Est Pour Garder...' - Charles Burles/Jean-Philippe Lafont/Gabriel Bacquier
9. Act Three. No.20 Trio Patriotique: 'Lorsque La Grece...'/Texte: 'Il Faut Se Faire Une Raison...' - Gabriel Bacquier/Charles Burles/Jean-Philippe Lafont
10. Act Three. No.21a Chor Et Couplets De Paris: 'La Galere De Cythere...'/No.21b-Tyrolienne Avec... - Chor Du Capitole De Toulouse/Guy Llomme
11. Act Three. Texte: 'Elle Pardonnera...' - John Aler/Charles Burles/Gabriel Bacquier/Chor Du Capitole De Toulouse/Guy Llomme
12. Act Three. No.22 Finale: 'Elle Vient, C'est Elle...' - Jessye Norman/John Aler/Charles Burles/Gabriel Bacquier/Jean-Philippe Lafont/Colette Alliot-Lugaz...

Jessye Norman - Hélène (soprano)
John Aler - Paris (tenor)
Charles Burles - Agamemnon (tenor)
Gabriel Bacquier - Calchas (barítono)
Colette Alliot-Lugaz - Oreste (soprano)
Jacques Loreau - Achille (tenor)
Roger Trentin - Ajax Premier (tenor)
Gérard Desroches - Ajax Deuxieme (barítono)
Nicole Carreras - Bacchis (soprano)
Adam Levallier - Un Esclave (rol hablado)

Choeur et Orchestre du Capitole de Toulouse
Michel Plasson – conductor, 1984

With two - albeit highly accomplished - Americans in the lead roles, the obvious question is whether they can carry off the Gallic charm exemplified by French artists in previous versions of this sparkling operetta. However, comparison with the classic, mono 1952 recording conducted by René Leibowitz - actually a Francophile Pole - starring Janine Linda (aka Janine Lindenfelder) and André Dran, reveals that this 1984 performance is by no means deficient in French style. As you might expect, Jessye Norman and John Aler are more careful and less spontaneous in their delivery of the dialogue, but they clearly studied to acquire beautiful accents and manage to inflect their words most amusingly - I love Aler's smug 'C'est moi' when he confirms the identity of the handsome young shepherd in his famous aria narrating 'The Choice of Paris'. Similarly, Norman puts a lovely wheedling and very Gallic pout into her voice. Both artists have wonderful voices. Aler's light tenor has all the heady charm associated with the now virtually extinct French tenor typified by Dran and Alain Vanzo: in the ensemble 'Qu'avez-vous fait de son honneur?', he sings superbly and in full voice the roulades by which Offenbach mocks bel canto scales - whereas Dran does the whole thing in falsetto. Nobody can erase memories of Björling's stunning 1938 account (in Swedish!) of the tenor's big number 'Au Mont Ida', but Aler sings it gracefully and easily - and he yodels at Olympic level at the end of Act 3.
Norman's Rolls Royce voice is a very different vehicle from Linda's piping-but-pleasing soubrette and it is a real treat to hear her enwrap Offenbach's exquisite melodies in such sumptuous tone. She sings a glorious, full-voiced top C, majestically leaps the intervals of a ninth in the'Invocation à Vénus' and thoroughly enjoys the diva -esque ornamentation in the absurd 'l'homme à la pomme', but can also lighten her voice when required. Her main trick, however, especially in the dialogue, where she reveals an unexpectedly camp sense of humour, is to play the husky, smoky-voiced vamp, whereas Linda's portrayal is a more conventional, deploying the saccharine charms of a 'cocotte'. Both voice types and characterisations are equally effective in their way.
The supporting cast contains some famous names and they are clearly having a high old time, released from the sombre demands of Grand Opera to whoop it up in Offenbach's wry romp. Plasson's way with the score is more leisured and affectionate than Leibowitz, whose delivery is more pungent and pacier, but the ensembles zip along with zest and vigour. The March of the Kings is hilarious, and even if the Toulouse forces do not have quite the élan of Leibowitz's Parisian orchestra, Plasson's voices are clearly classier. While Leibowitz gives us something more recognisable and perhaps more valuable in its links with a virtually vanished vaudeville tradition, Plasson still knows how to spin the seductive waltz melody in the 'Entr'acte' and makes us newly aware of the cross-fertilisation between the Opéra Comique and Viennese operetta, as in the parallel between the ironic farewells to irksome husbands found at the end of Act 1 and 'O je, O je, wie rührt mich das' in Act 1 of 'Die Fledermaus' (1874).
Strange to think that this satirical treatment of the ancient Greeks by Offenbach and his librettists caused scandal and aroused condemnation by more the high-minded critics; its humour has worn rather well and sits comfortably with our cynical, liberal age. The puns and word-plays ('gaga-memnon') are still witty and edgy - so more's the pity that, despite EMI's invitation to locate and download the libretto from their website, no such thing seems currently available. I hope that is remedied soon, as unless your French is pretty fluent, you really need the words to appreciate fully this splendid recording, which is now a quarter-century old and wearing its years lightly. --- Ralph Moore, MusicWeb International
download: uploaded yandex 4shared mediafire solidfiles mega zalivalka filecloudio nornar anonfiles oboom ziddu