Sumi Jo – Romantic (1997)
Sumi Jo – Romantic (1997)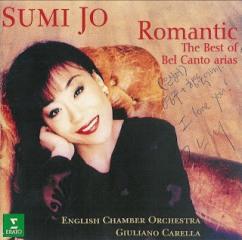 01. Bel raggio lusinghier (Semiramide-Rossini)
02. Care compagne (La sonnambula-Bellini)
03. Sul fil dun soffio etesio (Falstaff-Verdi)
04. Sor vergin vezzosa (I Puritani-Bellini)
05. Oh I quante volte,oh quante (I Capuleti e I Montecchi)
06. O luce di questanima (Linda di chamcunix-Donizetti)
07. No,che il morir non e (Tancredi-Rossini)
08. Qui la voce sua soave (I Puritani-Bellini) * 
09. Io non sono piu la Annetta (Crispino e la comare-Federico et Luigi Ricci) * 
10. E strano,e strano (La traviata-Verdi) With Octavio Arevalo

Sumi Jo - soprano
Octavio Arevalo – tenor

English Chamber Orchestra
Giuliano Carella – conductor

Sumi Jo is a South Korean operatic soprano. She was born in Seoul, South Korea on 22nd November, 1962. She graduated from the Accademia Nazionale di Santa Cecilia in Rome after 3 years of study in keyboard and vocal music. In 1986, she made her operatic debut as Gilda in Giuseppe Verdi's Rigoletto at Teatro Comunale Giuseppe Verdi in Trieste. This debut performance attracted the attention of Herbert von Karajan, for whom she sang the role of Oscar in Un Ballo in Maschera at the Salzburg Festival, as a result of an audition in 1988.
Since then, she has performed all the great coloratura roles such as the Queen of the Night in The Magic Flute , the title role in Lucia di Lammermoor, Zerbinetta in Richard Strauss' Ariadne auf Naxos, Fiorilla in Il turco in Italia, Amina in La sonnambula, etc. at the world's major opera houses, under conductors like Sir Georg Solti, Zubin Mehta, Lorin Maazel, and Richard Bonynge. ---last.fm
Sumi Jo (ur. 22 października 1962) jest pochodzącą z Korei Pd. śpiewaczką operową, dysponującą sopranem liryczno - koloraturowym. Jest szczególnie znana i uznawana za swoje interpretacje repertuaru bel canto. Została uhonorowana nagrodą Grammy.
W 1990, Jo miała swój debiut w Chicago Lyric Opera jako Królowa Nocy w "Zaczarowanym flecie" Mozarta. Następnego roku powróciła do Metropolitan Opery, później zadebiutowała w Covent Garden jako Olympia w operze Offenbacha "Opowieści Hoffmana". Do Covent Garden powróciła i w przyszłym roku by zagrać Adinę w "Napoju miłosnym" Donizettiego i Elvirę w "Purytanach" Belliniego.
Sumi Jo ma na swoim koncie około 50 prywatnych nagrać, włączając w to solowy album dla Erato. Nagrania te zawierają kompletne opery, oratoria, operetki i prace orkiestralne. Nagrała też wokalizę do ścieżki dźwiękowej "Dziewiątych Wrót" skomponowanych przez Wojciecha Kilara. Temat muzyczny w tym filmie jest oparty na utworze Camille Saint-Saënsa. ---last.fm
download:   uploaded 4shared ziddu gett mediafire hostuje anonfiles