Karol Szymanowski - Harnasie, Ballet-Pantomime Op. 55 (1999)
Karol Szymanowski - Harnasie, Ballet-Pantomime Op. 55 (1999)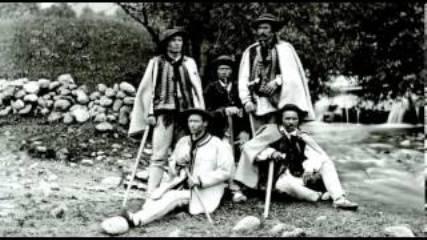 1. Harnasie

Orkiestra i Chór Filharmonii Narodowej w Warszawie
Kazimierz Kord - conductor

Karol Szymanowski, Harnasie (1923-1931): ballet-pantomime in three tableaux for solo tenor, mixed chorus and orchestra, to a script by the composer and Jerzy Mieczysław Rytard, Op. 55. Traces of Podhale folklore - from very slight to easily identifiable - are found in many of Szymanowski's works: the mazurkas, String Quartet No. 2, Symphony No. 4 'Symphonie Concertante', Violin Concerto No. 2, and also in Stabat Mater, and even in the Kurpie Songs. But the most obvious inspiration of highland music is present in the ballet Harnasie - in direct quotes, elements borrowed from folklore, or in the composer's own motifs and phrases.
Szymanowski's first impulse to think about creating such a piece came from contact with the music of Stravinsky in 1912. The ballets The Firebird, Petrushka and Le Sacre du Printemps were well-known by then. In 1913 Stravinsky himself presented his Wedding to Szymanowski in London. Finally, his contacts with Diaghilev's famous Ballets Russes prompted Szymanowski into more concrete action, and in 1922 he was in Zakopane collecting the first material for his ballet.
In 1923, a female highlander friend of Szymanowski's - Helena Gąsienica-Roj - was married to Jerzy Rytard. Szymanowski was the best man and performed all the duties linked to that role, such as inviting the guests to the wedding on the eve of the marriage, including drinking vodka at each invited person's home. The idea for his ballet finally crystallized at the Rytards' wedding. The Rytards took care of the script, developing the composer's detailed plan. Work on Harnasie lasted eight years, and the ballet was completed in 1931.
The script of Harnasie is a kind of mythological generalization of highland culture - the plot is symbolic, the characters have no names, they are simply "the Girl", "the Shepherd", "the Robber". The ballet comprises three tableaux - the third one is an epilogue, and Szymanowski was unsure what its character should be. Ultimately, he expanded the final scene of tableau two ending the work, giving the dancers the opportunity to show off their skills in a spectacular third tableau. Tableau I - In the Mountain Pasture - begins with the redyk (driving the sheep). One of the girls meets a highland stranger whom she later recognizes as a harnas - a robber. He confesses his love for her. Tableau II is the Girl's wedding. At the climax of the wedding fun, the highland robbers burst in - the stranger abducts the bride. Tableau III shows the lovers in a mountain pasture deep in the mountains, among the robbers. ---culture.pl/en/
Balet HARNASIE Szymanowskiego ma prostą fabułę - to historia góralskiej dziewczyny siłą wydanej za mąż za bogatego gazdę i uprowadzonej w czasie wesela przez jej uikochanego harnasia. Można ten balet uznać bezsprzecznie za dzieło genialne pod każdym względem. To pierwszy w historii muzyki polskiej utwór sceniczny w całości oparty na floklorze Podhala. Pierwszy również, który w tak doskonały sposób łączy w sobie elementy muzyki ludowej (dosłowne cytaty melodii góralskich) z indywidualnym stylem kompozytora. Szymanowski okazał się znakomitym znawcą specyfiki góralszczyzny i stworzył utwór o wspaniałej oprawie brzmieniowej, oryginalnych stylizacjach, utwór jednocześnie i dramatyczny, liryczny i ekspresyjny, niezwykle barwny. W utworze znalazły się tak znane motywy podhalańskie, jak pieśni W MUROWANEJ PIWNICY, czy EJ WOLNY, JO, WOLNY, JAKO PTOSEK POLNY. I trudno chyba dziś ocenić, czy bardziej popularne są rodzime śpiewy Podhalan, czy HARNASIE Szymanowskiego . --- culture.pl
download: uploaded yandex 4shared mediafire solidfiles mega zalivalka filecloudio anonfiles oboom
Last Updated (Tuesday, 27 May 2014 14:33)