Heitor Villa-Lobos – Bachianas Brasileiras (1988)
Heitor Villa-Lobos – Bachianas Brasileiras (1988)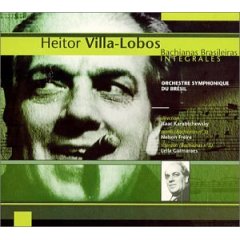 Disc 1
1. Bachianas Brasileiras No. 1: Embolada
2. Bachianas Brasileiras No. 1: Modinha
3. Bachianas Brasileiras No. 1: Conversa
4. Bachianas Brasileiras No. 2: O Canto Do Capadocio
5. Bachianas Brasileiras No. 2: O Canto Da Nossa Terra
6. Bachianas Brasileiras No. 2: Lambranca Do Sertao
7. Bachianas Brasileiras No. 2: O Trenzinho Do Caipira
8. Bachianas Brasileiras No. 3: Ponteio
9. Bachianas Brasileiras No. 3: Devaneio
10. Bachianas Brasileiras No. 3: Modinha
11. Bachianas Brasileiras No. 3: Picapau

Disc 2
1. Bachianas Brasileiras No. 4: Introducao
2. Bachianas Brasileiras No. 4: Canto Do Sertao
3. Bachianas Brasileiras No. 4: Cantiga
4. Bachianas Brasileiras No. 4: Miudinho
5. Bachianas Brasileiras No. 5: Cantilena
6. Bachianas Brasileiras No. 5: Martelo
7. Bachianas Brasileiras No. 6: Aria
8. Bachianas Brasileiras No. 6: Fantasia

Disc: 3
1. Bachianas Brasileiras No. 7: Ponteio
2. Bachianas Brasileiras No. 7: Quadrilha Caipira
3. Bachianas Brasileiras No. 7: Desafio
4. Bachianas Brasileiras No. 7: Conversa
5. Bachianas Brasileiras No. 8: Preludio
6. Bachianas Brasileiras No. 8: Modinha
7. Bachianas Brasileiras No. 8: Catira Batida
8. Bachianas Brasileiras No. 8: Fuga
9. Bachianas Brasileiras No. 9: Preludio E Fuga

Nelson Freire, piano (No. 1)
Leila Guimaraes, soprano (No. 5)
Cellos of the Brazil S.O. (Nos. 1 & 5)
Norton Morozowicz, flute (No. 6)
Noël L. Devos, bassoon (No. 6)

Brazil Symphony Orchestra
Isaac Karabtchewsky – director

Villa-Lobos' great cycle of nine Bachianas Brasileiras have been recorded often enough to make a wide selection of performances possible. This latest entry has two plusses: Isaac Karabtchewsky, the conductor who has long been associated with Villa-Lobos, and, of course, the pianist Nelson Friere of similar sympathy. One would expect exemplary performances here. Notwithstanding the evident pedigree of the performers (by reputation, at least), regrettably, the performances are all too pedestrian, and not at all clean. There are far too many issues with intonation, balance and overall ensemble to make this outing worth the money. Furthermore, the recording values are among the worst I have ever heard. The clipping and distortion are beyond belief - further, every single track is given the "home standard" 2 second pause. Thus there is absolutely no distinction between one movement and the next, or one composition and the next. It is rank amateur production on every level. My recommendation: look elsewhere. The music is poorly served here - both in performance as well as presentation. A major disappointment. --- Avrohom Leichtling, amazon.com
In 1930, the forty-three-year-old Heitor Villa-Lobos returned to his native Brazil after several years in Paris. Immediately he began two important projects. The first was the development of a long range plan for music education in Brazil's schools. Villa-Lobos' interest in music for the young was intense; as the government's Superintendent of Music Education, he eventually revolutionized the musical training of Brazil's youth. He published an important manual on Brazilian folk music still used in the schools, and organized mammoth concerts with choruses as large as 30,000 and orchestras of 1,000 performers.
The second most important project of those years was Bachianas Brasileiras, nine unmistakable Brazilian distillations of thee musical heritage bequeathed to the world by Johann Sebastian Bach. That Bach and Brazil could be joined so felicitously is perhaps surprising, but Villa-Lobos effects the union with vivid conviction. Each section of the Bachianas has both a "Bachian" and a "Brazilian" title. The fourth in the series was originally begun in 1930 as a piano solo, but after its completion in 1936, Villa Lobos set it for full orchestra. In this version, the work had its premiere in 1942 in Rio de Janeiro, the composer conducting the Orquestra de Teatro Municipal.
The Bachian titles - Prelude, Chorale, Aria, and Dance - are magically transformed into the Brazilian idiom with humor and assurance. The music evokes the country that Villa-Lobos explored so widely as a youth, wandering from corner to corner of Brazil and absorbing its rich rural folk traditions.
The chorale movement is subtitled "Canto de Sertao" ("Song of the Bush") and is at once reverent and nostalgic in its peaceful calm. An insistently repeated high note suggests the clear, powerful bell-like call of the araponga, a bird of the Brazilian forests, and this alternates with a troubadourlike melody. The aria, renamed "Cantiga," resembles the popular march-like songs of northeastern Brazil. Finally, the Dance brings the work to a whirling delightful conclusion. It is a "Miudinho," a rapid dance executed with incredibly light, almost imperceptible steps. --- naxos.com
download: uploaded yandex 4shared mediafire solidfiles mega zalivalka filecloudio anonfiles oboom
Last Updated (Thursday, 19 June 2014 16:30)