Billie Holiday – Singin' Her Greatest Songs (2007)
Billie Holiday – Singin' Her Greatest Songs (2007)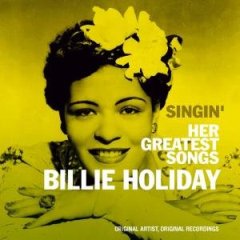 01. Lady Sings The Blues 03:47 
02. Strange Fruit 03:04 
03. I Must Have That Man 03:07 
04. God Bless The Child 04:01 
05. Travelin' Light 03:11 
06. No Good Man 03:21 
07. Some Other Spring 03:39 
08. Good Morning Heartache 03:29 
09. All Or Nothing At All 05:42 
10. Nice Work If You Can Get It 03:50 
11. Please Don't Talk About Me When I'm Gone 04:21 
12. Willow Weep For Me 03:09 
13. Speak Low 04:28 
14. April In Paris 03:02 [Release Note]

Holiday, Billie (1915–1959), jazz singer and lyricist. Like many jazz musicians, Billie Holiday ("Lady Day") began her career in brothels and after-hours clubs. After an apprenticeship at late-night jam sessions, she became one of the most significant figures in the history of jazz. Since her death she has become an American icon, perhaps better known for the stories surrounding her drug addiction and her personal life than for her artistry.
Her autobiography, Lady Sings the Blues (1956), coauthored with William Dufty, has become a classic African American autobiography. The text is one of the first to contribute to the myth of Holiday as the tortured but talented jazz and pop singer. The myth is elaborated on the pages of the autobiographies of some of the twentieth century's most significant African Americans including Malcolm X's The Autobiography of Malcolm X (1965), Lena Horne's Lena (1965), and Maya Angelou's The Heart of a Woman (1981). In these texts Holiday alternates from a hip but generous big sister to a vulgar, mean-spirited, aging woman; however, in all of them she is portrayed as a highly talented, sensitive musician who is the victim of America's racism and the sexism of black and white men.
The most exquisite evocations of Holiday appear in poetry. Alexis De Veaux's narrative poem, "Don't Explain: A Song of Billie Holiday" (1980); "The Day Lady Died" (1959), by white American poet Frank O'Hara; and "Sometimes You Look Like Lady Day" (1973), by Filipino American poet Jessica Tarahata Hagedorn, all immortalize Holiday in her breathtaking beauty and artistry.
Holiday is the subject of numerous biographies. The most significant include The Many Faces of Lady Day (1991), by literary critic Robert O'Meally, and Donald Clarke's Wishing on the Moon: The Life and Times of Billie Holiday (1994). O'Meally seeks to turn attention away from the various myths of Holiday's personal life and instead to focus on her development and achievement as an extraordinary jazz artist. In so doing, he moves Holiday beyond her status as victim and situates her in the space of her agency—her music. Clarke's is the most extensive and well researched of the Holiday biographies to date and includes a chapter on her emergence as an American icon. ---Farah Jasmine Griffin
download: uploaded yandex 4shared mediafire solidfiles mega zalivalka filecloudio anonfiles oboom
Last Updated (Wednesday, 30 July 2014 21:05)