Chick Corea – Electric Chick (2008)
Chick Corea – Electric Chick (2008)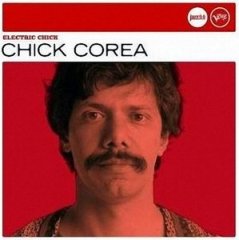 01. Slinky 5:42 
02. The One Step 6:03 
03. Sicily 6:15 
04. Fickle Funk 5:03 
05. Hot News Blues 6:18 
06. Friends 9:24 
07. Love Castle 4:46 
08. Wind Danse 4:55 
09. Leprechaun's Dream 13:03 
10. The Mad Hatter Rhapsody 10:43

Backing Vocals – Gayle Moran
Bass – Bunny Brunel,  Eddie Gomez
Drums – Tom Brechtlein, Steve Gadd
Electric Bass – Anthony Jackson
Electric Piano, Synthesizer – Chick Corea
Electric Piano – Herbie Hancock
Flugelhorn – Al Vizzutti
Flute – Joe Farrell
Percussion – Airto Moreira
Soprano Saxophone – Joe Farrell
Trombone – Jim Pugh, John Rosenburg, John Thomas, Stuart Blumberg, Bill Watrous, Wayne Andre
Trumpet – Al Vizzutti, Bob Zottola, Danny Cahn, John Gatchell, Bob Millikan
Vocals – Al Jarreau, Gayle Moran

Chick Corea is one of the very best and most highly respected jazz musicians. An exceptionally talented pianist, he soon established himself at the cutting edge of jazz at a time when the fashion was the abandonment of rules. Chick Corea's career began modestly. As an ambitious young musician in the 1960s he was fortunate to be able to make albums of contemporary jazz that were much influenced by the trends around him. With saxophonist Anthony Braxton, his early work involved many experiments with free jazz and he established a reputation as a creative musician.
Then he received the call to join the Miles Davis band. It was to be a life-changing event, not just because of his involvement with the phenomenon that was Miles Davis, but also because Miles persuaded him to take up the electric piano. It was new to him and he hated it at first. However, he was a rapid convert to electric piano. Corea played a big part in the seminal Miles Davis albums at this critical point in history: In A Silent Way (1969), Bitches Brew (1970) and Live Evil (1970).
In 1972 Corea started his own jazz-rock band, Return to Forever. In these early days, and with no clear recipe for successful jazz-fusion. It took time for him to become established in jazz-fusion His first attempt was a grouping that included Airto Moreira (percussion) and Flora Purim (vocals), as well as Stanley Clarke (bass) and Joe Farrell (sax and flute). Though successful in many ways, it quickly became clear that the band's focus was somewhat short of the marks being set by the likes of Mahavishnu Orchestra. It simply wasn't electric enough, so in 1974 Chick rebuilt the band by retaining Clarke and adding Al di Meola (guitar) and Lenny White (drums). It was the key to great success and a string of great albums followed: Hymn of the Seventh Galaxy (1973), Where Have I Known You Before (1974), No Mystery (1975) and Romantic Warrior (1976). With this line-up Chick established Return to Forever as one of the most important jazz-rock bands of all time.
Over the course of his career, Chick's major influence has been his Latin heritage and, time and again, we find him basing his music strongly on harmonies and rhythms derived from the Spanish-Moorish cultures. Nevertheless, as a pianist of the highest standard, a large quantity of Chick's output has been in the jazz-classical European fusion category. Some of his recordings of his own compositions stand proud in the category of classical European music, but again, it is his roots in the ethnic Spanish folk culture that join up with his brilliant jazz brain and shine through much of what he does.
As the momentum for jazz-fusion began to dissipate around 1978, Chick's path was diverted back towards the jazz middle ground. There he made a large number of albums with an equally large number of jazz musicians. However, his attentions were drawn back to jazz-fusion in the mid 1980s and resulted in the formation of a new band, The Chick Corea Elektric Band. Six more albums were produced: The Chick Corea Elektric Band (1986), Light Years (1988), Eye of the Beholder (1990), Inside Out (1991), Beneath the Mask (1992) and Paint the World (1993). Each album was innovative and different from the one that preceded it, and fans of jazz-fusion believe that this was a rare purple period for the genre at a time when everyone thought that jazz-fusion was passé.
Chick later reformed the Elektric Band to record a final album, To the Stars (2004). It turned out to be a sad junior cousin and seemed to be more about a promotion of Scientology than a serious attempt to build upon a brilliant set of albums. Then in 2008, Chick looked even farther back to Return to Forever and made the most of the opportunity to reform the band for a money-spinning world tour. An album called The Anthology (2008) was released that was a compilation of the band's original tracks. Then came Returns (2008), a double CD that contained fresh recordings of old material. In 2009 came his brilliant work with John McLaughlin and the album Five Peace Band (2009). ---jazz-fusion.org
download (mp3 @VBR kbs):
yandex mediafire ulozto gett solidfiles
Last Updated (Friday, 12 February 2021 22:17)