Free Cooperation - Our Master's Voice (1989)
Free Cooperation - Our Master's Voice (1989)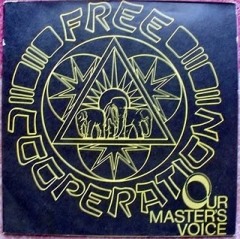 1. Promotion
2. STS
3. Convergence
4. Tuba Dei

Wojciech Czajkowski - production, double bass, percussion, composition
Bronisław Duży - trombone
Henryk Gembalski - violin
Antoni Gralak - trumpet
Andrzej Przybielski - trumpet
Mariusz Stopnicki - trumpet
Sarandis Juvenudis - drums
Marek Kazana - clarinet, bass clarinet
Wojciech Konikiewicz - keyboards
Aleksander Korecki - alto saxophone, soprano saxophone
Marcin Pospieszalski - bass guitar
Mateusz Pospieszalski - alto saxophone, soprano saxophone
Janusz Skowron - electronic percussion, keyboards
Michał Zduniak – drums

Free Cooperation emerged in 1985 as a few dozen elite collective of Polish jazz avantgarde musician form such groups as Session 80 Acoustic Action, Tie Break and Green Revolution. Its very first concerts became sensation - both to critics and the audience.
In June 1985 the band recorded their first session for Polish Radio 3rd Programme, producing a surprising mixture of free jazz, big band textures, electronics and collective improvisation, inspired by reggae, ethno, futuristic fusion, rock, punk jazz to neo swing.
Also influenced by literature(Alfred Kubin) and contemporary art(Ad Reinhardt) as well as some political events of the past (workers' uprising in Poznań in 1956), the music written and arranged by Wojciech Konikiewicz, Alek Korecki, Janusz Yanina Iwański and Wojciech Czajkowski appeared to be highly original and unique both in Poland and the rest of Europe. Applauded at Jazz Jamboree 1985 the band continued succesful performances at many other festivals in 1986. The history stopped in 1986, shortly after the release of FC's second LP. Considered by many as one of the most important bands of 80-ties in Europe, the band is now back in the game!
Coming concerts in Cracow and Katowice will finalize long lasting efforts of all band's members to permanently reactivate it. An exciting mixture of previous and new compositions will be presented, showing this phenomenal orchestra at its best. ---piecart.pl
Free Cooperation to legendarna orkiestra, działająca w latach 80-tych. Prowadzona przez kompozytora i kontrabasistę, Wojciecha Czajkowskiego, była wylęgarnią talentów, które wygenerowały nową falę w polskim jazzie. Young Power, Stand'art, Pick Up, Tie Break, Graal – to tylko niektóre z formacji, które współtworzyli muzycy Free Cooperation: Gralak, Korecki, Duży, Kiniorski, Kazana, Konikiewicz, Iwański, Przybielski, Skowron, Bikont, Pospieszalscy czy Zduniak.
download (mp3 @320 kbs):
uploaded yandex 4shared mediafire mega solidfiles zalivalka cloudmailru filecloudio oboom
Last Updated (Thursday, 30 October 2014 20:54)