Jerzy Milian – Ashkhabad Girl (2003)
Jerzy Milian – Ashkhabad Girl (2003)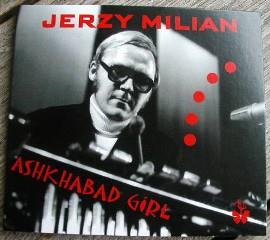 1 	Bufon Luciano (Lucian Coxcomb) 	2:35
2 	Młoty Na Widowni (Jerks At The Audience) 	3:00
3 	Kłopoty Pana Naczelnika (Troubles Of Mr Head) 	2:35
4 	Harce Mecenasa (Pranks Of The Lawyer) 	3:00
5 	Bazar W Aszchabadzie (Ashkhabad Bazaar) 	2:45
6 	Rajd Safari (Safari Rally) 	2:10
7 	Stary Wiatrak (An Old Windmill) 	2:30
8 	Kandelabry (Candelabra) 	1:45
9 	Karibu (Caribou) 	2:25
10 	Wychodząc Na Ulice (Going Out On The Street) 	2:40
11 	Dajcie Gaśnice (Give Me A Fire-Extinguisher) 	2:30
12 	U Zegarmistrza (At The Watchmaker's) 	2:30
13 	Funicula Funicula (Lud. Wloska) (Trad. Italian) 	2:40
14 	Dialog O Północy (Dialogue At Midnight) 	2:25
15 	Dziewczyna Z Aszchabadu (Ashkhabad Girl) 	6:20

Originally Recorded Between 1967 And 1972 At Polish Radio Poznan Studio [Poznan, Poland].

Born in 1935 in Poznań, he graduated from the piano class at a 2nd grade music school to continue his musical education at Hochschule fur Musik in Berlin and at private classes with Bogusław Schaeffer or Wolfram Heicking.
In 1954 Milian met Krzysztof Komeda and two years later he gave up the piano to join his sextet as a vibraphonist. The two musicians had a great success at the International Jazz Festival in Sopot in 1956.
When the band fell apart, Milian stayed in Poznań, where initially he performed with radio bands. As a composer and arranger he took part in numerous recordings and concerts, and in 1965 he started his collaboration with the radio orchestra of the Belgian BRT radio. The experience inspired him to set up the Orkiestra Rozrywkowa (Light Orchestra) of the Polish Radio and TV in Katowice along with choreographer Konrad Drzewiecki.
Remaining aside from the main jazz scene, Milian would had almost been forgotten, if it were not for the discovery of his recordings from the late 60's and late 70's by the young generation of musicians bound with modern dance music. The original editions of his older albums became more and more expensive and samples from his pieces appeared on many contemporary electronic music.
Milan's latest albums: Ashkhabad Girl and Milianalia were recorded in the renowned studio of Obuh Records and released also on vinyl, bringing the artist excellent reviews and the renaissance of his work. --- culture.pl/en/artist/jerzy-milian
Archiwalne nagrania studyjne zespołu jazzowego Jerzego Miliana z lat 1967-1972 założonego po rozwiązaniu legendarnego Sekstetu Krzysztofa Komedy. Wydane po raz pierwszy w 2003 roku na obuszym winylu, który zaraz potem stał się tzw. kolekcjonerskim rarytasem mają tym razem szansę trafić do rąk wszystkich zainteresowanych. Dla tych co nie wiedzą, album zawiera znakomite jazz beatowe kawałki z wpływami muzyki latynoskiej i wiszącej w powietrzu psychodelii. Zagrane ze straszliwym biglem i poczuciem humoru. Co razem skutkuje niechybnym ogniem, który dobywa się z wibrujących pośladków. Krótko mówiąc jest to absolutna, choć przez długie lata zupełnie nieznana perła pogranicza polskiego jazzu. W dwustronnie rozkładanym digipaku, z nowym, czujnym masteringiem Piotra Nykiela. Rzecz z gatunku MUSOWYCH. Jeszcze gorące, przedpremierowe egzemplarze pod choinkę. --- wsm.serpent.pl
download (mp3 @320 kbs):
yandex 4shared mega mediafire uloz.to cloudmailru ge.tt