Adam Pieronczyk – Komeda: The Innocent Sorcerer (2010)
Adam Pierończyk – Komeda: The Innocent Sorcerer (2010)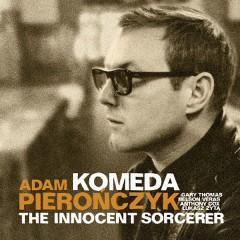 1 	Wicker Basket 			
2 	Kattorna 			
3 	Sleep Safe and Warm (from "Rosemary's Baby") 			
4 	Crazy Girl 			
5 	After The Catastrophe 			
6 	Roman ll 			
7 	Kattorna (reprise)

Adam Pierończyk - tenor & soprano saxophones 
Gary Thomas – tenor saxophone
Nelson Veras - guitar
Antony Cox – double bass
Lukasz Zyta – drums, percussion

Polish saxophonist Adam Pieronczyk pays tribute to his to his country's jazz pioneer, Krzysztof Komeda (b.1931, d.1969), with Komeda: The Innocent Sorcerer.
Pianist/composer Komeda is better known for his film work, in the United States, than for his jazz work. The title of the CD is taken from the soundtrack he composed for the 1960 Andrezej Wadjda film of the same name. He also wrote music for films of Ingmar Bergman and, most famously Stateside, for Roman Polanski films including A Knife in the Water (1962) and Rosemary's Baby (1968). For jazz fans familiar with Komeda, it is most likely in the context of his mentoring trumpeter Tomasz Stanko.
Adam Pieronczyk, born in 1970, shines a sparkling light on the work of Komeda without trying to imitate the master. Rather than employing piano, he chooses guitar, for a sound that lightens the moods and buoys up the atmospheric Old World drift of his beautiful, sometimes amorphous music.
The opener, "Wicker Basket," written for a Polish cartoon, has an introspective and slightly morose mood. Spacious and laconic, Pieronczyk's tenor sax adds a haunting quality that counterpoints Nelson Veras' light-toned acoustic guitar. "Kattorna" is from another soundtrack, and was included in Komeda's best-known album, Astigmatic (Polski Nagrania Muza, 1966). The leader's soprano sax gives the tune an astringent tang.
Lukasz Zyta's percussion work on "Kattorna"—and throughout the album—is quirky and masterful. He approach is crisp and succinct, as much punctuation as it is propulsion. He eschews big cymbal splashes and employs a variety of instruments that are difficult to identify since his contribution is so well incorporated in the ensemble. The dry shimmer of maracas and the jangle of a tambourine play into the beat, as well as the flat click-clack of a manual typewriter on the ominous "Sleep Safe and Warm," from Rosemary's Baby; there are times it sounds as if he is using kitchen utensils to create a controlled clamber on pots and pans, with remarkable skill and finesse.
"Crazy Girl" is the album's most lighthearted tune, as bright as a situation comedy theme song. "After the Catastrophe" scratches and drones into a gloomy soundscape, with Pieronczyk's soprano injecting some gathering hope.
It is said that Krzysztof Komeda injected a fresh, European aesthetic to jazz. Adam Pieronczyk reveals a fresh side of the pioneer's artistry with Komeda: The Innocent Sorcerer, a magnificent and compelling recording. ---Dan McClenaghan, allaboutjazz.com
Muzyka Krzysztofa Komedy w nowym świetle, z nowym blaskiem, iskrząca. Prowadzona lekko, czasem niemal tanecznie, uwolniona od muzealnych konwencji, choć jej kompozytor bezdyskusyjnie zasługuje na godne miejsce w muzeum. To inny Komeda niż ten, którego znamy, choć nie mniej głęboki, nie mniej poruszający. Adam Pierończyk doskonale rozumie, że zbliżyć się do Komedy można tylko wówczas, kiedy nie próbuje się go imitować. Płyta "The Innocent Sorcerer" wpisuje się w wielką historię polskiego jazzu, który objawił się w latach pięćdziesiątych, po wyjściu z katakumb, przynosząc takie dzieła jak album Komedy "Astigmatic", a po nim wiele ważnych, poświęconych Komedzie dedykacji. Wkrótce po przedwczesnej tragicznej śmierci tego pianisty, kompozytora i lidera jazzowego, Tomasz Stańko nagrał płytę "Music for K" (1970). Na płycie "Litania", wydanej pod koniec lat dziewięćdziesiątych, Stańko powrócił do tematów Komedy. Adam Pierończyk, rocznik 1970, do muzyki Komedy dotarł inną drogą. Po wydaniu wielu płyt z własnymi kompozycjami uznał, że osiągnął dojrzałość pozwalającą złożyć hołd mistrzowi. Płyta Adama Pierończyka nie tylko oddaje atmosferę kompozycji Krzysztofa Komedy, ale odzwierciedla też własne doświadczenia tego saksofonisty i lidera jazzowego. Jak zawsze w przypadku udanych dedykacji, także i tutaj powstaje portret podwójny: portretowanego i portretującego. Jeśli istnieją słowa zdolne opisać muzykę Krzysztofa Komedy, to są nimi "magia" i "imaginacja". Wynika to pewnie ze związków tego pianisty, kompozytora i jazzmana z filmem. A także z tego, że Komeda jako nowoczesny, światowej sławy kompozytor filmowy, nie tylko ilustrował filmowe obrazy, lecz również uzupełniał je muzycznie. Każda z jego kompozycji ma inną atmosferę. Przepełnioną jazzem i nie poddającą się żadnym regułom, zwięzłą i jednocześnie pozostawiającą widzom i słuchaczom szerokie pole fantazji.
Istnieją bohaterowie, których blask blednie z biegiem historii. Natomiast obecność Komedy staje się coraz wyraźniejsza, choć od jego śmierci upłynęło już ponad czterdzieści lat. Jest postacią kultową nie tylko w Polsce.
Adam Pierończyk zbliża się do Komedy próbując zrozumieć istotę jego muzyki, a nie naśladując jego brzmienie. Fundamentalna jest rezygnacja z fortepianu, który w pierwszym rzędzie kojarzymy z Komedą. Gitara klasyczna wprowadza przestrzenny, lekki nastrój. Struny nylonowe zamiast stalowych, wiecej instrumentów perkusyjnych niz samej perkusji. Do tego dwaj otwarci Amerykanie, jeden na kontrabasie, a drugi szybujacy wraz z Adamem Pieronczykiem. Echa Coltrane'a, harmonie Billa Evansa, latynoska lekkość, własne uczucia i tematy Komedy, przyciągnięcie uwagi słuchacza i pełne zanurzenie. O ile poświęcone Komedzie projekty Tomasza Stańki - w których czasem także pojawiał sie Adam Pierończyk (!) - przypominają oryginały w pełnych fantazji wersjach brzmieniowych, to muzyka z tego albumu podchodzi do kompozycji Komedy niejako od zewnątrz, odkrywa je na nowo, na nowo aranżuje, okrąża i uaktualnia. Tytuł "Komeda - The Innocent Sorcerer" nawiązuje do filmu Andrzeja Wajdy z 1960 roku, który portretuje środowisko młodej warszawskiej bohemy tamtych lat. W filmie występują Roman Polański i Krzysztof Komeda, którzy właściwie w dużej mierze grają tu samych siebie. "Niewinni czarodzieje" - "The Innocent Sorcerers" to obraz powojennego pokolenia zorientowanego na Zachód. Tytuł filmu wykorzystano jako nazwę festiwalu, organizowanego przez Muzeum Powstania Warszawskiego, ponieważ odzwierciedla on tamten czas - fazę intelektualnego buntu w literaturze, filmie, fotografii, muzyce i sztuce, dążenia do wolności w warunkach zimnej wojny i dyktatury komunistycznej. To czas czarno-białych filmów, egzystencjalnych debat do świtu, egzystencjalnej ucieczki w sztukę.
Adam Pierończyk nauczył się od Komedy, że dźwiękiem można operować podobnie jak kolorem i światłem. ---merlin.pl
download (mp3 @320 kbs):
yandex 4shared mega mediafire uloz.to cloudmailru gett
Last Updated (Wednesday, 16 August 2017 14:18)