Louis Armstrong - On The Sunny Side Of The Street (1943)
Louis Armstrong - On The Sunny Side Of The Street (1943)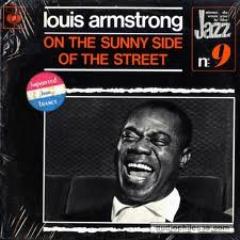 1.Jeepers Creepers
2.The Song Is Ended Louis Armstrong feat. The Mills Brothers
3.Ain't Misbehavin'
4.Paper Doll Louis Armstrong feat. The Mills Brothers
5.Rose Room Louis Armstrong feat. Barney Bigard
6.Barrelhouse Bessie From Basin Street
7.The Peanut Vendor
8.Slender, Tender and Tall Louis Armstrong feat. Velma Middleton
9.Coquette
10.One O'Clock Jump
11.I Never Knew
12.What's the Good Word, Mr. Bluebird? Louis Armstrong feat. Ann Baker
13.The Salt Lake City Blues
14.You'll Never Know Louis Armstrong feat. Jimmy Anderson
15.Up a Lazy River
16.On the Sunny Side of the Street
17.Don't Cry Baby Louis Armstrong feat. Bea Booze
18.I Can't Give You Anything But Love
19.Hot Chestnuts

Personnel:
Louis Armstrong (vocals, trumpet);
Joe Garland (conductor, tenor saxophone, reeds);
The Mills Brothers, Velma Middleton, Ann Baker, Jimmy Anderson, Bea Brooze (vocals);
Rupert Cole (alto sax, clarinet);
Budd Johnson, Dexter Gordon (tenor saxophone);
Shelton Hemphill, Frank Galbreath (trumpet);
George Washington, Henderson Chambers (trombone);
Barney Bigard (clarinet);
Gerry Wiggins (piano);
Lawrence Lucie, Norman Brown (guitar);
Chick Morrison, Jesse Price (drums).

Other than the soundtrack version of "Jeepers Creepers" and two other items, all of this CD is taken from broadcasts of Armstrong's little-known and unrecorded orchestra of 1943. Much of the music is fairly routine swing, but the Armstrong trumpet (which always sounds so enthusiastic) and features for The Mills brothers ("Paper Doll") and clarinetist Barney Bigard make this rarity of some interest. ---Scott Yanow, Rovi
download:  yandex 4shared mediafire mega
Last Updated (Tuesday, 20 January 2015 22:57)