Kristin Asbjørnsen - Traces Of You (2018)
Kristin Asbjørnsen - Traces Of You (2018)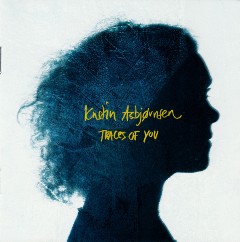 1 	By Your Side 	3:34
2 	You Hold Me While Leaving Me 	3:56
3 	She Holds My Hand 	3:20
4 	Promise 	4:06
5 	We Haven't Found Our Way Back Home 	3:15
6 	Goodbye 	3:19
7 	Finally 	3:12
8 	I Won't Leave The Room 	3:35
9 	Spring Reappears 	4:36
10 	Traces Of You 	2:24
11 	Vil Du Være Her Bestandig 	3:13

Guitars, Xalam [Konting], Bass, Percussion, Vocals – Olav Torget
Kora, Vocals – Suntou Susso
Percussion, Vocals, Dobro – Anders Engen
Vocals – Kristin Asbjørnsen, Monika Ifejilika 

Singer and songwriter Kristin Asbjørnsen is one of the most distinguished artists on the vibrating extended music scene in Europe. Over the last decade, she has received overwhelming international response from critics and the public alike for her personal and unique musical expression.
Spring 2018 sees the international release of Kristin's long awaited solo album Traces Of You (via Global Sonics/Øra Fonogram/Rough Trade), followed by release concerts in Europe. The music is met with outstanding response.
Kristin has written all music and lyrics, and her enchanting songs are based on Kristin's commissioned work Traces of You for Global Oslo Music in 2016.
The Norwegian singer has featured on a number of album releases, as well as a series of tours and festival performances in Europe. She has won several national Music Awards.
Kristin's critically acclaimed solo-album "I'll meet you in the morning" (Emarcy/Universal Music 2013/2014) was followed by an extended release tour and festival concerts in Europe with Kristin Asbjørnsen Ensemble. The music affectionately revealed her enduring passion for African American spirituals, as well as her own compositions. During the last year, Kristin has been performing in Europe, in different duo, trio and quartet formats. She has been combining songs from «I'll meet you in the morning" with her earlier work "The night shines like the day" and "Wayfaring stranger", as well as introducing her new songs. ---kristinasbjornsen.com
download (mp3 @320 kbs):