Paul Motian ‎– The Story Of Maryam (1983)
Paul Motian ‎– The Story Of Maryam (1983)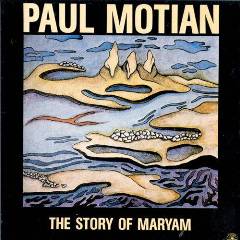 A1 	9 X 9 	7:10
A2 	5 Miles To Wrentham 	4:54
A3 	The Owl Of Cranston 	8:15
B1 	Trieste 	5:45
B2 	Look To The Black Wall 	6:42
B3 	The Story Of Maryam 	5:47

Double Bass – Ed Schuller
Drums, Composed By – Paul Motian
Electric Guitar – Bill Frisell
Tenor Saxophone – Joe Lovano
Tenor Saxophone, Soprano Saxophone – Jim Pepper

Anyone who knows Paul Motian's work in the landmark Bill Evans Trio of the early '60s should have no trouble imagining that the Philadelphia-born drummer — whose work with Evans and bassist Scott LaFaro radically re-imagined the trio format as a democracy of equals — would bring a similarly egalitarian sense to his own bands. Even more than in his efforts with Evans (and subsequently with Keith Jarrett), in his solo work Motian creates propulsion not through muscular drive and repetition, but through a delicate ebb and flow of density, applied with the most sensitive of touches.
While he had recorded under his own name since 1972, it was Motian's trio and quintet dates of the '80s, starting with The Story of Maryam, that he emerged as a truly compelling bandleader and composer. Four-fifths of the quintet — tenor saxophonist Joe Lovano, guitarist Bill Frisell and bassist Ed Schuller — had come together on Motian's previous album, Psalm.
With the addition of a second tenor player, Jim Pepper, Motian struck a balance that suited his style ideally: Lovano extended the lineage of John Coltrane and Sonny Rollins, while Pepper tapped into the free-jazz energy of players like Pharoah Sanders. The protean Frisell slips between foreground, background and atmosphere with chameleonic ease, and Schuller provides a steady anchor. Factor in two of Motian's most enduring charts ("The Owl of Cranston" and "Trieste"), and the result is an album for the ages. --- Steve Smith, wonderingsound.com
Drummer Paul Motian has always had infallible taste in saxophonists, going back to his early records as a leader. Here his sax savvy is in evidence twice-over, with the inclusion of the late Jim Pepper on soprano and Joe Lovano on tenor.
"The Story of Maryam" is a gentle, Latin-flavored waltz that features most notably guitarist Bill Frisell's quasi-detuned, dynamically-varied electric guitar atmospherics and the two nimble saxophonists exchanging the sing-song melody—one improvising while the other solos. Pepper and Lovano are garrulous, engaging players, and they work wonderfully together. Motian has always struck this writer as being more intriguing when playing "out" than when playing straight time, but his unusual, snare-laden approach works nicely on this. He's one of the unique instrumental voices among modern jazz drummers, regardless of the context.
A refined version of this group—his trio with Frisell and Lovano—became one of Motian's best and longest-running bands. This performance provides an opportunity to hear an earlier, expanded version of that ensemble. It isn't quite as compelling as the best of the music made by the trio, but it has its own not insubstantial charms. --- camjazz.com
download (mp3 @192 kbs):
yandex 4shared mega mediafire zalivalka cloudmailru uplea ge.tt