Tatvamasi ‎– Dyliżans Siedmiu (2016)
Tatvamasi ‎– Dyliżans Siedmiu (2016)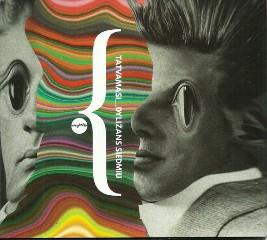 1 	Chodzę Spać Do Rzeki 	12:11
2 	Nastroszony Pulsar 	12:06
3 	Triumf Pozaintelektualnej Treści Doświadczenia 	16:37

Bass Guitar – Łukasz Downar
Drums – Krzysztof Redas
Drums, Percussion – Vasco Trilla
Guitar – Grzegorz Lesiak
Tenor Saxophone – Tomasz Piątek
Tenor Saxophone, Soprano Saxophone, Piccolo Flute – Yedo Gibson
Trumpet – Jan Michalec

This is the third album by Polish ensemble Tatvamasi, led by guitarist/composer Grzegorz Lesiak. On this album the quintet lineup, which also included trumpeter Jan Michalec, saxophonist Tomasz Piątek, bassist Łukasz Downar and drummer Krzysztof Redas, was expended to a septet with the addition of Brazilian saxophonist Yedo Gibson and Spanish percussionist Vasco Trilla. The album presents just three expanded original compositions (two lasting over twelve minutes and one over sixteen minutes), all composed by Lesiak. The album was recorded shortly after the recording of their previous album a couple of years back and released only now.
The music is as unexpected as one might expect from Tatvamasi, presenting a wonderful amalgam of Rock, Funk, Free Jazz, Psychedelia, World, Electronic and Ambient influences. The three tracks are extended jams, which basically provide a platform for all the participants to play extended solos over a steady beat. Most of the solos by brass instruments are pretty Free Jazz oriented, while the guitar playing is more Rocky and Ambient. Several musicians solo simultaneously, conversing between themselves and getting involved into group improvisation. The guitar solos take the music back on track and serve as a buffer between the multilayered Jazzy parts. As usual this music simply shuns classification. To listeners familiar with the work of Miles Davis, this music is conceptually similar to the Miles "electric period", which featured electric guitar as a centerpiece of his ensembles.
It seems that this album is more of an experimental recording of a pre-planned jam session rather than a full-fledged new studio album by the ensemble, which is hopefully following soon. Nevertheless it is a superb piece of music, which has very few equals in its category in Poland or anywhere else for that matter.
The music, being pretty esoteric, might not be easily accessible to a wide audience and is definitely way to open and Jazzy for the average Fusion fans, but on the other hand it offers so much more intellectual stimuli that an effort to listen to it open-headedly is definitely worthwhile. Wholeheartedly recommended! ---Adam Baruch, polish-jazz.blogspot.com
Lubelska grupa Tatvamasi prezentuje swój muzyczny dyliżans, przekonując przy okazji, że do improwizacji trzeba siedmiu. Trzeba przyznać, że Tatvamasi to grupa, która świadomie podąża obraną drogą. Od początku swojej działalności (a przynajmniej tego, co ukazało się na pierwszej płycie) artyści udowadniają, że mieszanie gatunków i czerpanie inspiracji ze źródeł innych niż jazz jest dla nich chlebem powszednim. Przykładowo "Dyliżans siedmiu", czyli najnowsza propozycja autorstwa muzyków, to przykład krzyżowania się wpływów improwizacji, psychodelicznego rocka, stylistyki fusion, rhythm and bluesa i free jazzowej energii. Materiał zaproponowany przez lubelski zespół to trzy rozbudowane kompozycje liczące w sumie czterdzieści minut. Rozciągnięta w czasie budowa kolejnych utworów, ich podział na fragmenty tematyczne i przewijające się tak zwane motywy główne, świadczą o dużej muzycznej mądrości oraz abstrakcyjności myślenia twórców.
Album otwiera sentencja przesterowanych dźwięków, które idealnie pasowałyby jako tło do niejednej historii o przygodach pilota Pirxa. Kosmiczność melodii prowadzona jest przez chwilę, by ustąpić wijącym się dęciakom i parującej psychodelią muzyce z bluesowo-rockową gitarą jako instrumentem przewodnim. Jednak ten stan rzeczy również nie trwa zbyt długu – o atencję słuchaczy zabiegają ponownie świrujące saksofony, które przyznać trzeba robią na pięciolinii trochę rabanu. Taki stan rzeczy utrzymuje się w zasadzie przez całą długość płyty. Trzy zaprezentowane kompozycje (których autorstwo przypisano gitarzyście i liderowi grupy Grzegorzowi Lesiakowi) naprzemiennie ostro i z hukiem spadają lub niewyobrażalnie odlatują w najdalsze rejony brzmieniowej galaktyki.
Ale "Dyliżans siedmiu" to nie tylko muzycy tworzący grupę Tatvamasi. To również dwóch zagranicznych gości: perkusista Vasco Trilla i saksofonista Yedo Gibson, którzy wzbogacają materiał o nieskrępowaną muzyczną wizję. Hiszpan i Brazylijczyk, jako przedstawiciele improwizacyjnego środowiska, doskonale wpasowali się w klimat, jakim przesiąknięta jest twórczość ekipy z Lublina. Jeśli wierzyć zapewnieniom Lesiaka, zrobili to bez wcześniejszej próby. Pójście na żywioł opłaciło się. Trilla i Gibson, chociaż nie są stałymi członkami zespołu, brzmią tutaj jakby z Polakami grali od bardzo dawna.
Płyty dodawane do przeróżnych periodyków (nawet tych muzycznych) często nie mają dobrych recenzji. Fakt, że ktoś próbuje wcisnąć nam je na siłę przy zakupie ulubionego tytułu prasowego, już przecież o czymś świadczy. "Dyliżans siedmiu" łamie jednak ten schemat. Nowy krążek grupy Tatvamasi, chociaż dostępny jest w sprzedaży jako integralna część dwudziestego drugiego numeru kwartalnika "Lizard", prezentuje poziom na tyle dobry, że fani jazzu oraz muzyki improwizacyjnej prędzej czy później i tak udaliby się do sklepu płytowego celem odnalezienia go na półce i dołączenia do domowej kolekcji (do czego, co chyba zrozumiałe, nieśmiało zachęcam). ---(MAK), axunarts.wordpress.com
download (mp3 @320 kbs):
yandex mediafire ulozto gett bayfiles