Albert Ammons ‎– 1939-1946 (1997)
Albert Ammons ‎– 1939-1946 (1997)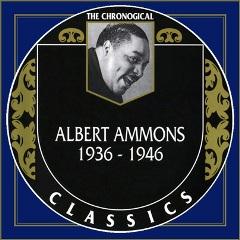 1 	St. Louis Blues 	3:50
2 	Mecca Flat Blues 	3:54
3 	Bass Gone Crazy 	3:35
4 	Monday Struggle 	3:53
5 	Boogie Woogie 	3:27
6 	Albert´s Special Boogie Woogie 	2:59
7 	The Boogie Rocks 	3:01
8 	Blues On My Mind 	3:06
9 	Bugle Boogie 	2:50
10 	Blues In The Groove 	3:02
11 	The Breaks 	3:07
12 	Jammin´ The Boogie 	4:03
13 	Bottom Blues 	4:34
14 	Bedroom Blues 	3:16
15 	Buzz Me 	3:02
16 	Doin´The Boogie Woogie 	2:49
17 	Oh, Lady Be Good! 	2:32
18 	Suitcase Blues 	2:44
19 	Boogie Woogie At The Civic Opera 	2:34
20 	Swanee River Boogie 	2:31
21 	Why I´m Leaving You 	2:38
22 	I Don¨t Want To See You 	2:49
23 	Red Sails In The Sunset 	2:30

Albert Ammons 	Piano, Primary Artist
Mildred Anderson 	Vocals
Don Byas 	Sax (Tenor)
Israel Crosby 	Bass
Vic Dickenson 	Trombone
Lonnie Johnson 	Guitar
John Lindsay 	Bass
Hot Lips Page 	Trumpet
Ike Perkins 	Guitar
Artie Starks 	Sax (Alto)
Tom Taylor 	Drums
Sippie Wallace 	Primary Artist, Vocals 

This CD offers three distinct periods in the development of boogie-woogie pianist Albert Ammons. Kicking off with solo tracks recorded in 1939 and 1944 for the Solo-Art and Commodore labels, the next batch follows him into a small-band format with Hop Lips Page practically stealing the show in his demonstrative style. The final ten selections emanate from Chicago sessions for Mercury -- again with a small group -- featuring vocals from Sippie Wallace and Mildred Anderson. Ammons was a giant in his chosen field of endeavor, and these sides make a marvelous addition to his too-short discography. ---Cube Koda, AllMusic Review
Albert Ammons (1907-1949) was an American boogie-woogie pianist.
Ammons formed his own band in 1934, and in 1938 performed in the Spirituals to Swing concert at Carnegie Hall, which among other achievements launched the boogie-woogie craze. He and two other performers at the concert, Meade Lux Lewis and Pete Johnson, became the leading boogie-woogie pianists of the day. The three worked together at Café Society and also toured and recorded as a trio.
His biggest hit was "Swanee River Boogie". Ammons played the melody of "Old Folks at Home" over a boogie woogie bass. The recording was used as a theme song by pioneer rhythm and blues disk jockey Gene Nobles on WLAC radion in the 1950s.
He worked steadily till his death in 1949; he played at Harry S. Truman's inauguration that year. He is the father of tenor saxophonist Gene Ammons. ---jazzmusicarchives.com
download (mp3 @320 kbs):
yandex mediafire ulozto gett bayfiles