Laura Pausini - Fatti Sentire (Limited Edition) [2018]
Laura Pausini - Fatti Sentire (Limited Edition) [2018]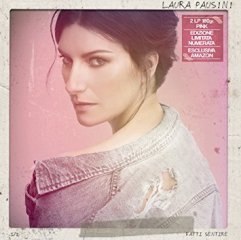 CD (FATTI SENTIRE)
1 	Non È Detto 	3:27
2 	Novo    (Feat. Simone & Simaria)	4:12
3 	La Soluzione 	3:53
4 	E.STA.A.TE 	3:35
5 	Frasi A Metà 	4:01
6 	Le Due Finestre 	4:19
7 	Fantastico (Fai Quello Che Sei) 	3:34
8 	No River Is Wilder 	3:20
9 	L'ultima Cosa Che Ti Devo 	3:28
10 	Un Progetto Di Vita In Comune 	3:16
11 	Il Caso È Chiuso 	3:29
12 	Zona D'ombra 	2:50
13 	Francesca (Piccola Aliena) 	3:31
14 	Il Coraggio di Andare 	3:45

CD (HAZTE SENTIR)
1. Nadie Has Dicho
2. Nuevo
3. La Solucion
4. Està.Allà
5. Verdades a Medias
6. Dos Ventanas
7. Fantàstico (Haz Lo QueHeres)
8. No River Is Wilder
9. Algo que te debo
10. Un Proyecto de vita en Comun
11. El Caso Està Perdido
12. Niebla Gris
13. Francesca
14. El Valor de Seguir Adelante

Sono passati 25 anni dal suo debutto sul palco del Festival di Sanremo, e Laura Pausini continua a sfornare dischi di successo e a portare alta la bandiera della musica italiana nel mondo: esce infatti il 16 marzo il nuovo album di inediti Fatti sentire, anticipato dal singolo Non è detto. Un disco dolce e malinconico: "Questo album è un invito a seguirmi – spiega l'artista – in un nuovo percorso, come suggerisce la cover: uno sguardo a chi mi copre le spalle, a chi mi fa sentire amata, protetta e sostenuta, con la promessa di un percorso che inizia da qui".
Il nuovo lavoro contiene 14 tracce i cui testi delle canzoni portano la firma della cantante. Un brano è totalmente in spagnolo, Nuevo, e uno invece in inglese, No river is wilder, dalla classica ballad al reggeaton. Tutte rappresentano storie a cui la Pausini si è avvicinata ascoltando chi le sta accanto e non solo. Come un sequel di Simili, che invitava ad avvicinarsi e a sentirsi parte di un unico universo, Fatti sentire vuole invitare, pur nella vicinanza al prossimo, ad amare la propria personalità, ad accettarsi e a volersi bene per quello che si è.
"Cantando uno degli ultimi brani che ho inciso, davanti al microfono in studio ad occhi chiusi mi è venuto naturale aggiungere 'Fatti sentire'. Lo ripeto spesso come fosse un mantra, sussurrato, parlato, declamato, urlato, Fatti sentire. E così ho sentito che quelle due parole più di ogni altra cosa rappresentavano il mio disco, il messaggio che volevo dare". Il disco riunisce sound italiani e internazionali in una commistione di generi, autori, musicisti. ---tvzap.kataweb.it
Czternasty studyjny album jednej z największych gwiazd włoskiej piosenki w historii, Laury Pausini. Artystka jest pierwszą włoską piosenkarką, która otrzymała nagrodę Grammy. Konkretnie - trzykrotnie Latin Grammy i raz Grammy za najlepszy album z latynoskim popem.
Fatti sentire to 14 premierowych kompozycji pochodzącej z Rawenny artystki. Nagrała je również w języku hiszpańskim. Album na latynoskie rynki został zatytułowany Hazte sentir. Całość, jak to zwykle u Laury Pausini, jest smakowitą mieszanką eleganckiego, popu z elementami soulu oraz muzyki latynoskiej.
Pierwszym singlem promującym płytę jest Non e detto, który we Włoszech w zaledwie 16 minut wspiął się na szczyt listy iTunes! Piosenkę, podkreślającą znaczenie komunikacji między ludźmi, napisali Laura Pausini, Niccolo Agliardi, Gianluigi Fazio oraz Edwyn Roberts. ---bonito.pl
download (mp3 @320 kbs):