Carlos Gardel - Seleccion XXº Aniversario 4415, 4416, 4417 (1955)
Carlos Gardel - Seleccion XXº Aniversario 4415, 4416, 4417 (1955)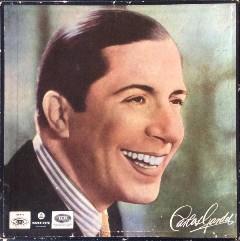 DISCO DMO - 55415
A1 	–José Razzano 	Palabras De José Razzano 	
A2 	–Dúo Gardel-Razzano 	La Yegüecita, (Tonada)
A3 	–Carlos Gardel 	La Mariposa, (Estilo)
A4 	–Carlos Gardel 	Mi Noche Triste, (Tango)
A5 	–Carlos Gardel 	Pobre Gallo Bataraz, (Estilo)
A6 	–Carlos Gardel 	Mano A Mano, (Tango)
A7 	–Cátulo Castillo 	Palabras De Catulo Castillo 	
A8 	–Carlos Gardel 	Silbando, (Tango)
B1 	–Francisco Canaro 	Palabras De Francisco Canaro 	
B2 	–Carlos Gardel 	La Última Copa, (Tango)
B3 	–Carlos Gardel 	El Sol Del 25, (Gato Patriótico)
B4 	–Carlos Gardel 	La Cumparsita, (Tango)
B5 	–Carlos Gardel 	Caminito, (Tango)
B6 	–Carlos Gardel 	La Tropilla, (Triunfo)
B7 	–Carlos Gardel 	Siga El Corso, (Tango)
B8 	–Carlos Gardel 	Guitarra, Guitarra Mía, (Canción Criolla)

DISCO DMO - 55416
C1 	–Carlos Gardel, Mona Maris 	Escena Del Film "Cuesta Abajo" 	
C2 	–Carlos Gardel 	Amores De Estudiante, (Vals)
C3 	–Carlos Gardel 	Cuesta Abajo, (Tango)
C4 	–Carlos Gardel 	Silencio, (Tango)
C5 	–Carlos Gardel 	Sol Tropical, (Rumba)
C6 	–Carlos Gardel 	Volvio Una Noche, (Tango)
C7 	–Carlos Gardel 	Los Ojos De Mi Moza, (Jota)
D1 	–Carlos Gardel, Mona Maris 	Escena Del Film "Cuesta Abajo" 	
D2 	–Carlos Gardel 	Mi Buenos Aires Querido, (Tango)
D3 	–Carlos Gardel 	Volver, (Tango)
D4 	–Carlos Gardel 	Sus Ojos Se Cerraron, (Tango)
D5 	–Carlos Gardel 	Caminito Soleado, (Zomba)
D6 	–Carlos Gardel, Rosita Moreno 	Escena Del Film "El Día Que Me Quieras" 	
D7 	–Carlos Gardel 	El Día Que Me Quieras, (Cancion)

DISCO DMO - 55417
E1 	–Enrique Cadícamo 	Palabras De Enrique Cadícamo 	
E2 	–Carlos Gardel 	Anclao En Paris, (Tango)
E3 	–Carlos Gardel 	Buenos Aires, (Tango)
E4 	–Carlos Gardel 	Gajito De Cedrón, (Chacarera)
E5 	–Carlos Gardel 	No Te Engañes Corazón, (Tango)
E6 	–Carlos Gardel 	Paseo De Julio, (Tango)
E7 	–Ireneo Leguisamo 	Palabras De Ireneo Leguisamo 	
E8 	–Carlos Gardel 	¡Leguisamo Solo!, (Tango)
F1 	–Cesar F. Vedani 	Palabras De Cesar Vedani 	
F2 	–Carlos Gardel 	Adiós Muchachos, (Tango)
F3 	–Carlos Gardel 	Milonga Del 900, (Milonga)
F4 	–Carlos Gardel 	Marioneta, (Tango)
F5 	–Carlos Gardel 	Para Quererte Naci, (Cifra)
F6 	–Carlos Gardel 	Esta Noche Me Emborracho, (Tango)
F7 	–Francisco García Jiménez 	Palabras De Francisco García Jimenez 	
F8 	–Carlos Gardel 	Palomita Blanca, (Vals) 

Vocals, Guitar – Carlos Gardel

Carlos Gardel, (born December 11, 1890, Toulouse, France—died June 24, 1935, Medellín, Colombia), Argentine singer and actor, celebrated throughout Latin America for his espousal of tango music.
Some uncertainty exists concerning Gardel's early life. While most sources indicate that he was born in France, Gardel occasionally cited Tacuarembó, Uruguay, as his birthplace. However, he was certainly in Buenos Aires by the age of six. His first formal acting roles were at the Nacional Corrientes Theatre, which also listed Don José Razzano, with whom Gardel formed a duo for many years. They played in various theatre companies, touring Argentina and other Latin American countries and Spain.
Gardel's huge popularity as an interpreter of the melancholy ballads of the tango was confirmed in the 1920s and '30s in nightclubs and motion pictures. One early picture, Luces de Buenos Aires (1931; "Lights of Buenos Aires"), was filmed in Paris, but later ones were made by Paramount Pictures for the Spanish-speaking market. They include Espérame (1933; "Wait for Me"), La Casa es seria (1933; "The House Is Somber"), Melodia de Arrabal (1933; "Melody of Arrabal"), Cuesta abajo (1934; "Downhill"), El Tango en Broadway (1934; "The Tango on Broadway"), Tango-Bar (1935), El Día que me quieras (1935; "The Day That You Love Me"), and Cazadores de estrellas (1935; "Hunters of Stars").
Gardel died in a plane crash while on tour. In Buenos Aires his funeral and funeral procession in a horse-drawn carriage were witnessed by tens of thousands of Argentines. Like Rudolf Valentino's, his tomb became an object of popular pilgrimage. ---britannica.com
Nació el 11 de diciembre de 1890 en Toulouse, Francia, aunque también se dice que nació en Tacuarembó, Uruguay, el 11 de diciembre de 1887.
Hijo de Berthe Gardés que emigró a la Argentina trayendo consigo a su hijo de tres años. Su madre, sola y desamparada, llego a la capital Argentina, viviendo en los barrios bajos de la zona Porteña frente al Río de la Plata.
Fue un muchacho vivaracho y simpático, temperamental e irascible. Realizó multitud de oficios para ayudar a su madre. Cantaba en las esquinas de las calles y en reuniones como fiestas o agasajos, y más tarde en negocios de baja vida que operaban en la clandestinidad en Buenos Aires.
Poseedor de una voz con un timbre muy peculiar y agradable. Un nuevo ritmo triste pero bailable llamado Tango, se pone de moda. Le atrae esa música y decide probar suerte en serio una vez más; cambio la "S" final de su apellido en un intento de latinizarlo y se lanzó de lleno a buscar trabajo en los diferentes bares y cafés de la época.
Se da a conocer en 1908, haciéndose llamar 'El Morocho'.
También en la época destacaba José Razzano, llamado 'El Oriental', con fama de cantante de tangos. En el año 1913 se celebró un duelo entre ambos en la calle Guardia Vieja de Buenos Aires (hoy calle Carlos Gardel), no se dio como vencedor a ninguno de los dos. Formaron un dúo que trabajó durante quince años. Al enfermar Razzano Gardel siguió su carrera en solitario. Algunos tangos de los que es autor son: Mano a mano (1920), Desdén (1930), Melodía de arrabal (1932) y Volver (1935).
Su primer disco se grabó en 1917; en España hizo su debut en 1923 en el teatro Apolo de Madrid y posteriormente en Barcelona.
En 1928 aparece en París, y entre 1930 y 1932 inicia allí su carrera cinematográfica. En 1933 debuta en Nueva York, donde rueda varias películas, todas ellas destinadas a su lucimiento como cantante.
Entre su filmografía destacan: Encuadre de canciones (1930), Luces de Buenos Aires (1931), Espérame (1932), Melodía de arrabal (1932), Cuesta abajo (1934), El tango en Broadway (1934), Cazadores de estrellas (1935), El día que me quieras (1935) y Tango bar (1935).
En la noche del 10 al 11 de diciembre de 1915 recibió un balazo en el torax durante un altercado a la salida de un salón de baile. El autor del disparo fue Roberto Guevara Lynch, tío del Che Guevara.
El 24 de junio de 1935, el avión en que viajaba Carlos Gardel por Colombia se estrelló en Medellín. Así murió esta figura, leyenda y mito, parte esencial de la mejor música popular y símbolo de su patria adoptiva, Argentina. ---buscabiografias.com
Buenos Aires na początku XX wieku było wielkim, nowoczesnym miastem, gdzie dzięki licznie przybywającym emigrantom z całego świata krzyżowały się różne kultury. Dziś nazwisko Carlosa Gardela, utalentowanego kompozytora i pieśniarza jest prawie nieznane w przeciwieństwie do jego muzyki. Carlos Gardel jest autorem najsłynniejszych tang, wystarczy wspomnieć "Por una cabeza" znane z filmu "Zapach kobiety" Martina Bresta. Dla Argentyńczyków Carlos Gardel jest postacią kultową, archetypem i ideałem mężczyzny i artysty. Wokół postaci piosenkarza zawsze krążyło wiele plotek i trudno było o jednoznaczną ich ocenę. Nikt do końca nie poznał prawdziwej biografii Gardela, a informacje na jego temat są mało precyzyjne. Jedynym pewnym faktem jest to, że Carlos Gardel był główną postacią argentyńskiej sceny piosenki popularnej i jednym z najbardziej wyjątkowych głosów XX wieku. Nagrał przeszło siedemset piosenek i wystąpił w ośmiu filmach. ---prospero.e-teatr.pl
download (mp3 @320 kbs):
yandex mediafire ulozto bayfiles
Last Updated (Monday, 19 August 2019 17:27)