Juan Gabriel – Porque Me Haces Llorar (2010)
Juan Gabriel – Porque Me Haces Llorar (2010)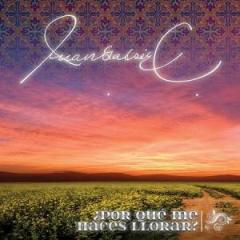 01 - Te Vas A Quedar Con Las Ganas 
02 - Gracias Al Amor 
03 - Las Tardes Aquellas 
04 - Mi Mas Bello Error 
05 - El Consentido 			play
06 - Por Que Me Haces Llorar 	      play
07 - De La Cabeza A Los Pies 
08 - Amor Aventurero 
09 - Mariachi 
10 - Nunca, Nunca Vuelvas 
11 – Agradecimiento

After 7 years of constant touring, Juan Gabriel has announced the release of his first album in that same time span. The album is simply titled 'Juan Gabriel,' and it's his comeback to Ranchero music; a genre in which he is amazingly popular thanks to his collaborations with the late Spanish diva Rocio Durcal. "El Divo de Juarez" as he is commonly known, continues to revolutionize Latin music, particularly within the Regional Mexican genre where he proudly celebrates his homosexuality, becoming one of the best entertainers of our time.
Juan Gabriel was recently honored by the Latin Grammys with the 'Person of the Year' award, the highest honor in Latin music. During the event, Juan Gabriel was asked to sing, delivering an unforgettable performance that had fans cheering loudly to his classic hits and a new song titled 'Porque Me Haces Llorar,' now officially out in radio as the album's first single.
'Juan Gabriel' includes five brand new songs as well as six tracks by his authorship that have been previously recorded by other artists. In fact, the first single 'Porque Me Haces Llorar' is not entirely new, it was recorded back in the 80s by the popular Telenovela star Lucia Mendez. The album will also include recordings of 'Te Vas A Quedar Con Las Ganas' and 'Nunca, Nunca Vuelvas,' two crowd favorites that surprisingly had never been recorded by the legendary star. ---Carlos Reyer
Juan Gabriel, ícono de la música popular mexicana, vuelve tras siete años de ausencia musical con esta canción, que interpretó como parte del popurrí de éxitos que presentó en noviembre pasado en la ceremonia del Latin GRAMMY, donde fue premiado por La Academia Latina de la Grabación (LARAS) por su carrera profesional y labor filantrópica.
"La música mexicana es la más bonita, alegra los corazones y a amar te invita, hace revivir el alma y el amor goza. La música mexicana estará cerquita del ángel que se fue, del que aún no se va y del que vendrá", aseguró Juanga, demostrando el gran amor que tiene al género del que es impulsor, según difundió su sello discográfico, Universal Music.
"¿Para qué me haces llorar? Que no vez como te quiero. Y para qué me haces sufrir ¿Qué no vez que más no puedo? Yo nunca, nunca había llorado y menos de dolor. Ni nunca, nunca había tomado y menos por un amor ¿Por qué me haces llorar? ¿Y te burlas de mí?", dice la letra del single, que ha tomado vida anteriormente con artistas como Lucia Méndez.
El álbum Juan Gabriel contiene 11 temas, de los que cinco son composiciones inéditas del reconocido autor, mientras que las otras seis son melodías que han sido grabadas anteriormente por otros cantantes, tales como Te vas a quedar con las ganas, Gracias al Amor, Las Tardes Aquellas, Mi más Bello Error, El Consentido, De la cabeza a los pies, Amor Aventurero, Mariachi, Nunca, Nunca Vuelvas y Agradecimiento, entre otras.
Durante su carrera artística el compositor ha vendido más de 100 millones de discos y ha recibido múltiples reconocimientos, ha realizado más de 8 mil presentaciones por todo el mundo, sus letras han sido traducidas en varios idiomas y son conocidas por varias generaciones de latinos. --- musica.univision.com
download (mp3 @320 kbs):
yandex 4shared mega mediafire zalivalka cloudmailru oboom uplea
Last Updated (Sunday, 18 October 2015 09:01)