Biagio Antonacci - Canzoni D'amore (2010)
Biagio Antonacci - Canzoni D'amore (2010)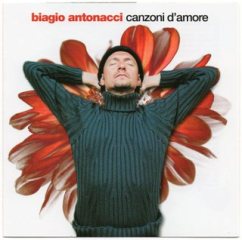 01. Se Io Se Lei
02. Iris (Tra Le Tue Poesie)
03. Mi Fai Stare Bene
04. Le Cose Che Ho Amato Di Piu'
05. Cosi Presto No
06. Quanto Tempo E Ancora
07. Sei                              play
08. Danza Sul Mio Petto
09. Fiore
10. Prima Di Tutto;
11. Ti Ricordi Perche'               play
12. In Una Stanza Quasi Rosa
13. Orchidea
14. Ci Vediamo Venerdi
15. Non Vendermi
16. Cercasi Disperatamente Amore

On the day of his 47th birthday Biagio comes with this CD that gathers its 15 most beautiful love songs. Biagio Antonacci (born 9 November 1963) is an Italian cantautore, or a singer-songwriter, from Milan. He participated in the 38th Sanremo Music Festival in 1988 with the song Voglio vivere in un attimo. He was first signed to a record company in 1989, with his debut album Sono cose che capitano which went unnoticed thanks to the song Fiore. His second album, Adagio Biagio, was released two years later. He slowly rose to recognition due to his two songs Danza sul mio petto and Però ti amo receiving airtime on the radio. In 1993 he participated in the Sanremo Music Festival with the song Non so più a chi credere; in the same year he toured around all of Italy and gained public acknowledgement. On 1 September 2005 in Hollywood, Biagio Antonacci received the award for "Best Male Selling Italian Artist" for over a million copies of the album Convivendo sold by early November.
Nato a Milano il 9 novembre 1963 ma vissuto a Rozzano paesino in provincia, il padre è originario di Bari e la madre di Milano. Nel giorno del suo 47° compleanno Biagio esce con questo cd che raccoglie le sue 15 più belle canzoni d'amore. Biagio Antonacci (Milano, 9 novembre 1963) è un cantautore e produttore discografico italiano. Partecipa nel 1988, tra le Nuove Proposte, al 38º Festival di Sanremo con la canzone Voglio vivere in un attimo. Ottiene il suo primo contratto discografico e nel 1989 pubblica il primo album, Sono cose che capitano, che non passa inosservato grazie alla canzone Fiore.
Il secondo album si intitola Adagio Biagio ed esce due anni dopo. Qualcosa comincia a muoversi, le radio lo promuovono grazie ad alcuni brani piuttosto indovinati, Danza sul mio petto e Però ti amo, ed il successo è a portata di mano. È stato insieme a Marianna Morandi, figlia del cantante e attore Gianni, dalla quale ha avuto due figli. Il cd Liberatemi, prodotto da Mauro Malavasi, vende 150.000 copie e sancisce l'importanza di Biagio Antonacci nel panorama musicale italiano.
Nel 2003 per il mercato spagnolo e sudamericano viene pubblicato Cuanto tiempo...y ahora che contiene 13 brani. A giugno è ospite del concerto di Firenze di Claudio Baglioni. Il 23 giugno 2006 esce il terzo album di Tiziano Ferro, Nessuno è solo, che contiene un duetto con Biagio Antonacci nel brano Baciano le donne. Nell'edizione 2006 dei Telegatti Biagio è l'unico artista musicale ad essere candidato in tutte e tre le sezioni della categoria musica: Miglior Disco, Miglior Cantante e Miglior Tournée. Si aggiudica la categoria Miglior Disco.
download (mp3 @192 kbs):
uploaded yandex 4shared mega mediafire solidfiles zalivalka cloudmailru oboom
Last Updated (Tuesday, 07 July 2015 11:58)