Garcia Lorca y Argentinita - Coleccion de Canciones Populares Espanolas (1931)
Garcia Lorca y Argentinita - Coleccion de Canciones Populares Espanolas (1931)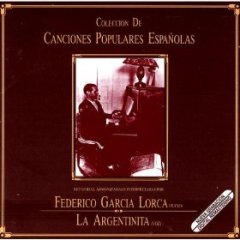 1. Zorongo gitano 
2. Anda jaleo
3. Sevillanas del siglo XVIII             play
4. Los cuatro muleros
5. Nana de Sevilla
6. Aires de Castilla
7. En el Café de Chinitas
8. Las morillas de Jaén
9. Romance de los mozos de Monleón        play
10. Las tres hojas
11. Sones de Asturias

Grabaciones originales de 1931.
Federico García Lorca al piano y la "Argentinita" en la voz. 
Recuperación por parte de Lorca de algunas de las canciones fundamentales 
del folklore hispano-andaluz. 
Referencia inevitable para todos los flamencos.

Intérpretes: Estas grabaciones históricas contiene la selección de temas populares que registraron Lorca y La Argentinita en una clara reivindicación de la música popular española. Estas mismas adaptaciones han dado lugar a decenas de adaptaciones que ya forman parte del repertorio flamenco actual. Federico Garcia Lorca: piano. "La Argentinita": cante.
This is a digital remaster of the 1931 recordings that Lorca did for La Voz de Su Amo (His Master's Voice). Lorca accompanies on piano and La Argentinita plays the castanets and sings the folksongs which Lorca "rediscovered" and published. There are arrangements which have been interpreted by Teresa Berganza and by Ana Belen, but this is what we might call the authorized version.
Sonifolk issued a first digital remaster in 1989 and then in 1994 issued this cleaner version using an updated digital technology. The cd version includes invaluable and extensive liner notes: Pedro Vaquero, "La Argentinita, Garcia Lorca y las canciones populares antiguas" in English and Spanish; Federico de Onis, "Garcia Lorca, folklorista"; Adolfo Salazar, "La Voz de Su Amo, un cancionero viviente"; s sketch of La Argentinita and other dancers in the opening night production of El amor brujo (El Sol, Madrid, 16 de junio 1933); a holograph note from Lorca to La Argentinita; and a sketch of La Argentinita in bullfight dress accompanied by a brief note-- "Querida comadre, como no pude despedirme de usted . . ."
The collection is available for mp3 download through Amazon and itunes, but these do not include the artwork and liner notes. An on-line search will find you the complete package at several sources, including this reviewer, Ferry Lane Traders, who has two for sale. --Dorothy
download (mp3 @160 kbs):
4shared mega mediafire zalivalka cloudmailru oboom uplea
Last Updated (Sunday, 13 September 2015 12:03)