Yves Lambert Trio - Tentation (2018)
Yves Lambert Trio - Tentation (2018)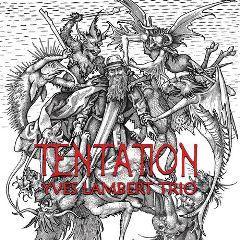 1. La poule à Jean-Paul
2. Ignominie
3. Suite du Cap Breton et la déboulade
4. Les diables
5. Cousinage et penchant pour Ti-Jean
6. La coquette à Poupa et sa suite
7. Le Lac Rond
8. Adultère et le reel du cocu
9. Vent d'Irlande
10. VIP pour l'enfer

Yves Lambert - accordion, bandeon, vocals
Tommy Gauthier - violin
Olivier Rondeau - guitar

Lambert, Rondeau and Gauthier have been accomplices for more than fourteen years. Always festive, nuanced and carefully crafted, the repertoire of this album TENTATION draws its essence from the memory of traditional songs and the 19th century.Yves Lambert Trio knows how to juggle the rhythms of world music and traditional Quebec rhythms. This new album promises to be a pleasant and memorable musical experience filled with new artistic challenges for the three musicians. ---walmart.ca
In 1976, Yves Lambert was one of the founding members of La Bottine Souriante. For 26 years he was a major figure in the band, which was both famous in Quebec and internationally. Yves Lambert figures among the most influential players in the roots Quebecer revival. He is known for his unique ability to translate anecdotal, poetic or political texts into songs. His work as a songwriter and his capacity to create unique musical moods make him a key figure in folk music production. Some Quebecer critics have defined him as a "leading light in the traditional aesthetic of our cultural heritage."
In January of 2003, pushed by the wind, he put his boots on and went searching for new musical adventures. Always on the look out for innovative trends and attentive to the new guard of Quebecer musicians, he ended up surrounding himself with young talent and created the Bébert Orchestra in 2004, and later the Yves Lambert Trio in 2010.
The Yves Lambert Trio showcases the unique connection between maturity and youth by creating a new world of poetry and celebration. Yves Lambert's charisma and talent, coupled with Tommy Gauthier and Olivier Rondeau's virtuosity and passion, the nuances of their arrangements and their distinct harmony make this trio one-of-a-kind musical experience. By reviving undiscovered songs and adding their own brand of energy, multicultural ambiance and colourful sounds there's really nothing quite like the Yves Lambert Trio.
Yves Lambert Trio is a breath of fresh and happy air on the musical Quebecer scene. ---coldsnapfestival.com
Depuis le début de sa carrière solo en 2003, le charismatique chanteur et accordéoniste Yves Lambert, n'a cessé d'étonner. Peu après qu'il eut quitté le groupe la Bottine Souriante, c'est avec les musiciens du Bébert Orchestra qu'Yves Lambert pu affirmer sa nouvelle identité. En alliant la musique festive et dansante à la poésie d'auteurs-compositeurs souvent méconnus, il innova! Aujourd'hui, secondé par les multi-instrumentistes Tommy Gauthier et Olivier Rondeau (deux collaborateurs du Bébert Orchestra), Lambert est fort d'un nouveau son. La formule trio propose une interprétation personnelle et créative du répertoire traditionnel québécois. En plus, les compositions et les arrangements proposés par Gauthier/Rondeau, offrent un soutien rempli de prouesses et d'ingéniosités.
Sur scène, le spectacle se veut une expérience musicale marquante et touchante. Le Yves Lambert trio saura vous captiver! ---coldsnapfestival.com
download (mp3 @192 kbs):
yandex mediafire ulozto cloudmailru gett