Backwater Blues
Backwater Blues
Bessie Smith recorded "Backwater Blues" in 1927, and it became an anthem for one of the most devastating national disasters in US history. The Mississippi River flood of 1927 was horrific. About a thousand people lost their lives. Almost half a million homes were destroyed. Almost a million people became homeless for a time. Entire black neighborhoods were wiped out. This incident gave birth to an important blues era, now known as the Delta Blues era. The blues artists who wrote and sang in this era there are famous names in this era such as Muddy Waters, Robert Johnson, Howling Wolf, and of course, Bessie Smith, who is one of my favorites.
Backwater Blues
The song has long been associated with the Great Mississippi Flood of 1927. Bessie actually wrote "Backwater Blues" for the Cumberland River flood that hit Nashville on Christmas morning 1926. The Cumberland River, which flows through the city, rose 56 feet (17 m) above its normal level, still a record. It was recorded (under the title "Back-water Blues") by Bessie Smith (vocals) and Jimmy Johnson (piano) on February 17, 1927.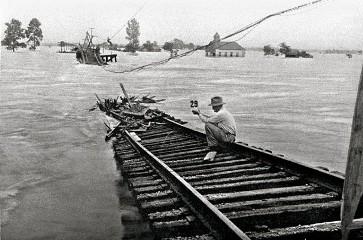 Great Mississippi Flood of 1927
In the 1920s and 30s, Bessie Smith was "empress of the blues." Her passionate singing and performing style and her songwriting influenced all the blues and jazz singers that followed. Many of the songs she popularized, both blues and "tin pan alley" tunes, have become standards in blues, jazz, rock and pop music.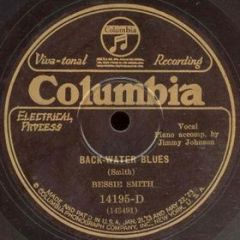 Bessie Smith - Back-Water Blues, single
Bessie Smith was a colossus who straddled jazz and blues. For all the acclaim she still gets, over time she's been marginalized a bit in either field — like she's too jazzy for blues people and vice versa. But Smith played a decisive role in shaping early jazz: horn players who worked with her learned a lot about bluesy feeling and inflections, a raspy vocalized sound, and the economical statement. She helped brass players in particular to find their own individual styles, as personal as singing voices.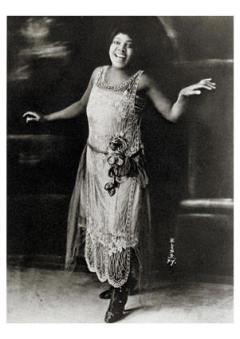 Bessie Smith, 1923
As a live performer, Smith was famous for bellowing to a theater's back rows and balcony. But by the later 1920s, she'd learned how to use the recording studio. She could lower the volume without diminishing her power. This is the Bessie Smith who influenced the young Billie Holiday, whose own early sides a few years later have a similar playful quality.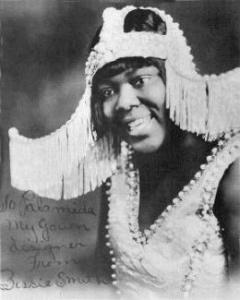 Bessie Smith, 1926
In her recording career, Bessie Smith worked with many important jazz performers, such as saxophonist and clarinetist Sidney Bechet, trumpeter Louis Armstrong and pianists Fletcher Henderson and James P. Johnson. Smith collaborated with Louis Armstrong on several tunes, including "Cold in Hand Blues" and "I Ain't Gonna Play No Second Fiddle." With Johnson, she recorded one of her most famous songs, "Backwater Blues."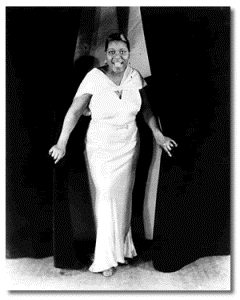 Bessie Smith
The latter part of the 1920's was a boom time for the recording industry. The genre which has been variously known as black, soul, or rhythm-and-blues by the record companies, was then called "race." The early part of the decade was ruled by women blues singers. Bessie Smith was obviously a favorite of Huddie Ledbetter (Ledbelly). He learned her "Backwater Blues" from listening to the record and incorporated it into his repertoire. He even used the woman's point of view when he sang the song.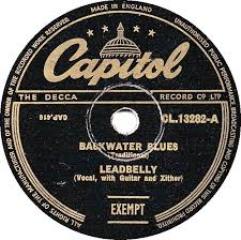 Ledbelly - Backwater Blues, single
Even modernized a bit, Smith's blues began sounding old fashioned by the end of the 1920s; her recording career was almost over. (The Great Depression didn't help.) But she left the music very different from when she began recording. She no longer had to coax musicians into bluesy expressionism; now they carried her.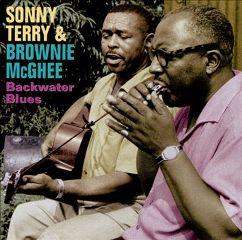 Sonny Terry & Brownie McGhee - Backwater Blues
Bessie Smith - Backwater Blues lyrics

When it rains five days and the skies turn dark as night
When it rains five days and the skies turn dark as night
Then trouble's takin' place in the lowlands at night

I woke up this mornin', can't even get out of my door
I woke up this mornin', can't even get out of my door
There's been enough trouble to make a poor girl wonder where she want to go

Then they rowed a little boat about five miles 'cross the pond
Then they rowed a little boat about five miles 'cross the pond
I packed all my clothes, throwed them in and they rowed me along

When it thunders and lightnin' and when the wind begins to blow
When it thunders and lightnin' and the wind begins to blow
There's thousands of people ain't got no place to go

Then I went and stood upon some high old lonesome hill
Then I went and stood upon some high old lonesome hill
Then looked down on the house were I used to live

Backwater blues done call me to pack my things and go
Backwater blues done call me to pack my things and go
'Cause my house fell down and I can't live there no more

Mmm, I can't move no more
Mmm, I can't move no more
There ain't no place for a poor old girl to go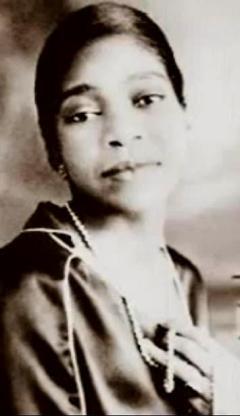 Bessie Smith