Stan Borys – Platynowa Kolekcja – Zlote Przeboje (1999)
Stan Borys – Platynowa Kolekcja – Zlote Przeboje (1999)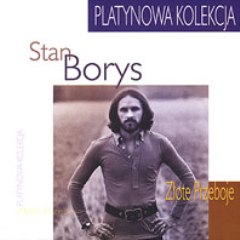 01. Spacer dzika plaza (1969),
02. Anna (1966),
03. Jaskolka uwieziona (1973),
04. To ziemia (1969-live),
05. Wiatr od Klimczoka (1969),
06. Na wierchach wieje wiatr (1969),
07. Zagrajcie nam wszystkie srebrne (1975),
08. Listow pozolkla biel (1970),
09. Plonie ognisko (1972),
10. Szukam przyjaciela (1973),
11. Zostan tam gdzie ja,
12. Wierze drzewom (1971),
13. Ide w droge nieznana (1975),
14. Ballada o dwoch siostrach (1970),
15. Moj przyjaciel deszcz (1970),
16. Sila kwiatow (1969),
17. Chmurami zatanczy sen (1973),
18. Studnia   (1967),
19. Krzycze przez sen (1970),
20. W twoje oczy zapatrzony (1970)

Stan Borys is a music legend in Poland where his songs have become classics. He has been honored as a singer and performer at musical festivals throughout the world including: France, Belgium, Ireland, Greece and Poland. In Athens at the Olimpiade of Songs (with 40 country participating) he was awarded with 3 Gold Medals for a song and a Gold Record as a "Best Interpreter" of the whole Olimpiade. Several of his songs have become #1 hits on the charts.
He recorded 11 albyms, appeared in thousands of concerts, TV shows, rock-operas, theatrical productions and film. Recently — he received tremendous acclaim for his performance in "Les Miserable" as the unforgettable Jean Valjean. He was performing in Blackstone Theatre in Chicago in a play by Bertolt Brecht "The Goodwoman of Setzuan" directed by Joseph Slowik.
Stan Borys has lived and performed in the United States for over 25 years. During his years in Chicago and Toronto he was the subject of numerous articles and musical reviews by the local press. Music critics continuously emphasized the outstanding level of his performance and artistic achievement. During one of his most recent performance in his homeland Poland where he returned to perform after many years one of the music critics wrote: "concerts like this are rare these days" "He was one of the most unique voices in Poland then, and still is now after all these years. He is the most powerful voice in contemporary music." --- nnm.ru
Urodził się w 1941 roku jako Stanisław Guzek w Załężu. Początkowo związany był ze sceną teatralną, by później rozpocząć karierę wokalisty. Wśród jego największych przebojów wymienić trzeba takie piosenki jak: "Jaskółka uwięziona", "Anna" i "Spacer dziką plażą".
W 1965 roku Stan Borys współtworzył zespół Blackout, związany był także z grupą Bizony. Jako wokalista nagradzany był na całym świecie, m.in. we Francji, Belgii, Irlandii i Wenezueli. Nie rozstał się też z teatrem – jedną z jego najważniejszych ról była rola w musicalu Les Miserables w Teatrze Muzycznym w Gdyni. Artysta od ponad 30 lat mieszka w USA, pojawiając się Polsce na koncertach ze swoją grupą Imię Jego 44. W wolnych chwilach uprawia jogę. 5 listopada 2006 roku obchodził 45 – lecie działalności artystycznej w Rzeszowie. --- rmf.fm
download:   uploaded 4shared ziddu divshare 26G
Last Updated (Tuesday, 09 October 2012 11:51)