Behemoth - Evangelia Heretika (2010)
Behemoth - Evangelia Heretika (2010)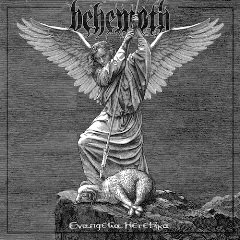 CD 1 (Recorded 25 IX 2009 at Stodola, Warsaw, Poland):

01. [02:12] Intro 
02. [04:34] Ov Fire And The Void 
03. [04:26] Demigod 
04. [04:32] Pan Satyros 
05. [04:07] Shemhamforash 
06. [04:12] Conquer All 
07. [02:55] Decade Ov Therion           play
08. [05:12] Wolves Guard My Coffin 
09. [03:10] Christians To The Lions     play
10. [05:06] At The Left Hand Ov God 
11. [04:05] Slaves Shall Serve 
12. [04:52] As Above So Below 
13. [01:11] Drum Solo 
14. [05:24] Lam 
15. [03:47] Alas, Lord Is Upon Me 
16. [05:44] Antichristian Phenomenon 
17. [04:57] Chant For Ezkaton 2000 E.V. 
18. [08:28] Lucyfer

Personel:
Adam "Nergal" Darski - wokal, gitara, klawisze 
Zbigniew "Inferno" Promiński - perkusja 
Tomasz "Orion" Wróblewski - bas 
Patryk Dominik "Seth" Sztyber - gitara (sesyjnie/koncertowo)

Najnowsze wydawnictwo Behemoth – "Evangelia Heretika" będzie zawierać 3 płyty na których znajdą się pełne dwóch koncertów (Paryż 2008 i Warszawa 2009), wszystkie teledyski grupy oraz dokument z trasy. Całość materiału to 5 godzin – plus dodatkowy zapis audio koncertu w Warszawie na płycie CD.
Oto komentarz Nergala: "Przygotowanie tego wydawnictwa wiele nas kosztowało. Mamy już co prawda kilka DVD w swoim katalogu, ale one mają się nijak w porównaniu do tego, czego doświadczycie na EVANGELIA HERETIKA! Znajdziecie tam ok. 5 godzin esencji Behemoth. Nad artystyczną oprawą wydawnictwa czuwał i tym razem wieloletni współpracownik Behemoth, Graal, który stworzył jedno ze swoich najbardziej niepokojących dzieł."
Masters of blackened death metal, BEHEMOTH, will be unleashing the group s second-ever DVD titled Evnagelia Heretika this fall, 2010.
Vocalist and guitarist Nergal comments, 'We've been through hell and back to make this release happen. I know we only have a few DVD's in our catalogue so far but they are not even close to what you are gonna experience with EVANGELIA HERETIKA! Expect approximately 5 hours of essential Behemoth. Long-time Behemoth artistic collaborator, Graal, has provided us with some of his most disturbing and completed visuals to date.'
Behemoth DVD Content: Two DVD's featuring two full shows (Live in Paris 2008 and Live in Warsaw 2010), every Behemoth music video, Evangelion tour documentary featuring band interviews plus tons of backstage footage. Five hours of material including a bonus Live in Warsaw Audio CD.
download: uploaded anonfiles yandex 4shared solidfiles mediafire mega filecloudio
Last Updated (Monday, 18 November 2013 17:25)