Trubadurzy - Krajobrazy & Ej Sobotka Sobotka (2005)
Trubadurzy - Krajobrazy & Ej Sobotka Sobotka (2005)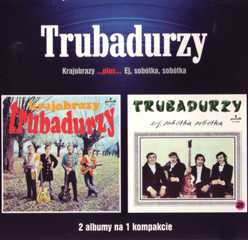 Krajobrazy
1. U Nas Najweselej    2:59
2. Krajobrazy    3:29
3. Zrob To Dla Mnie    2:10
4. Odjechalas - Nie Wiem Sam Dokad    2:48
5. Chce Po Twoich Poznac Oczach    1:53
6. Znamy Sie, Tylko Z Widzenia    2:22
7. Wrocimy Kiedys Znow    2:07
8. Powiedz, Kim Jestes    3:34
9. Na Mazowszu    2:09
10. Bylas Tu    2:57
11. A Wiec Nie    2:24
12. Sloneczniki - Kwiaty    3:51
13. Chlopiec Twoj    2:32
Sobotka
14. Ej, Sobotka, Sobotka    3:39
15. Wsrod Zielonych Olszyn    2:45
16. Tobie I Mnie    3:15
17. Dziewczyna I Pejzaz    2:47
18. Po Co Ja Za Toba Biegam    2:17
19. Nie Chcemy Wspomnien    4:35
20. Dom Mego Dziecinstwa    3:03
21. Usmiechajcie Sie Dziewczeta    2:07
22. Nie Pytaj Mne W Czye Wlosy Wepne Gwiazde    4:16
23. Ballada O Dziewczynie    2:27
24. Tatrzanska Zimowa Basn    3:30
25. Inna Niz Wszystkie    2:28

Lineup:
Ryszard Poznakowski - vocals, organ;
Krzysztof Krawczyk - vocals, guitar;
Slawomir Kowalewski - vocals, bass guitar;
Marian Lichtman - vocals, drums.

The most successful vocal big-beat band in Poland in late-60s. Jerzy Krzeminski (guitar, vocals), Slawomir Kowalewski (bass, vocals), Krzystof Krawczyk (guitar, vocals) and Marian Lichtman (drums, vocals) first met in 1964. In the beginning were mostly a live backing band for other artists. Toured Poland with German band The Lords. Gained wider attention via appearance at The National song festival in 1966 with singer Slawa Mikolajczyk. Released first EP same year. Krawczyk and Lichtman left in early 1967. In came Marta Martelinska (vocals), Bogdan Borkowski (guitar) and Aleksander Kawecki (drums). Unfortunately, band's story nearly ended in autumn of 1967 with departure of Krzeminski, Borkowski and Kawecki. However, Kowalewski regrouped with Krawczyk and Lichtman, and, with addition of Ryszard Poznakowski, band's future principal composer, saved Trubadurzy from disbanding.
Reformed band began touring heavily building a completely new repertoire that eventually led them to the string of chart-topping singles in late-1967 and early-1968. 'Pzyjedz mamo na przysiege' song was big success at the national song festival in Opole.
Trubadurzy weren't good enough musicians to create a sophisticated record. Instead, they stoke on their outstanding vocal harmonies and eventually made it big with pure musicianship without any publicity or image hype. Their songs, mostly penned by Poznakowski, were based on Polish and Russian folklore. Use of Russian musical traditions made them 'the most Russian of all Polish bands'.
Recorded their debut album within one day of February the 3rd, 1968, as a four-piece: Poznakowski (keyboards, vocals), Krawczyk (guitar, vocals), Kowalewski (bass, vocals) and Lichtman (drums, vocals). This album, as well as the next, certainly belong to their finest musical achievements.
Having completed a two-month tour of USSR and Mongolia (!) in late 1969, Trubadurzy parted company with Poznakowski and brought in female singer Halina Zytkowiak instead. This line-up released two LPs, both being admirable in some ways, but undoubtedly weaker than first two.
Toured Czechoslovakia, Eastern Germany, Bulgaria, USSR and Belgium in 1970-72. Appeared at The National song festival in June 1972, again with Poznakowski, to present 'Bedziesz ty' ('You Will') – their last big hit. Summer of 1972 brought further personnel change with departure of Zytkowiak and Krawczyk. In came Maria Gluchowska (vocals, ex. – ABC ->) and Janucz Hryniewicz (guitar). The latter left for an early version of SBB band shortly after. New drummer Jan Izbinski (ex. – Breakout ->) came in 1974.
Trubadurzy were presented a Gold LP for their second album in late 1974. Zytkowiak, Krawczyk and Pozniakowski guested at the special concert celebrating the event, but generally band's days ended.
Kowalewski, Zytkowiak and Krawczyk resurrected the band in 1976 with addition of Zbigniew Dziubinski (guitar), Bogdan Gorbaczynski (bass), Jan Slotkowicz (drums) and T. Rostkowski (keyboards). Recorded a surprisingly fresh and diverse album 'Znowu razem' ('Together Again'), though a sad commercial failure. Kowalewski, Poznakowski, Lichtman and Piotr Kuzniak (guitar, vocals) resurrected Trubadurzy once again in 1994 for occasional gigging across the homeland.
download:  uploaded ziddu 4shared yandex mediafire hostuje
Last Updated (Friday, 10 May 2013 17:01)