Niebiesko-Czarni - Niebiesko-Czarni (1966)
Niebiesko-Czarni - Niebiesko-Czarni (1966)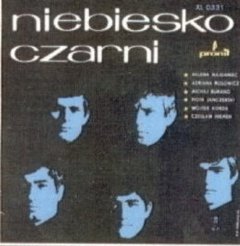 01 - Hej, Dziewczyno, Hej
02 - Smutny List
03 - Zegnaj Karnawale
04 - Komandosi
05 - Zostaly Mi Tylko Twoje Listy
06 - Czy Bedziesz Sama Dzis Wieczorem             play
07 - Niedziela Bedzie Dla Nas                     play
08 - Idzie Dysc
09 - Ach
10 - Nie Lubie Klamac
11 - Maria Elena
12 - O Ile Nie Pamietacie - Posluchajcie
13 - Taka Byla Moja Dziewczyna
14 - Chciales Wszystko Zmienic
15 - Zabawa W Ciuciubabke


Bass Guitar – K. Wiśniarowski
Drums – T. Głuchowski
Guitar – J. Popławski, W. Korda
Organ, Grand Piano, Harmonica – Z. Podgajny
Vocals – Ada Rusowicz (tracks: A1, B3), Czesław Niemen (tracks: B8), Helena Majdaniec (tracks: A3, B7),
 Michaj Burano (tracks: A5), Piotr Janczerski (tracks: B5), Wojciech Korda (tracks: A2, A6, A7, B1, B2)

Rok 1965 stanowił najbardziej pracowity okres w karierze Niebiiesko-Czarnych. Grupa zarejestrowała wówczas dla radia ponad 30 utworów, z których wiele nigdy nie doczekało się publikacji płytowej. Podczas II KFPP w Opolu wyróżniono W. Kordę i P. Janczerskiego. Wkrótce doszło do kolejnego rozłamu. Zespół opuścili W. Wander, Z. Bernolak i A. Nebeski, a w listopadzie Cz. Niemen. Lukę tę wypełnili muzycy gdańskich Tonów: Krzysztof Wiśniarowski (ur. 12.03.1946 r. w Węgrowie) - gitara basowa i Tadeusz Głuchowski (ur. 29.07.1942 r. w Zembrach) - instrumenty perkusyjne.
W roku nastepnym przeboje Niebiesko-Czarnych były już mniej interesujace. W grupie dominującą rolę przejęli W. Korda, A. Rusowicz i H. Majdaniec. Jednocześnie drogi zespołu i M. Burano zaczęły się rozchodzić. Symptomatycznym był fakt umieszczenia tylko jednej jego piosenki na pierwszej płycie długogrającej Niebiesko-Czarnych. Ostatecznie M. Burano odszedł z grupy w listopadzie 1966 r. po IV Międzynarodowym Festiwalu Variete w Rennes. Od lipca 1965 r. w zespole śpiewała też Irena Wierzbicka. Grupa odbyła trasy koncertowe po Węgrzech (07.1965, 06-07.1966) i Jugosławii (09-10.1966) oraz wzięła udział w filmie "Mocne uderzenie" (rezż. Jerzy Passendorfer, prem. 23.03.1967). W filmie Niebiesko-Czarni wykonywali utwory: "Nie pukaj do moich drzwi" i "Kolorowa piosenka". Formacja wystapiła również w paryskim klubie "Golf Drout" (11.11.1966), gdzie w turnieju zespołów rhythm and bluesowych zdobyła 1 miejsce, dyplom honorowy i nagrodę pieniężną. W kraju Polskie Nagrania i Rozgłośnia Harcerska przyznały zespołowi nagrodę za "Płytę 1966 Roku" (LP "Niebiesko-Czarni")... ---polskibigbitinietylko.blogspot.com
Niebiesko-Czarni (The Blue-Blacks) were one of the most popular Polish rock groups of the 1960s and early 1970s. Czesław Niemen played in the band for several years. Throughout their 14 year history (1962-1976) Niebiesko-Czarni released 8 LPs, 24 singles, sold over 3.5 million records and played more than 3000 shows.
download (mp3 @320 kbs):
yandex mediafire uloz.to solidfiles global.files workupload
Last Updated (Monday, 10 May 2021 11:39)