Niebiesko-Czarni - Rock Opera Naga 1972
Niebiesko-Czarni - Rock Opera Naga (1972)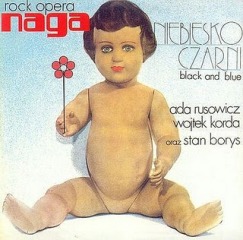 01 Uwertura / Overture (Z. Namyslowski) 2:29
02 Wyspa slepych ptakow / The Island of the Blind Birds (J. Poplawski) 2:33
03 Naga / Naked (W. - Korda) 3:31                                                      play
04 O nagiej prawdzie sluchaj piesni / Listen the Song of the Naked Truth (J. Poplawski) 5:37
05 Slepcy/ Blindmen (Z. Podgajny) 4:28
06 Widzialem go/ I Saw Him (Z. Podgajny) 1:47
07 Narodzil sie nam nowy bog/ The New God Is Born (W. Korda, Z. Podgajny) 3:35
08 Song przeciwienstw/ A Song Of The Oppositions (Z. Podgajny) 2:43
09 Na pagorkach ciszy/ On The Hills Of The Silence (W. Korda) 2:25
10 Ziemi puls/ The Pulse Of Earth (J. Koman) 2:04
11 Czekalem na ciebie 1000 lat/ I´ve Been Waiting For You For A Thousand Years (J. Poplawski) 2:17
12 Ogrod pelen roz/ The Garden Full Of Roses (Z. Namyslowski) 4:36
13 Galernicy stuleci/ Galley-slaves Of Ages (M. Swiecicki) 3:26
14 Opowiesz nam maly boy/ You Wil Tell Us, Little Boy (W. Korda) 3:54
15 Zgubilem swoja dusze/ I´ve Lost My Soul (Z. Podgajny) 4:24
16 Tancz wolna wyspo/ Dance, Free Island (J. Poplawski) 3:55
17 Nieznany lad/ The Unknown Land (Z. Podgajny) 3:07                                  play
18 Labiryntu mrok/ The Dusk Of The Labirynth (W. Korda) 2:33
19 Dobrzy ludzie/ The Good People (Z. Podgajny) 3:02
20 Wyspa umarlych okretow/ The Island Of Dead Ships (W. Korda) 3:22
21 Piesn zegarow/ The Song Of The Clocks (Z. Podgajny) 2:31
22 Opowiesc o nieodkrytej wyspie/ The Story Of The Undiscovered Island (A. Zielinski) 5:46


Janusz Popławski - bass guitar
Zbigniew Podgajny - organ
Joachim Rzychoń - bass guitar
Jerzy Dąbrowski - drums
Wiesław Żakowicz - alto & baritone sax, flute, conga
Ada Rusowicz - vocals
Stan Borys - vocals
Wojciech Korda - vocals
Zbigniew Namysłowski - alto sax, flute
Waldemar Kurpiński - baritone sax
Tomasz Szukalski - tenor sax
Tomasz Stańko - trumpet
Janusz Muniak - tenor sax
Zbigniew Seifert - alto sax
Paweł Dąbrowski - bass guitar
Bronisław Suchanek - bass
Kazimierz Jonkisz - drums
Józef Gawrych - percussion
Bogdan Kulik - percussion
Zespół Smyczkowy Jana Pruszaka

Naga – pierwsza polska rock-opera nagrana na dwóch płytach przez grupę Niebiesko-Czarni w 1972 roku. Autorem songów i libretta był Grzegorz Walczak. Muzykę skomponowali członkowie Niebiesko-Czarnych (Janusz Popławski, Zbigniew Podgajny, Wojciech Korda) oraz Zbigniew Namysłowski, Mateusz Święcicki, Janusz Koman i Andrzej Zieliński. Tematem Nagiej jest "poszukiwanie prawdy i egzystencjalnego wyboru sposobu życia" (M. Święcicki - tekst na okładce płyty).
Płyty zostały wydane w 1972 roku przez Polskie Nagrania Muza (XL oraz SXL 0881 – 0882), natomiast rock-operę wystawił Teatr Muzyczny w Gdyni w 1973 z udziałem Niebiesko-Czarnych i Stana Borysa.
The final release from Niebiesko-Czarni was the rock opera "Naga" (Nude) which in a way was inspired by Godspell/Hair/Adam & Eve and even The Who's "Tommy". This album was originally released as two lps in 1972 which may have been quite a pain for collectors to track down both parts for themselves. Lps and singles weren't that easy to find in Poland unless you lived in a big city like Warsaw, Krakow, etc. where there may be an actual "record shop" there. You had to find records in the strangest places: bookstores, department stores, Ruch kiosks, and import shops. What a stone drag! Finally in the early 90's, Muza released all 22 tracks on one cd! With the correct cover art!
Using the help of Stan Borys and Ada Rusowicz, Korda sang most of the wild and long story of finding a girl, on an island or in heaven? It's very confusing. I guess this could be his nude soulmate. They never explain why she's found naked... Very progressive rock like King Crimson, Jethro Tull, Genesis, and the lot. Good use of flute, group choir vocals, and the old trick of violin bow played on Gibson Les Paul, thanks to inventors The Creation and Led Zeppelin (let them fight it out). Performances of this rock opera were performed but were later banned because they brought out an actual NUDE girl on stage to sing to. Photos exist, film footage does not. Korda and Rusowicz later married in real life but tragically Ada Rusowicz died in an auto accident in the early 90's. This in turn made the group reunite for a one-off tribute concert to her in 1992. ---Kupa99, rateyourmusic.com
download (mp3 @320 kbs):
yandex mediafire uloz.to solidfiles global.files workupload
Last Updated (Monday, 10 May 2021 13:02)