Budka Suflera & Urszula - Best of (1992)
Budka Suflera & Urszula - Best of (1992)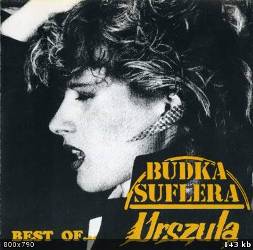 1.Fatamorgana 
2.Bogowie i demony 
3.Luz - blues, w niebie same dziury 	play
4.Totalna hipnoza 
5.Michelle ma belle 
6.Dmuchawce, latawce, wiatr 
7.Malinowy król 
8.Podwórkowa kalkomania 
9.Wielki odlot 							play
10.Szał sezonowej mody 
11.Ile masz lat 
12.Kto zamiast mnie 
13.Mój Lublin 
14.Temat Bożeny

Best of Budka Suflera & Urszula – kompilacyjny album Urszuli, wydany w 1992 roku nakładem wydawnictwa TA Music.
Na przełomie lat 1981 i 1982 miały miejsca ważne dla Urszuli wydarzenia. Romuald Lipko (lider Budki Suflera) za namową Jerzego Janiszewskiego zgodził się skomponować dla Urszuli kilka piosenek. Nagrań dokonano 15 czerwca 1982 roku w poznańskim studio Polskiego Radia. Były to: "Fatamorgana '82", "Bogowie i demony" i "Luz blues w niebie same dziury". Piosenką "Fatamorgana '82" Urszula zadebiutowała w lipcu w jednym z sobotnich bloków Zapraszamy do Trójki. W tydzień potem już była na liście. Pozostałe utwory ukazały się pod koniec 1982 na pierwszym singlu Urszuli i także szybko podbiły krajowe listy przebojów.
Lata 1983-1987 to lata współpracy z Budką Suflera. Należy tu wyraźnie zaznaczyć, że Urszula nigdy nie była wokalistką Budki Suflera. Na koncertach zawsze przedstawiano ich jako Urszula i Budka Suflera, bądź Urszula z towarzyszeniem Budki Suflera.
download:    uploaded ziddu 4shared divshare 26G
Last Updated (Friday, 05 October 2012 15:37)