Turbo – Titanic (1992)
Turbo – Titanic (1992)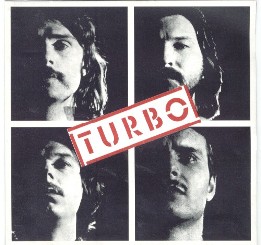 1.    Pierwsza forsa w tym miesiącu • 04:20
2.    Dorosłe dzieci • 06:30
3.    Śmiej się błaźnie • 03:40
4.    Jeszcze jeden papieros • 04:05
5.    Kręci się nasz film • 04:05
6.    Titanic nr 2 • 04:50				play
7.    Coraz mniej • 04:50
8.    Zero • 04:55
9.    Ach nie bądź taki śmiały • 04:00	play
10.    Pozorne życie • 03:20
11.    Jak w ogień • 05:00

Muzycy:
Wojciech Hoffmann – lead gitar
Grzegorz Kupczyk – vocal
Piotr Przybylski, Henryk Tomczak – bass
Andrzej Łysów – gitar
Marek Olszak, Ryszard Oleksy, Przemysław Pahl, Alan Sors, Tomasz Goehs – drums

Turbo is a Polish heavy metal band. It was started in January 1980, in Poznań, by Henryk Tomczak (formerly in Stress and Heam, both pioneering Polish hard rock groups). Turbo is one of the most important bands in polish heavy metal. Turbo's most famous album is Kawaleria Szatana (Satan's Cavalry), considered an opus of Polish heavy metal. The band is best known for tracks "Dorosłe Dzieci", "Jaki był ten dzień", "Żołnierz fortuny" and "Wszystko będzie ok". In 1992 Titanic, with unreleased songs from the 'softened times'.
TURBO - Polska grupa heavy/thrash metalowa utworzona w styczniu 1980 r. w Poznaniu w składzie: Wojciech Anioła – perkusja Wojciech Hoffmann - gitara Wojciech Sowula - śpiew Henryk Tomczak – gitara basowa
Zadebiutowała w kwietniu 1980 na koncercie w Klubie Studenckim "Sęk" w Poznaniu. W tym samym roku dokonała pierwszych nagrań archiwalnych w Rozgłośni Wrocławskiej PR i wystąpiła na Międzynarodowej Wiośnie Estradowej w Poznaniu. W 1981 roku z nowym wokalistą Piotrem Krystkiem dokonała kolejnych nagrań radiowych. Uczestniczyła we wszystkich prestiżowych imprezach rockowych, m.in. Rock Arena w Poznaniu [1981], Rockowisko w Łodzi [1981-1982] i FMR w Jarocinie w 1982 r…Po zmianach personalnych zmieniła stylistykę z hardrockowej na heavymetalową. Wraz z zespołami : TSA i Kat należą do tak zwanej "Wielkiej Trójki Polskiego Heavy Metalu". W 1982 roku TURBO wydało debiutancką płytę – "Dorosłe Dzieci", znalazły się na niej takie hity jak "Szalony Ikar" czy utwór tytułowy. Trzy lata później nakładem Klubu Płytowego "Razem" wydany został drugi longplay grupy – "Smak Ciszy". Słychać na nim rozwinięcie pomysłów z "Dorosłych Dzieci" oraz przejście w heavymetalową stylistykę ("Narodziny Demona"). Rok później wydana zostaje płyta najlepsza w dorobku zespołu – "Kawaleria Szatana" – osadzona w heavy – thrashowej stylistyce. W 1992 roku ukazuje się płyta Titanic zawierająca niepublikowane utwory z "okresu błędów i wypaczeń".
download:  uploaded gett ziddu 4shared divshare mediafire
Last Updated (Thursday, 31 January 2013 15:16)