Turbo - Piaty Zywiol (The Fifth Element ) [2013]
Turbo - Piąty Żywioł (The Fifth Element ) [2013]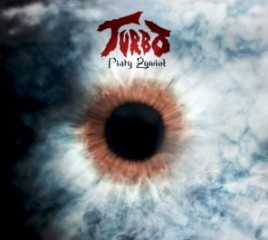 01. Myśl i Walcz 	(Think and Fight)
02. Cień Wieczności	(Taste of Forever)
03. Serce na stos	(Heart on the Pyre)
04. Piąty Żywioł		(The Fifth Element)
05. Przebij mur		(Smash the Wall)
06. Garść piasku	(Handfull of Sand)
07. Niezłomny		(Relentless)
08. Amalgamat		(Amalgam)
09. Rozpalić Noc	(Light up the Night)
10. This War Machine
11. Może Tylko Płynie Czas	(Blues Measured by the Clock Ticking)

Musicians:
Wojciech Hoffmann - Guitars
Bogusz Rutkiewicz - Bass, Guitars (acoustic) - 7, Guitars - 1, 7
Mario Bobkowski - Drums
Dominik Jokiel - Guitars
Tomasz Struszczyk - Vocals, Guitars (acoustic) - 11 (Intro & Outro)

Veteran Polish metallers TURBO will release a brand new studio album, "The Fifth Element", in March. The Polish-language version of the CD, entitled "Piaty Żywiol", is now available in Poland. The follow-up to 2009's "Straznik Swiatla" contains "solid heavy metal without any unnecessary intricacies," according to a press release.
Comments guitarist Wojciech Hoffmann: "We do not want to concentrate on novelties as we can see during our gigs that the fans expect us to play older tracks, they do not like changes. We also feel very comfortable playing the music of our youth. That's why we plan to stick to classic heavy metal." --- blabbermouth.net
Niekwestionowana legenda polskiego heavy metalu – zespół TURBO w listopadzie 2013 wydał nowy album! Płyta "Piąty Żywioł" pojawiła się na półkach sklepowych 12 listopada 2013 nakładem wytwórni Metal Mind Productions. Nowy krążek TURBO funduje potężną dawkę klasycznego brzmienia za jakie pokochali ich fani, z tym że w nowoczesnych aranżacjach. Nad produkcją albumu czuwał Perła (ex Acid Drinkers, Guess Why), który nadał brzmieniu tej płyty prawdziwą siłę. Koncert promujący tą płytę odbędzie się w Zielonej Górze w niedzielę 19 stycznia 2014 o godz.19.00 w klubie "4 Róże dla Lucienne".
Grafika na okładce mocno nawiązuje do tytułu krążka, bo jak mówią muzycy: "W naszej koncepcji, oprócz czterech znanych nam żywiołów jest jeszcze piąty. Człowiek tak jak żywioły odmienia oblicze ziemi, ma w sobie siłę, którą można w pewien sposób zestawić z siłą żywiołów, czasami wykorzystuje tę siłę w dobry sposób, a czasami nie" . Ten zamysł odzwierciedla także obrazek jaki będzie zdobił front płyty "Piąty Żywioł".
Na trasę koncertową z premierowym materiałem muzycy TURBO kazali nam czekać cztery długie lata. Jak zapewniają muzycy, TURBO nie chce porywać się na nowości, bo na koncertach fani oczekują od nich klasycznych utworów i nie są zwolennikami zmian.
Utwór "Cień Wieczności" będzie pilotował album aż do premiery i został wybrany wspólnie przez zespół. Ci, którzy mieli okazję w ostatnim czasie wybrać się na koncert TURBO zapewne mieli okazję i szczęście posłuchać go już w wersji live. W dniu premiery ukazał się także oficjalny klip do innego utworu, zatytułowanego "Serce na Stos". --- 4roze.pl
download:  uploaded filecloudio anonfiles yandex 4shared solidfiles mediafire mega nornar