SBB - Live In Neckargemund 1978 - From A Town Called N. (2008)
SBB - Live In Neckargemund 1978 - From A Town Called N. (2008)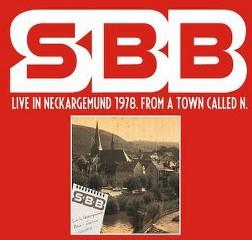 CD 1:

01. Walkin` Around the Stormy Bay - 07:03
02. Freedom With Us - 09:23
03. 3rd Reanimation - 05:24
04. Going Away - 07:39
05. (Żywiec) Mountain Melody - 04:41
06. Szczęśliwi z miasta N. - 06:44
07. Wake Up - 05:05
08. W kołysce dłoni twych (Ojcu) - 02:52
09. Growin` - 05:35
10. Follow My Dream - 08:57

CD 2:

01. Ze słowem biegnę do Ciebie - intro - 06:24
02. Wołanie o brzęk szkła (Born to Die) - 09:07
03. Odejście - finał - 01:36
04. Drums - 02:22
05. Wiosenne chimery - 08:34
06. Shake Baby - 07:58
07. Follow My Dream - 03:21

Józef Skrzek - keyboards, vocal
Apostolis Anthimos - drums, guitar
Jerzy Piotrowski – drums

Drugi z albumów z archiwalnej "kolorowej serii" przyniósł zapis występu w centrum rehabilitacyjnym dla osób niepełnosprawnych ruchowo w Neckargemund w północnej Badenii-Wirtembergii 23 lutego 1978.
Wśród koncertowych archiwów SBB jest to trzeci – po Sopocie i Roskilde – zapis występu zespołu zarejestrowany w roku 1978. I zarazem, w momencie wydania płyty, był najobszerniejszym dokumentem ciekawego okresu w historii SBB – okresu pomiędzy "Follow My Dream" a "Welcome". Tą drugą płytę reprezentuje wczesna wersja zespołowego evergreenu "Walkin' Around The Stormy Bay" – utwór ten (tradycyjnie z Lakisem na drugiej perkusji) ma w pierwszej części uboższą brzmieniowo formę, partie syntezatora są prostsze i mniej finezyjne niż w późniejszych wykonaniach i w wersji studyjnej; otrzymaliśmy w ten sposób ciekawy szkic, surową wersję wstępną klasycznej już kompozycji. Przez kilka miesięcy, jakie minęły od premiery "Follow My Dream", obie zawarte na tej płycie suity (wykonane w Neckargemund w całości!) uległy pewnym aranżacyjnym zmianom, co zapowiada już "Reanimation": między innymi pojawia się tu bardzo fajna solówka gitary na tle repetycyjnego, monotonnego pulsu syntezatora. Zresztą, Lakis bardzo chętnie wysuwa się z gitarowymi, ekspresyjnymi solówkami na pierwszy plan, choćby w wieńczącym suitę "Follow My Dream" fragmencie tytułowym, zagranym mocniej, bardziej dynamicznie, a przy tym swobodniej niż na płycie studyjnej.
Pomiędzy obie czteroczęściowe suity zespół wcisnął zaś utwór niezwykły. Bardzo nastrojowy, subtelny duet gitarowo-fortepianowy zatytułowano "Szczęśliwi z miasta N." – właśnie na cześć widzów owego koncertu, którzy – mimo przykuwającego do wózków kalectwa – zaimponowali Skrzekowi niezwykłą pogodą ducha. W drugiej części koncertu mamy zaś dość swobodną strukturę i płynne, spontaniczne przechodzenie z tematu na temat, jakie znamy z płyt koncertowych z Budapesztu czy Getyngi: najpierw luźno, fantazyjnie panowie rozgrywają sobie wstęp do suity "Ze słowem biegnę do Ciebie", potem fragment "Odejścia" który znamy pod tytułem "Born To Die", finał "Odejścia" przechodzący w perkusyjną solówkę Piotrowskiego, potem druga część "Wiosennych chimer" – a skoro tak, to na finał zasadniczej części koncertu mamy repryzę finałowego tematu "Walkin' Around The Stormy Bay", porywająco spinającą całość efektowną klamrą. Potem jeszcze na bis "Shake Baby" i już na sam koniec króciutka repryza "Freedom With Us".
Bardzo ciekawy i obszerny dokument koncertowy. Choć jakość dźwięku jest dość surowa, nieco bootlegowa – zapis koncertu z Neckargemund to dla fana SBB wydawnictwo bardzo cenne. Jak zresztą (prawie) każda płyta z "kolorowej serii". --- Piotr "Strzyż" Strzyżowski, artrock.pl
An unsual gig of the Follow my dream tour, played at a rehabilitation centre. Most of audience were sitting in weel-chairs. This is where the Happy People from X. theme was born.
They are probably the most internationally-minded Polish rock band in history. Formed in 1971, SBB have recorded most of their material in English. During the 1970s, the band was successful in Poland as well as abroad. They toured the former Czechoslovakia, Germany,Austria Bulgaria, Sweden, Denmark and the United States,Rusia,Mexico. They disbanded in the 1980 and got back together in the early '90s, after which Józef Skrzek and Apostolis Anthimos, the founders of SBB, played with a number of musicians. In 2000, they were joined by drummer Paul Wertico of the Pat Metheny Group.
In this lineup, Skrzek create amazing soundscapes on Moog synthesizers and Anthimos delivers superb guitar solos. "Live In Neckargemund 1978" is recording from very high point in SBB career. Highly recommended to all fans of fusion, progressive rock and extended jams. ---cdbaby.com
download (mp3 @320 kbs):
yandex 4shared mega mediafire uloz.to cloudmailru