Stanislaw Grzesiuk - Zlote przeboje (2004)
Stanislaw Grzesiuk - Zlote przeboje (2004)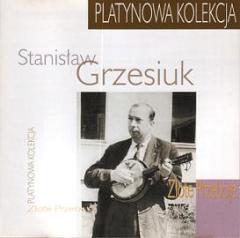 1. Bal na Gnojnej 
2. Piekutoszak, Felus i ja 
3. U cioci na imieninach 
4. Komu dzwonia 
5. Posluchajcie ludzie 
6. Siekiera motyka 
7. Rum-Helka 
8. Czarna Manka 
9. Choc z kieszeni znikla flota 
10. Czabak 
11. Wybila godzina druga 
12. Antek 
13. Ballada o Felku Zdankiewiczu 
14. Na dworze jest mrok 
15. Apaszem Stasiek byl 
16. Kaziu nie badz kiep 
17. Bujaj sie Fela 
18. Syn ulicy 
19. Nie masz cwaniaka nad Warszawiaka 
20. Grunt to rodzinka

Stanisław Grzesiuk (Polish pronunciation: [sta'niswaf ˈɡʐɛɕuk]; 6 May 1918, Małków, Łęczna County - 21 January 1963) was a Polish writer, poet, singer, and comedian. He is notable as one of the few public figures to use and promote the singing style and dialect of pre-war Warsaw after their near extinction in the aftermath of the 1944 Warsaw Uprising.
Stanisław Grzesiuk was born May 6, 1918 in Małków near Chełm. Early in his life his family moved to Warsaw's borough of Czerniaków, a distinct cultural area populated mostly by factory workers and other working poor. After graduating from a local trade school he started work as an electro-technician for various enterprises. After the outbreak of World War II he was arrested by the Germans in 1940 and sent to Germany as a slave worker. However, on April 4 of that year he was sent to Dachau concentration camp for an attempted escape. He was later transferred to Mauthausen-Gusen concentration camp and would spend almost five years there until the camp's liberation by the American army.
Liberated on May 5, 1945, he returned to Poland. Although he survived the Holocaust, his health never recovered and Grzesiuk suffered from serious tuberculosis, which eventually killed him. After the war, Grzesiuk started documenting his pre-war and wartime experiences. In 1958 he debuted with Pięć lat kacetu (Five Years in Concentration Camps), a striking description of his stay in Nazi Germany during the war. The following year he published Boso, ale w ostrogach (Barefoot but with spurs), a description of the pre-war life of Czerniaków, one of the most colorful boroughs of Warsaw. After its publication he became known as the chronicler of life of pre-war Warsaw in numerous songs, including the street ballads for which he became best known. Grzesiuk gained wide popularity as a singer during this period and played a prominent role in various Warsaw traditional-song groups, as a songwriter, singer and banjo player.
In the 1960s he started his work on yet another novel, Na marginesie życia (On the Margin of Life), documenting his struggle against tuberculosis, as well as the Polish post-war welfare services. Stanisław Grzesiuk died January 21, 1963 in Warsaw. His last book was published posthumously the following year.
Stanisław Grzesiuk (ur. 6 maja 1918 w Małkowie koło Chełma, zm. 21 stycznia 1963 w Warszawie) – polski pisarz, pieśniarz (zwany również bardem z Czerniakowa), z zawodu elektromechanik.
Autor popularnej, autobiograficznej trylogii literackiej – Boso, ale w ostrogach, Pięć lat kacetu i Na marginesie życia. Popularyzator przedwojennego folkloru czerniakowskiego. Działacz społeczno-lewicowy, antyklerykał i ateista. Jego ojciec urodzony w Warszawie, dzieciństwo (po śmierci rodziców) i młodość spędził na Lubelszczyźnie, był z zawodu ślusarzem, pracował w fabryce parowozów. Matka pochodziła z Nowego Miasta k/Płońska. Nie zarabiała, pracowała zajmując się domem. Od 1920 kiedy jego rodzice przenieśli się do Warszawy, do 1940 był mieszkańcem stołecznego Czerniakowa, dzielnicy zamieszkiwanej przez warszawską biedotę.
Po wybuchu wojny nadal mieszkał w Warszawie. Zaangażował się w walkę z niemieckim okupantem, działając w nowo powstałych polskich podziemnych siłach zbrojnych. Poszukiwany przez Gestapo za posiadanie broni (prawdopodobnie wynik donosu). Aresztowany (w trakcie łapanki) i wysłany na roboty przymusowe do Niemiec, w okolice Koblencji, następnie zesłany do obozu koncentracyjnego w Dachau za pobicie gospodarza niemieckiego i ucieczkę z jego gospodarstwa.
Po kilkumiesięcznym pobycie w Dachau (4 kwietnia-16 sierpnia 1940) przeniesiono go do Mauthausen-Gusen, gdzie przebywał do 5 maja 1945, tj. do momentu wyzwolenia obozu przez wojska amerykańskie. Przebywał w "starym obozie" Mauthausen, a od 1941 został przeniesiony do nowego "Gusen I".
9 lipca 1945 wrócił do kraju. W 1946 ożenił się, miał dwoje dzieci – córkę Ewę (1947-2003) i syna Marka (1950-2007). Od 1947 chorował na gruźlicę płuc, będącą konsekwencją pobytu w obozach. Przeszedł dwie operacje. Zmarł w 1963 na tę chorobę. ---wikipedia
download:   uploaded 4shared ziddu divshare yandex
Last Updated (Wednesday, 24 October 2012 08:23)