Adam Strug & Stanislaw Soyka - Strug. Lesmian. Soyka (2014)
Adam Strug & Stanislaw Soyka - Strug. Leśmian. Soyka (2014)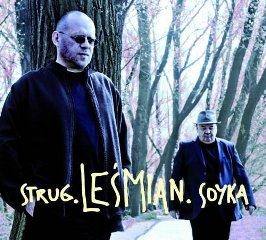 1. Z dziennika I
2. Klęska
3. Mrok na schodach
4. Niewiara
5. Nocą umówioną
6. Po ciemku
7. Po co tyle świec nade mną
8. Róża
9. Z dziennika II
10. Szczęście
11. Tam na rzece
12. W słońcu
13. Skończoność

Ten album to owoc niecodziennego spotkania dwóch artystów, których wiele różni. Połączyła ich poezja jednego z najważniejszych polskich poetów - Bolesława Leśmiana.
Leśmian w wykonaniu tego duetu brzmi świeżo i dość niespotykanie. Aksamitny, hipnotyczny śpiew Adama Struga w połączeniu z unikalną pianistyką Stanisława Soyki daje efekt zaskakująco atrakcyjny i ujmujący. --- universalmusic.pl
- To jest pisarz wiecznotrwały! Leśmian jest myślicielem, teozofem niezwykle przewrotnym. Jego teksty to bardzo ciekawe połączenia i przesunięcia, gdzieś między teologią a erotyką - mówił w Jedynce Adam Strug.
Śpiewak i poeta skomponował muzykę do tekstów Bolesława Leśmiana , na fortepian utwory opracował i wokalnie mu towarzyszy Stanisław Soyka . Adam Strug przyznał w "Muzycznej Jedynce", że połączenie tych trzech osobowości na płycie, ale przede wszystkim podczas występów na żywo, tworzy ciekawy klimat, który rozlewa się nie tylko po scenie. - Podczas koncertu w Łazienkach Królewskich kilka tysięcy ludzi trwało w bezruchu, milczeniu, słuchając niełatwych komunikatów lirycznych. Jestem pod wrażeniem, bo to jednak muzyka wymagająca - powiedział. --- polskieradio.pl
download (mp3 @256 kbs):
yandex mediafire uloz.to cloudmailru ge.tt
Last Updated (Monday, 08 July 2019 21:18)