Nemezis & Pawel Mykietyn (2013)
Nemezis & Pawel Mykietyn (2013)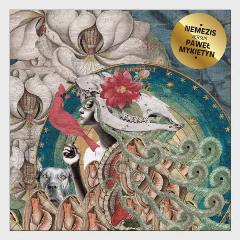 01. A song whose lyrics have been forgotten 7:38
02. Signals 4:41
03. Back to square one (live) 13:39
04. Echoes 5:54
05. A couple with their heads full of clouds 6:00

NEMEZIS

Grupa powstała pod koniec 1996. Ma na koncie kilka płyt, występów na festiwalach m.in.: Tauron Nowa Muzyka, CoCArt Music Festival, Wroclaw Industrial Festival, C3 i inne.
Tworzą ją:
Konrad Kucz – absolwent wydziału grafiki warszawskiej ASP. Od ponad dwudziestu lat związany z elektroniczną sceną. Działa w różnych środowiskach co sprawia że trudno jednoznacznie sprecyzować obszar jego działalności. Współtwórca klubowego FUTRA, współautor projektu KUCZ/ GABA KULKA.
Marcin Bociński – realizator dźwięku i producent muzyczny. Współwłaściciel firmy nagraniowej Legato. Od 2001 roku na stałe współpracuje z artystą Arturem Żmijewskim, uczestnicząc w większości jego projektów i realizacji wideo, m. in. "Lekcja Śpiewu 1" (Warszawa), "Lekcja Śpiewu 2" (Lipsk/Niemcy), "Powtórzenie" - projekt na międzynarodowe Biennale Sztuki w Wenecji w roku 2005. Od 2003 roku współpracuje z ukraińską wokalistką mieszkającą w Polsce, Oleną Leonenko.
Łukasz Pawlak (szef wytwórni Requiem Records - działającej od 1994 roku).
Maciej Staniecki – kompozytor i producent muzyczny. Autor muzyki do kilku filmów i przedstawień teatralnych (m.in. "Vinci" Juliusza Machulskiego i "Paradox Lake" Przemka Reuta). Były członek grupy Hedone. Wydał dwie płyty solowe z których jedna została uznana przez magazyn HiFi Muzyka płytą roku 2004. Od lat jako producent i realizator dźwięku współpracuje z TonnStudio. Założyciel MusicDesign – pod tym szyldem tworzy muzykę do reklam, aplikacji i wydarzeń artystycznych. --- requiem-records.com
W minionych dekadach twórczość muzyczną cechowało mieszanie stylów i gatunków. Taki eklektyzm dotyczył zarówno szeroko pojętej muzyki współczesnej, jak i progresywnych odłamów rocka. Dwa pozornie tak różne i odległe gatunki, jakimi są muzyka elektroniczna i punk rock, zetknęły się ze sobą, tworząc nurt industrialny, czerpiący jednocześnie z muzyki eksperymentalnej i agresywnej stylistyki punku. Z kolei muzyka współczesna ubiegłych dziesięcioleci wytrzymała próbę czasu i stała się inspiracją dla obecnego pokolenia kompozytorów, otwierając ich na formy, które dotąd były im obce.
Paweł Mykietyn, wybitny i uznany kompozytor muzyki współczesnej, bardziej niż którykolwiek spośród młodych polskich artystów pozostaje otwarty na eksperymenty stylistyczne. W przeszłości bywalec koncertów jarocińskich, dziś jest czołowym artystą elitarnego nurtu muzyki poważnej. Zaproszony do udziału w projekcie NEMEZIS vs MYKIETYN, będącym formą reinterpretacji fragmentów jego kompozycji do elektronicznej muzyki Nemezis, zgodził się udostępnić nam swoje nagrania.
Spotkał nas ogromny zaszczyt, dlatego pragniemy serdecznie podziękować Panu Pawłowi Mykietynowi za przychylność dla naszej muzycznej inicjatywy. --- polskieradio.pl
Throughout the past decades music was characterized by a mixture of genres. Such eclecticism would also concern a broad range of contemporary music and progressive rock styles. Seemingly distant electronic music and punk rock had to meet at some point and create industrial that derived from experimental music and an aggressive punk style. Contemporary music of the past decades in turn stood the time test and has become an inspiration for present generation of composers, opening the door to new forms that were alien to them before.
Paweł Mykietyn – an outstanding and recognized contemporary music composer open to new ideas and keen to experiment stylistically more than any other Polish artist. Mykietyn who used to be a Jarocin festival regular today holds a leading position in the elite world of classical music. When invited to our Nemezis vs. Mykietyn project, an adaptation of Mykietyn works with Nemezis electronic music, the composer made his recordings available to us.
It has been a great honour for us and we would like to thank Mr Paweł Mykietyn for his approval and being well–inclined towards our musical project. ---requiem-records.com
download (mp3 @320 kbs):
yandex 4shared mega mediafire cloudmailru uplea