Wolf Spider - Kingdom Of Paranoia (2009)
Wolf Spider - Kingdom Of Paranoia (2009)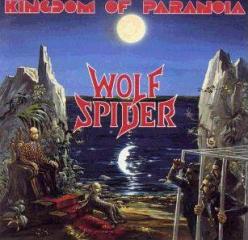 1. 	Manifestants 	04:19 	  
2. 	Pain 	04:06 	  
3. 	Black 'n' Whites 	04:06 	  
4. 	Foxes 	03:16 	  
5. 	Waiting for Sense 	04:35 	  
6. 	Desert 	04:51 	  
7. 	Sickened Nation 	04:22 	  
8. 	Nasty - Ment 	06:04 	 ( instrumental)
9. 	Survive 	03:44 	  
+
10. 	Weakness 	04:29 	
11. 	S-Shop 	02:45 	 
12. 	It's Only Vodka 	06:34 	 
13. 	Zboczeńcy 	03:50 	 
14. 	Bezdomne Dzieci 	04:18 	 
15. 	Zniszczyć Mafię 	04:43

Jacky - Vocals
Tommy G. - Drums
Jeff - Bass, Vocals (backing)
Popcorn - Guitars, Vocals (backing)
Mankover - Guitars, Vocals (backing)

Wilczy Pająk become Wolf Spider - 100%. In the late '90s Wilczy Pająk demonstrated they were one of the most talented and exciting bands of the stunning underground Polish scene with their memorable debut. The changes in the line-up made clear their ambitious intentions: Leszek Szpigiel was replaced by Jacek Piotrowski on vocals and Darius Popowicz took the guitar role of Maciej Matuszak who is playing bass now. These professional musicians would provide the band with more possibilities and higher skills. This album I'm about to review is the one where Wilczy Pająk became Wolf Spider. It's not only a matter of changing names, it also meant a complete change in their sound, attitude, and lyrics. The Poznań thrashers welcomed the new decade with the most technical record ever from the eastern Europe metal scene, becoming the leaders of it during the short time it lasted in the early '90s. Sadly, good things never last.
The homonym debut was absolutely raw, destructive, and uncontrolled, a masterpiece on which the group wanted to sound as heavy, aggressive, and tough as possible. In this second long player their intentions are completely different, although violence, crazy speed, and disturbing lyrics still can be found.
Now here's my question: what is the first thing that comes to your mind when you listen to the first couple of minutes of this CD? Technique! That's the right answer and exactly what you will find here. These guys do not have a single break or point of relaxation during the whole album. Their incredible instrumental passages are extremely complex and skilled with displays of virtuosity and unbelievable creativity. "Desert", "Nasty-Ment", and "Black & Whites" are the most remarkable exhibition of that amazing new sound I was talking about before - the endless alterations of the riffs, the structures of the compositions, the killer pickin' parts, the unpredictable variations of the rhythms...you're gonna get exhausted listening to it, just like when you watch the Ironman World Championship on TV, even if you're not who's doing it!
As I mentioned before, there's terminal velocity in the pack. "Manifestants", "Sickened Nation", and the classic "Foxes" with merciless double bass drum beatings, series of harsh riffs, and pure shred - pure delight for the lovers of frantic raging thrash. "Pain", "Waiting For Sense", and the sarcastic "Survive" alternate catchy choruses (in which vocals lead the string section) with breaks, plenty of blast beats, and huge superior sequences of riffs, so even if the music gets a bit commercial, complexity and skills are not forgotten.
I can't find a single con, handicap, or weak spot here, can you? Well, the production is fine, powerful, and fits the nature and intention of the tunes and the attitude of the band as well. No problem that it's kinda clean and mellow at times because you can find some melody here. In fact, it will become even more present on the next record. However, I had the chance to listen the first CD pressing of this album and it sounded different, not significantly worse (with the exception of a lame snare drum sound and weaker guitars at few times), but it was alright and decent. I'm afraid the 2009 Metal Mind Productions reissue has been remixed apart from remastered, so the result is slightly different from the original.
About the personnel, what can I say? Magnificent musicians, all of them with no exceptions, all incredibly technical, creative, and inspired not only on the instrumental exhibition, but the songwriting as well has improved since the first record. I doubt anybody else did such complex song structures before in the history of Polish music (not even Chopin). The perfect harmony between Mr. Popcorn Popowicz and Mr. Mankover Mańkowski is memorable in each riff, each second, each variation, harmony, chord, lick and everything else in the guitar parts, attacking together as one but you can notice the distinctive style of both and notice as well that there's 2 different musicians working on the same parts.
The rhythmic section of Matuszak-Gohes is efficient and experienced, their impressive jazzy technique providing the sound of higher skills and details that you couldn't expect from a thrash group. Singer Jacky Piotrowski's melodically brilliant voice is essential in helping Wolf Spider reach their superb new sound and is just the same effect that Dickinson had on Maiden's sound when he joined. He's one of those charismatic frontmen you never get tired of listening to. His talent allows him to reach high, low, and any kind of notes easily and make the result more distinctive and memorable.
The lyrics are an interesting view of the situation of their home country by that time, avoiding the predictable cliches of the sub-genre and putting emphasis on social issues, reality, corruption, injustice, misery, and some humor, too. So there's no doubt about it, the band was on a fine moment and each characteristic of this masterpiece makes it clear.
Wilczy Pająk learned a lot from the dates they shared stage with Overkill, Running Wild, and Helloween in eastern Europe and definitely reached the same level as those with long plays like this. Now with English lyrics and an English name, the group was ready to conquer the Polish scene and become the greatest, along with their rivals and friends Kat and Turbo. Maybe Polish thrash didn't reach the fame and popularity it deserved, not even in its home country, but I assure you it won't disappoint the most strict ears, especially if you're into Toxik, Heathen, Deathrow, Watchtower, Coroner, Mekong Delta, or Living Death's technical stuff. So all thrash maniacs, don't forget to check out this CD and its splendid 9 songs. ---Metal_Thrasher90, metal-archives.com
Do napisania kilku zdań o tej płycie - najlepszej płycie polskiego thrash metalu - skłoniło mnie kilka wydarzeń. Po pierwsze głośna w ostatnich latach sprawa rozliczania dziadków wojskowych z decyzji o wprowadzeniu stanu wojennego w Polsce, który jest także wyraźnie zarysowany na tej płycie, a także wznowienie jakiś czas temu niniejszego albumu przez naszego krajowego monopolistę, specjalistę od psucia klasyków thrash metalu tragicznymi digipackami pełnymi baboli. O kogo chodzi – wiadomo, więc spuśćmy zasłonę milczenia. Jakkolwiek dziwne byłyby powody napisania tej recenzji, płyta z pewnością zasługuje na to, by pisać o niej dużo i jak najlepiej.
<> Tak, to nie żart – "Kingdom Of Paranoia" to najlepsza rzecz, jaka się w polskim thrash metalu wydarzyła. Wolf Spider, a wcześniej Wilczy Pająk, miał wielkie ambicje, aspiracje do bycia międzynarodową gwiazdą, ale wyszło jak wyszło, choć warunki mieli ku temu doskonałe, oczywiście, jeśli chodzi o kwestie czysto muzyczne. Kwestie polityczne i wszelkie sprawy około muzyczne to już inna para kaloszy i w to lepiej nie brnąć. Chociaż jak się spojrzy na okładkę płyty, to trudno nie ustrzec się skojarzeń. Na obrazku pies z głową Lenina łasi się do nóg wielkiego wodza – Generała Jaruzelskiego. Chyba nikt nie ma żadnych wątpliwości, z czym mamy do czynienia. Podobnież teksty, zwłaszcza otwierający "Manifestants" traktujący o upadku systemu komunistycznego w naszym nędznym kraju. Odważni byli panowie, choć czasy represji i cenzury odchodziły już wtedy powoli w siną dal.
Muzycznie Poznaniacy bardzo się rozwinęli od debiutanckiego albumu zarówno technicznie, jak i kompozytorsko, a oba krążki dzieli przecież odstęp zaledwie jednego roku. Z prostego thrash metalu wyewoluowali panowie do niemal techno thrashu, choć o tym można mówić tak naprawdę przy okazji płyt kolejnych. Dużo technicznych łamańców z genialnymi partiami perkusji jednego z najbardziej utalentowanych bębniarzy. Niestety później Tommy Goesh w moim odczuciu raczej zmarnował ten talent, bo powinien być teraz w innym miejscu. Świetne partie gitar, niebanalne riffy i zaskakujące zagrywki wymykające się wszelkim standardowym podziałom. Dużo smakowitych solówek, dużo melodyjnych zagrywek, trochę przebojowego humoru i totalny luz i lekkość grania. Płyta jest pełna polotu, nieokiełznanej energii i każdy kawałek to potencjalny thrashmetalowy hit. Nie ma ani jednego słabego momentu, wszystkie utwory zachwycają, porywają i sprawiają, że nie można wyjść z podziwu, jak to możliwe, że Polacy potrafili kiedyś tak grać. Aż dziw bierze, że Wolf Spider nie był gwiazdą światowego formatu, bo poziom muzyczny to klasa światowa. Słychać, że Pająki były mocno zafascynowane Mekong Delta i innymi wielkimi technicznego thrashu. Według mnie niewiele im ustępowali i mogli śmiało stawać w szranki bez żadnych kompleksów.
Kocham tę płytę bezgranicznie, podobnie jak kolejny w dyskografii Pająków "Drifting In The Sullen Sea" i dziękuję losowi, że sprawił, iż oba albumy w jedynym słusznym wydaniu Under One Flag dumnie zdobią moją kolekcję CD. Informacja o wznowieniu "Kingdom Of Paranoia" z jednej strony mnie ucieszyła, bo warto, by tak świetną płytę poznało jak najwięcej osób, z drugiej zaś strony szkoda mi tych ludzi, którzy dostali produkt w jakości zbliżonej do chińskich zabawek. W jakiejkolwiek postaci byście ten album zdobyli, posłuchajcie go i pokochajcie. Jeśli nie padniecie na kolana, to całkowicie stracę wiarę w ludzi z dobrym gustem. ---Atrej, metalzine.pl
download (mp3 @320 kbs):
uploaded yandex 4shared mega mediafire zalivalka cloudmailru oboom uplea