Alians - W samo południe (1998/2002)
Alians - W samo południe (1998/2002)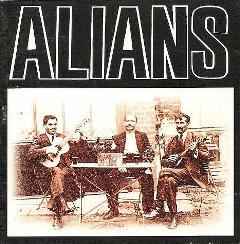 01. Świeca
02. Ulica (jakich wiele)
03. Miód na zębach
04. Niespodzianka
05. Podejrzliwi i wściekli
06. Landlord - Sensi Crew
07. W samo południe

Korbol - accordion;
Dósiołkiewicz - bass guitar, vocal
Kazi - guitar, vocal;
Dżaman - keyboards;
Qłak - percussion;
Giumiś - saxophone;
Gwizd - trombone;
Szkodnik – trumpet.

Minęło 18 lat od premiery tej płyty, a wciąż brzmi świeżo i ekscytująco, więc spokojnie można powiedzieć, że klasyczna płyta klasycznego zespołu.
Czwarte wydawnictwo Aliansu oryginalnie ukazało się u schyłku XX wieku. W 1998 roku było początkiem nowego etapu w działalności zespołu. Była to pierwsza płyta Aliansu w rozbudowanym "orkiestrowym" składzie. Pilskie punky-reggae z charakterystycznym dla brzmienia zespołu akordeonem, zostało ubarwione klawiszem i solidną sekcją dętą. "W samo południe" to zapierające dech punkowe tempo, ze ska-regałowym oddechem. Nie bez znaczenia są świetne teksty, które znienacka okazują się jak znalazł w 2016 roku o czym świadczy gościnny udział spikera z popularnej rozgłośni radiowej. Oprócz nowych kawałków znalazł się tu hit z pradziejów kapeli w nowej wersji (Niespodzianka), oraz przerobiony nie do poznania jeden ze szlagierów Kenedysów (Landlord).
Niby krótka, ale baaaardzo treściwa płyta, zatrzeszczy po raz pierwszy na winylu (purpurowym!). --- serpent.pl
download (mp3 @320 kbs):
Last Updated (Tuesday, 30 June 2020 10:11)