Roadhog - The Oppressors (2017)
Roadhog - The Oppressors (2017)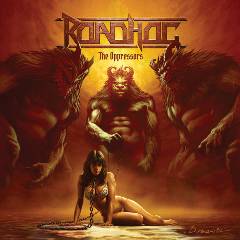 1 	Fall From Grace 	
2 	The Fear 	
3 	Suffer In Silence 	
4 	Black Moon 	
5 	The Oppressors 	
6 	Children Of The Dark 	
7 	Fight It Back 	
8 	Set The World On Fire 	
9 	Shadowmaker 	
10 	(Don't) Follow Them 	
11 	All Hell's Breaking Loose

Michał Kozioł - Drums
Przemek "Pemo" Murzyn - Guitars
Maciej "Ogór" Szupik - Guitars
Krzysztof Tabor - Bass, Vocals

Half a century after the foundations was laid for its existence, there's something fascinating about how Rock and Metal music comes full circle now. Call it riding a wave of nostalgia or back-to-basics approach – after decades of evolution, cross-genre experimentation and hybridization, now the genre is more focused on its past than its future. Or maybe its past and future are exactly the same…? For certain, it is so for Roadhog. After their 2015 debut Dreamstealer, the young Polish four-piece returns with a new full length The Oppressors also released via the U.S. label Stormspell Records.
There's really no need to draw the aforesaid line between Metal's past and future on The Oppressors. Just take a look at the album cover adorned with furry beasts and the obligatorily well-endowed, scantily clad, shackled lady (and yes, fans of Accept and Halford know certain Claudio Bergamin who drew this…) And if the picture's not clear enough yet, the titles of particular tracks also speak volumes – think "Black Moon", "Children Of The Dark", "Fight It Back"… Roadhog is simply an NWOBHM band that – due to the strange coincidence – was conceived about three decades later than it should be. Or – better yet – it's exactly that kind of band Rock journos coined the hybrid term NWOTHM for. Music-wise, their sophomore effort The Oppressors is the also clear reflection of this fact.
The album is full of raw guitar riffs, punchy choruses, aggressive chants and tight rhythm section work – all delivered with the rough, almost Punk-ish attitude so typical to classic NWOBHM albums alongside a bit of Motörhead-esque nonchalance. Obviously, that doesn't exclude penchant for melody. The elaborate guitar work in "The Fear" and "Suffer In Silence" or the slow-ish part of the title track are the clearest examples of this fact. Tracks like "Fight It Back" and "All Hell's Breaking Loose" increase tempo to breakneck speed – a convincing homage to the '80s Speed Metal classics – whereas the dark and somber ballad "Children Of The Dark" shows yet another side of the band.
2017 marks not only the release of Roadhog's second album but also the fifth band anniversary. And as The Oppressors proves, the group appears tight and focused in spite of only five years of stage tenure under their belt. The quartet can certainly translate their '80s classic Heavy and Speed Metal influences into their own songs, their sound perhaps not original but delivered with genuine enthusiasm and dedication. It certainly has its melodic moments, but it's also far from being polished. For those eager to classify, Roadhog would have its place firmly secured among the most convincing NWOTHM acts. However, for those who opt for enjoying music regardless of the actual labels, The Oppressors is simply a fine album one should not miss. ---Alexandra Mrozowska, hardrockhaven.net
download (mp3 @320 kbs):